Like most graduating high school classes, mine rewarded our parents and educators by perpetuating Senior Skip Day right before finals. I can only imagine these satisfying gestures are why secondary teachers are able to get out of bed in the morning.
In a slightly innocent twist, my class of clowns decided on the Wichita Zoo for our naughty excursion, so off we went in our scrunched socks and Keds, Z Cavaricci jorts, and oversized striped rugbies.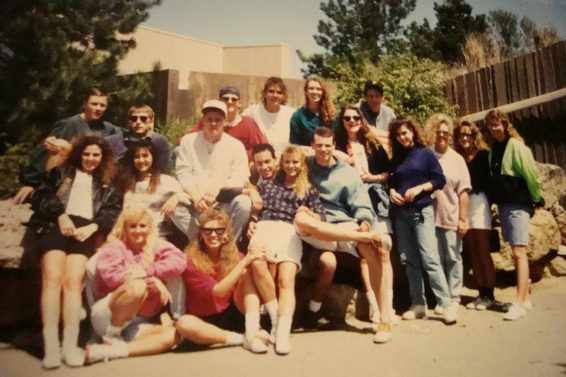 Note my cool shades on the front row that are so dated, they are now "ironic."
My seventh grade daughter has a pair. Hold me.
I begged my mom to call in a feigned illness for me, and when she refused, I tracked the soft target, because Dad would've assuredly provided an alibi, but he was missing in my hour of need, so I…simply skipped. The only attendance bail in my high school history, and despite the breezy, cool aura I'm clearly projecting, I spent the day with my stomach in knots. (When I received the subsequent day of in-school suspension, I cried silent, hot tears the second I entered the ISS room, and the monitor found me pitiful and let me sit in her office playing solitaire all day.)
For such a prim rule-follower, it was surprising when they started strangling me.
I grew up immersed in typical Christian subculture: heavy emphasis on morality, fairly dogmatic, linear and authoritative. Because my experience was so homogenous and my skill set included Flying Right, I found wild success in the paradigm. My interpretations were rarely challenged by diversity, suffering, or disparity. Since the bulls-eye was behaving (we called it "holiness"), I earned an A.
But careening into adulthood, my firm foundation endured some havoc. I noticed very few of my Third Day Acquire The Fire Disciple Now Weekend Mercy Me compatriots stuck with church after high school. Evidently, that is absolutely the trend: According to Rainer Research, approximately 70 percent of American youth drop out of church between the age of 18 and 22. The Barna Group estimates that 80 percent of those reared in the church will be "disengaged" by the time they are 29.
80 percent. Gone.
A recent nationwide poll on religious identification noted that respondents citing "no religion" (The Nones) made up the only group that grew in every state, most numerous among the young: a whopping 22 percent of 18- to 29-year-olds claimed no religion, up from 11 percent in 1990. Worse yet: the study also found that 73 percent of Nones came from religious homes; 66 percent were described by the study as 'de-converts.'
This gave me pause, because the mechanism was not holding. More precisely, the church I grew up in was not making disciples. The religion I knew was leaving young adults disinterested at best, hostile at worst. It failed to capture their loyalty. Dechurched adults cited grievances that gave definition to my own inner struggles:
Emphasis on morality and voting records to the exclusion of weightier matters like justice and transformation
A suspicious amalgamation of the American Dream and Armed Forces
A me-and-mine stance as opposed to you-and-yours
Persistent defensive posture, treating unchurched or dechurched people like enemies instead of future brothers and sisters in Christ
Narrow talking points that slice and wound and slash; principles over people
A boring religion of behaving instead of an adventurous life of true discipleship
An unreasonable opposition to science
Arrogance over humility, using the Bible as a bludgeon instead of a balm
But here was the Good News: upon heavy scrutiny, none of this remotely sounded like Jesus, so He wasn't the problem, which was a relief because when having a faith crisis, you don't want to discover your Main Character is a fraud. As far as I can tell, Jesus is still the easiest sell on earth, because if you don't love a guy who healed lepers and pulled children onto His lap and silenced the religious elite and ate and drank with sinners, then you just don't know Him.
Jesus remained politically neutral, unswervingly, despite the teeny tiny fact that the Savior was expected to engineer freedom through political upheaval. He never once pandered to the powerful and prominent. He was called a drunkard and a fool for the company He kept. Jesus committed His kingdom to the most unlikely: the sick, children, women, the poor, the marginalized. Everyone else? Blind, deaf, according to Jesus.
So if it wasn't Jesus making enemies out of the adopted, it had to be the structure in which we contained Him.
This was the point my ministry took a hard left.
If you've been around me at all in the last six years, you've heard me pushing for reform, asking the church to stretch, to become the new wineskins my generation is begging for. I'm hungry for a church less known for sanctimony and more for their shocking intervention for hungry babies and human trafficking and racism and injustice. Christianity is too thrilling to reduce to middle/upper-middle class First World Problems, encapsulated in issues and gauged by a nebulous moral compass that lost its bearing decades ago.
People are starving – spiritually and physically – and this world needs some Good News, but they can't decode what is actually good about us. Good is finding a safe place to struggle, to doubt, to ask hard questions. Good is food when you're hungry. Good is warm, kind, genuine love extended, no strings attached. Good is clean water, medicine for your sick baby, education, family. Good is community, even before 'belief' binds us tight. Good is sustainable work, dignity. Good is Jesus and His backwards, upside-down ways.
I constantly ask these hard questions of the Bride, of myself, of my own little family.
Because of this, I was recently uninvited to speak by a large church. They cited my struggle with the church, concerned that "these disparaging glimpses at the church certainly can be helpful to a more mature follower but cause great confusion to those who are not quite so far along in their walk with the Lord." In fact, it is the exact opposite. It is the young believers asking the questions and finding very few safe places to do so. Sanitized Christianity in which the church is propped up and healthy criticism is labeled as "spiritual attack" is the head-in-the-sand approach turning away the next generation.
Second, and not surprisingly, a blog was cited in which my hilarious friend jokingly brought a bottle of margarita mix to a Lifeway taping, hoping to cast us as boozers in front of my very conservative publisher. (To their credit, the filmmakers just laughed and carried on because, you know, it was a joke, and my LW peeps totally get me. We are guilty of many offenses, but taking ourselves too seriously is not one of them.) This satire pushed an envelope that is still licked shut, and the uninvitation was sent.
It doesn't matter what church it was or where, but here is what I want to tell them:
I understand. I really, really do. Not only did I appreciate your gracious tone, but I genuinely know where you are coming from. I get the things that make you uncomfortable and why, and I realize we will likely never see eye to eye, and that is okay. Unquestioningly, you love Jesus and the church, and I have no doubt you are serving your community and each other. Within your tribe in your demographic in your city in your tradition, you are exactly how and where you should be. My feelings toward you are terribly warm, seasoned with familiar memories of the church that raised and loved me.

But what makes me unsafe to you is exactly what makes me safe to others. The skeptic, the cynic, the doubter; my arms are wide open. Their questions and disbelief don't scare me; I am unthreatened. The loosey-goosey, tambourine shaking, barefoot liberal who loves Jesus and the earth and votes straight-ticket Democrat? I love her. The young adult generation who is leaving the church but running to Jesus in unfamiliar, new ways – I gather them to me like a Mama because they are going to change the world.
I am not put off by creed or denomination or sexual orientation or terrifying doubt or outright anger or nationality or socioeconomic status or issues or weirdness or politics. I'm not going to make a deal out of a glass of wine when 25,000 people will die today of starvation. I just can't muster the energy. (And since Jesus' first miracle was turning 150 gallons of water into wine at a wedding in Cana, I'm pretty sure He hedges left here.)
With nearly 8 million people leaving the American church a year, we need some renegades closer to the margins, building bridges, creating safe spaces to question, wrestle, rethink. Plenty of churches exist to serve the 20 percent already connected. For them, I am grateful. Enough shepherds are on the ground for those sheep. They have a deep well of leadership, and my absence will not even be felt. They are brothers and sisters, and I'll see them on the other side.
As for me, I'm throwing my lot in with the other 80 percent, the ones with their arms crossed, their hearts broken, their worth unrealized. The ones who shake their fists and shake their heads, but still crave hope and redemption, because we all do. Bring me your doubts, your fear. My Jesus can handle it all and then some. He is all of our dreams come true. If you don't believe me, start in Matthew and read until the end of John. Jesus is a hero, a brother, a Savior in every since of the word. He is everything good and gracious. His love for us is embarrassing, boundless, without standards at all.
Along the way, if I make some of my brothers and sisters uncomfortable and we must part, I hope we can throw our arms around each other and promise to write. I trust you will do your part over there, and I'll do mine out here where life is sticky and faith is less a blueprint and more a compass, gently leading all us ragamuffins north. I'm willing to wrap us all in grace, because one day we'll both discover we got some parts right and other parts wrong. Jesus' mercy is going to be enough for us all.
So if anyone wants to venture out to the margins, past familiar boundaries, through sanctioned Christian staples, beyond guilt-by-association fears, outside traditional approval – I'll be here with my people, with Jesus, making others crazy and getting uninvited from things…
…unless it is a wedding in Cana and the wine has run out.