Nancy Rue, The Reluctant Prophet, and a Giveaway
Let's see, it's 4:47am, and I've been wide awake since 3:16 for the second night in a row. Dear Jet Lag, how not nice to see you again. I especially appreciate how you are robbing me of sleep but also of all clarity so that these early morning hours are basically useless, as I want to write about Uganda, but I can't seem to string a sentence together yet. Too soon. (Re: "too soon"... see also: Christmas Tree Decoration/Hot Cocoa Fantastic Family Night last night, 20 hours after arriving home, where 4 of the 7 of us had total meltdowns, 1 went to bed crying, 1 went to bed brooding, 2 went to bed fighting, and 1 went to bed babbling like a baby. Awesome.)

So good news, readers! I have someone else's amazing words and ideas to share today that are not contingent upon my personal mental status. You're welcome.

If you haven't already, please meet my friend Nancy Rue. As a wise and prolific author, she was guiding me as I began parenting a tween girl long before I actually got to meet her. Then, two summers ago, at a glorious, intimate writer's retreat with just six of us, I spent an entire week with her. You know you can trust me here: Nancy is profoundly wonderful.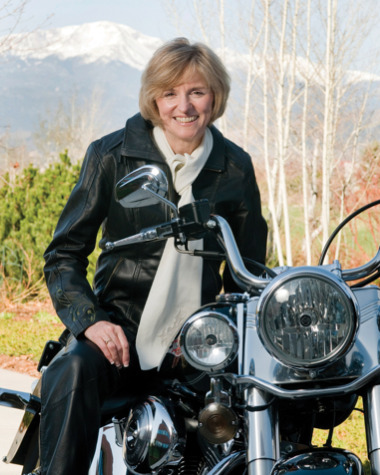 Not only is she a gifted fiction AND nonfiction writer (Really, universe? If she can also sing, I'm pulling out of this unjust lottery), but she is a teeny, tiny bit
irreverent
hilarious, and well, you know, that's my lane. She has written a stunning trilogy, unpacking all sorts of complicated and difficult issues with grace and wisdom called, "The Reluctant Prophet" (anyone have any clue why I'm drawn to this? No? K.)
Without further ado, please meet my friend, Nancy:
WHEN THE NUDGE DRIVES A WEDGE
I am SO jazzed to be a guest on Jen Hatmaker's blog! This is a lady I have admired (and been humbled by and challenged by and nudged by) ever since I met her two summers ago. I've watched her conscience-pricking, action-inspiring ministry grow as only the real God-things do, and now it's an honor to be able to bring my community of Nudgees to hers – to you – who share our joy in being nudged by God and our, okay, let's call it, um, apprehension that where we're nudged to go is way out of our comfort zone. So thank you, Jen, and all of you.
You're the third stop on the hop (more on that below) so just to catch you up: we're talking about the tough questions that the trilogy
The Reluctant Prophet
sets before us. As in, throws it right in our faces. Today's is this:
What if God's nudge puts you at odds with your church family – or even your own family for that matter?
Do you not agree that Jen is the perfect person to host this question?
In this trilogy, protagonist Allison Chamberlain is Nudged to buy a Harley and go into the darkest part of St. Augustine, Florida, to minister to the prostitutes – as in, bring them into her home, take care of them, take care of one of their kids, provide opportunities for them to deal with their addictions, hold them while they vomit. You get the idea. She's doing Jesus.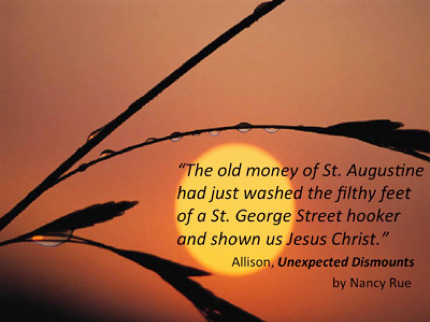 But she's shocked to discover that the very people who shepherded her when she was a new Christian and have become her family are appalled at what she's doing. It has, after all, cost Allison her job, gotten her crosswise with the law, and put her in considerable physical danger.
"It's not going to end well, Allison,"
they tell her,
"and we wouldn't be your brothers and sisters in Christ if we didn't tell you that."
You have to admit they have a point. They even provide her with information regarding various social services "these people" could turn to, and offer her money to get back on her feet.
"We care about you Allison,"
one of them says with tears in her eyes.
They have
a
point, but they don't get
the
point: that Allison is doing what she's called to do. And as a prophet (albeit a reluctant one) she sees even deeper than that. As she says to them after she has invited them to come into her home and see what she and "these people" are doing:
"Oh, wait – you wouldn't come in my house now because it's full of people who've made huge, ugly mistakes, and even though they're repentant and forgiven – gosh – you might catch something from them. Like, I don't know, humility. Courage. Yeah, that would be a whole lot harder than sitting in a pew saying 'amen.' Forget my invitation. Pharisees aren't welcome in our house."
Okay, so she comes on a little strong. And a little snarky. But here's the deal – if God's calling, that call has to be louder than any other voice. Jesus tells us in the Gospel that we're going to have to put up with all kinds of persecution for his sake.
I had to leave a church that became very sick and was determined to stay that way – and in the process I gave up a group of friends I miss terribly. I had to let a very effective assistant go because we were no longer on the same spiritual page. I've been "uninvited" as a speaker when the powers-that-be read my belief statement. I'm taking a risk right now in these five blog hop posts by asking unsettling questions.
You've probably made similar sacrifices, or even more soul-wrenching ones that involved sons, daughters, parents, spouses. So what do we do when that happens? Just drift out there alone and hurt – and become prey to self-pity and its buddy self-righteousness?
Wise woman Hank D'Angelo in The Reluctant Prophet trilogy says no. She says,
"You still need a community of fellow believers to worship with."
I found one in the very church that inspired these books, St. Augustine's Chapel at Vanderbilt University in Nashville. Allison and Hank created their own. And in the final book of the three,
Too Far To Say Far Enough
, we see hope that the church can fill both its members needs and the desperate needs of the community.
Besides all that we have to forgive. Because as Hank says,
"We're all a mess."
Perhaps with the grace we're called on by our Lord Christ to extend, we won't have to drive that wedge after all.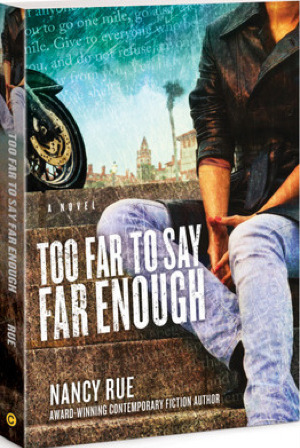 Um, can you see why I love Nancy and particularly this trilogy? Prostitutes, a love/pull-my-hair-out relationship with the church, and - let's be honest - the Harley: these are my little pet things. Nancy is a trustworthy guide, a fantastic writer, and you should know her.
Now what you have probably been waiting for…winning books! Nancy's publisher, David C. Cook is giving away:
Reluctant Prophet series (3 books) to 10 winners,
PLUS 10 copies of Reluctant Prophet to each winner's recipient of choice.
Nancy will personally sign each book as well as include a letter with Reluctant Prophet to your person of choice. Visit
here for the Rafflecopter entry form and official rules
.
If you are joining the hop mid-way through and not sure where to go, here are all the stops for each day. That way you are able to maximize your entries into the giveaway, as well as capture Nancy's heart as she wrote this series:
If you would like to connect with Nancy, she can be found here:
Website:
www.nancyrue.com
facebook (adult fans):
www.facebook.com/nnrue
facebook (for teen fans):
www.facebook.com/nnrueforteens
twitter:
www.twitter.com/NNRue
pinterest:
www.pinterest.com/nnrue
In addition to Nancy's blog,
The Nudge
, (for her adult audience), she also has a blog for teens (
In Real Life
) and for tweens (
Tween You and Me)
I really appreciate the question Nancy raises in the story, particularly because it is so reflective of real life. So I ask you, good reader, what if God's nudge puts you at odds with your church family – or even your own family for that matter? Has this happened in your life? Can you relate? If so, can you share a bit of your story with us?
Posted in not categorized
Tagged with no tags