For Freedom
"The Spirit of the Sovereign Lord is on me,
because the Lord has anointed me to proclaim good news to the poor.
He has sent me to bind up the brokenhearted,
to proclaim freedom for the captives
and release from darkness for the prisoners..."
~Isaiah 61:1


This month, I'm freshly reminded that so many of the fancy products that we'll buy, wrapped in darling brown paper and tied with elaborate bows were made by the hands of slaves. It is one the greatest tragedies of our generation; 27 million slaves forced to supply the consumer machine for rich people with money to burn, addicted to artificially low prices.
This is absolutely an injustice we can fight.
Absolutely.
We have all the power here actually: consumer power. At the root of slave labor is one driving motive: profits. This is a supply and demand issue, and if we insist on demanding our goodies without carefully and responsibly scrutinizing the supply chain, I truly believe we'll answer for it one day. We can do better. We must.
So it with great joy I get to showcase organizations like
Freeset
, where you and I can find beautiful, well-crafted products while simultaneously fighting human trafficking.

Freeset
is in business for freedom. Freedom from human trafficking. Freeset is a fair trade business that sells bags and t-shirts, made by women freed from human trafficking in Calcutta, India.
The women are able to have a job with dignity, making products, instead of being the product.
Every woman receives three times the wage they would receive in line (the prostitution line), learn to read and write, daycare for their children, have medical insurance and retirement benefits. Women were tricked, trapped, or trade and find themselves seemingly without a choice. Their goal is to change the economic scope of Sonagacchi, Calcutta's largest red light district, to one of freedom, instead of the sex trade. Watch their video, buy their
bags
,
change lives.

May I tell you about one of the Freeset workers, Nandita? Before working at Freeset, Nandita was trying to move out of the sex trade. She volunteered to distribute condoms among sex workers, as well as working as a house maid. They were tough years, "In those days we had to starve most of the time," she says.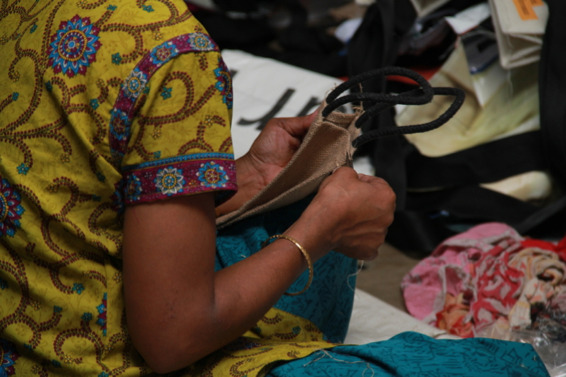 Ten years ago she was presented with the opportunity to join Freeset. As one of the original 20 women she remembers her feelings at the time, "I was hopeful but also skeptical about the job as I had never done any sewing before. I was also skeptical about Kerry and Annie (the founders of Freeset) as they were foreigners. Everybody used to make promises to pay us but we were never paid, except for a few months in seven years." It was only when she started getting paid for her work at Freeset that Nandita allowed herself to really trust these foreigners that were making big promises.

Like many, Nandita found learning to use a pedal sewing machine difficult. "When I started sewing on a machine, I couldn't do it - I could never sew straight - I had no control over the machine! I couldn't even hold the scissors properly. One time I scratched the marble floor while cutting ropes. I was not very good at sewing, but I am good at cutting and finishing bags, and I enjoy it."

Nandita takes pride in the fact that she was one of the first 20 women who started Freeset and who have nurtured the business into what it is today. She dreams of Freeset becoming a place of freedom for many more women in the future, "People in the community can see Freeset has given a new life to the women in line. Freeset really helps the women in line who are getting old and can't earn much anymore."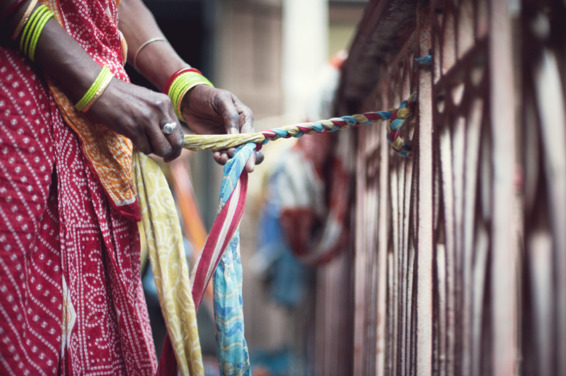 These women are our sisters. They are mothers, like us. Daughters, like us. Wives and friends and neighbors, like us. Their souls are precious, their lives full of value. Their dreams and hopes are real, palpable like ours. Their children are beloved and deserve a life free of abuse and terror.
I am so proud of Freeset, speaking up for these women, stepping in, refusing apathy.
Freedom doesn't come through good intentions and fairy dust. Freedom has always required a fight.
Like our Savior who came to filthy earth, polluted, ruined, hopeless, and he fought the good fight for our liberation. He sweat, he bled, he suffered, and he won it.
He won it for us.
It was for freedom that He set us free.
Let's help win freedom for these sisters. Supply and demand still works here; the more we demand, the more jobs are created through this healthy supply chain interlaced with liberty. Let's direct our dollar with purpose, remembering it is a powerful tool, capable of calling an unjust system to reform and creating jobs and saying
yes
to freedom and
no
to slavery. We will not be complicit in abuse. The way we spend matters. May we never forget it.
And if you get this daaaaarling
"Hope Bag"
out of the deal, well, you can just have that cake and eat it too.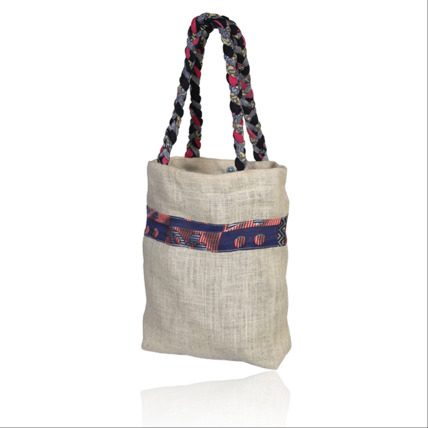 Thank you, Freeset, for your courageous example. Thank you for your work on behalf of our sisters in India. Thank you for refusing to sit on the sidelines, overwhelmed. Thank you for doing your part, for playing your note, for filling your spot. Thank you for showing us the way to freedom.
Posted in not categorized
Tagged with no tags