Need a New Bible Study? I Have a Deal...
It's January 7th, which means a bunch of us have eaten raw spinach and quinoa this week, made a new chore chart, rewrote our vows, or have read the Bible for seven straight days for the first time since last January. Some people,
I've heard
, are even making a "Kind Words" jar where sassy children can make deposits to cash in for rewards or, more likely, withdrawals for saying such things to their brother like, "You smell like a diaper that's been left in a hot car." I've heard about a family like this.
It's just that time to think about new beginnings.
Coming off the hustle and bustle and consumption of Christmas, I know many of my fellow travelers feel a little beleaguered, sort of worn down by the "too much" of it all yet again. Our new stuff is still strewed all over the house, struggling to compete for space with all the old stuff we still have. Half the gifts are already forgotten or shoved aside. Some folks are opening dreaded credit card bills, and the shine has come plumb off.
Is 2013 the year we live lighter, freer, more simply on this earth?

Is this the year we break free from the machine and find a whole new kind of abundance?
I want to help. I'm kicking off this year with a deal. 2012 was an incredible year to share
"7: An Experimental Mutiny Against Excess"
with you (No idea?
Catch up here.
). You formed groups, wrote blogs, led discussions, created book clubs, jumped in feet first, bullied your pastors, tricked your friends, wrote me one zillion emails and letters, and I truly believe the needle moved forward on the kingdom. It was incredible.
I cannot believe what God has done.
You moved, downsized, switched jobs, sold your possessions, decided to adopt, launched new ministries, served the marginalized, inspired your children, changed your lives. You were so brave, so obedient. I stood over on the side with my mouth hanging open.
Did you know that in the original experiment during a discussion with The Council, one of them said something about making a detail "reproducible" and I laughed in her face? "What??? No one is going to do this! Are you crazy? Are THEY crazy? This isn't that kind of book! This is just to read! Who would do this??"
This is the only time I've ever been wrong in my life. Ask Brandon.
I had no idea anyone would want to try this, or some version of it. I didn't write 7 that way in the slightest. I am still stunned out of my mind. I've seen the face of crazy, and it isn't just in the mirror apparently. You've gone mad right alongside me.
So I wrote
a study version of 7
intended to be, ahem, a reproducible project with many, many, many options and adaptations included. It's Bible heavy, because evidently the Bible actually has much to say about excess and consumerism and true freedom. It's hands-on, meaning each week you will be reducing, scaling back, restraining in seven areas:
food, clothing, possessions, media, waste, spending, and stress.
This isn't just information for your head; it's a social experiment and
your life
is the subject. It's new material, interactive, and we even shot a bunch of cool videos for it at my house. (I let a bunch of men from Lifeway into my closet to shoot one session, and I was so nervous as they walked into my bedroom that I hollered out, "Well, this is where the magic happens!" And then I tried to move to Canada.)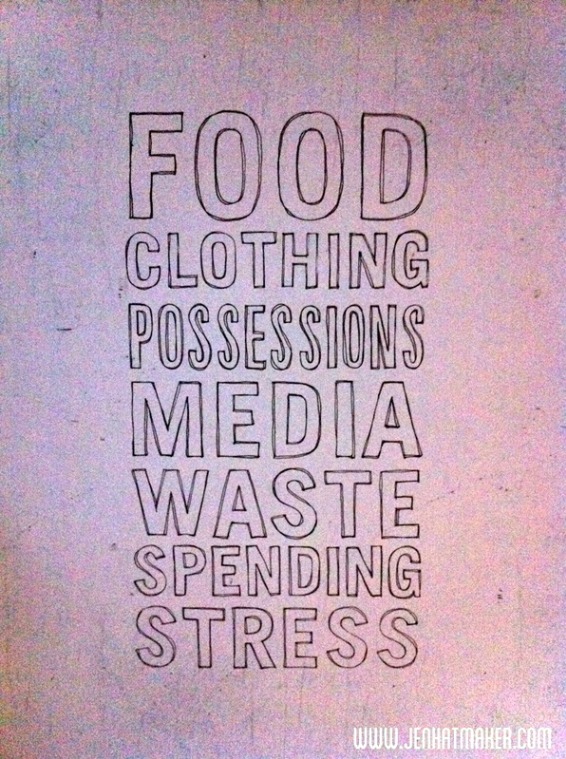 The 7 Experiment: Staging Your Own Mutiny Against Excess
is a 9-week study, including an intro, seven weeks tackling one area of excess per week, and a conclusion. The Leader Kit includes one member book (the workbook each participant will need), all the DVD's, and leader helps. This is for small groups, a bunch of friends, Sunday School classes, roommates, youth groups (MANY youth pastors took their students through 7 this year!), families, Bible study groups, women AND men, any old renegades.
Here's the deal: I have three sets of
The 7 Experiment
for three selected small groups. Each set includes the Leader Kit, 10 additional member books (all signed)…and…a Skype with me at the conclusion of your study! I get to offer each set at half price – worth $200, but you can get it here, with the Skype, for $100.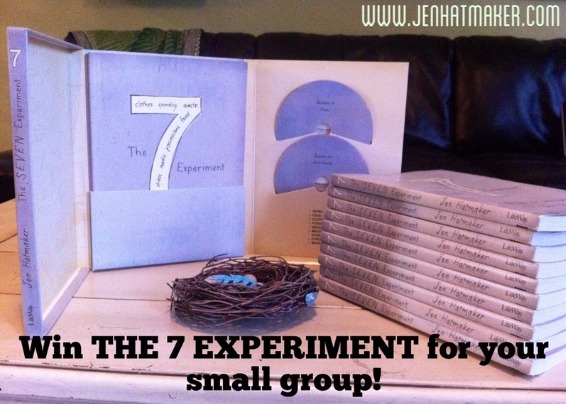 I only have three sets.
You interested? Can you
trick
inspire 10 others to join you for nine weeks? And don't imagine you need to be some hippie minimalist to "lead" this study. Hardly. If you can press play on a DVD player and keep a discussion on the rails, you can do this.
This isn't for folks who've arrived but rather for those of us in progress.
This isn't a guilt trip, a strict formula, an impossible template, or a comparison game. There is wiggle room and flex for everyone; all is grace here.
So, I am going to draw three names from the comment section to send the whole kit n' caboodle to for the bargain price of $100. From there, we'll schedule a time for me to Skype into your group and we'll laugh our heads off at all the ways you cheated along the way.
Tell me, why do you want
The 7 Experiment
and who will you ask to join you?
Posted in not categorized
Tagged with no tags