A Book, A Necklace, and A Bunch of Kids
Hi, reader (and
viewer
...what the?). I am having so much fun with you lately.
It has been my great joy to give you
Interrupted
, and I've read every email, every tweet, every post, every word you've said about it. I am so moved by YOU. I'm trying to think if I've ever been so encouraged in my life to watch God move in our generation. This is so happening. You are out there doing it, starting it, dreaming it, living it.
If I ever felt lonely in the message of
Interrupted
, that day has passed.
What a thrill to turn our incredible resources and privileges back over to the God who entrusted them to us in the first place and say, "These are yours. Have your way." How beautiful are the feet who bring Good News to the broken, the wayward, the lost and lonely, the suffering. I see a generation saying NO. We will not turn a blind eye to those who grieve. NO, we will not hoard our luxuries while precious people suffer. NO, we will not pretend we don't see. NO, we will not go to the grave in comfortable complacency but will expend our lives for God and people like it is our job.
We welcome every holy interruption that helps us look more like Jesus.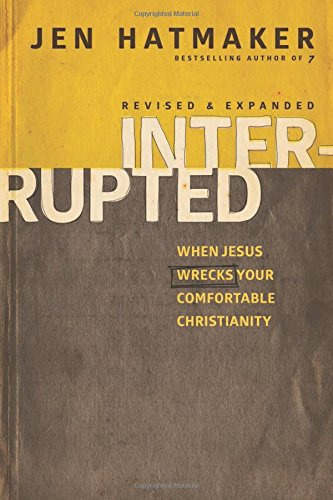 We have so much to share, and
like I've said before
, intentional spending is an enormous factor in battling poverty. We direct our powerful dollars and tell them where to go. Our money can effect great and glorious good in this world with nothing but a bit of intention.
So I have this great thing.
I've loved the beautiful artisanship of The Vintage Pearl for some time (you might have spotted their necklace on the first episode of our show). I think I have three or four of their beautiful pieces, because they are 1.) meaningful, 2.) trendy, and 3.) not cheesy. I am very sorry, but "not cheesy" is quite important to me. Thank you for understanding.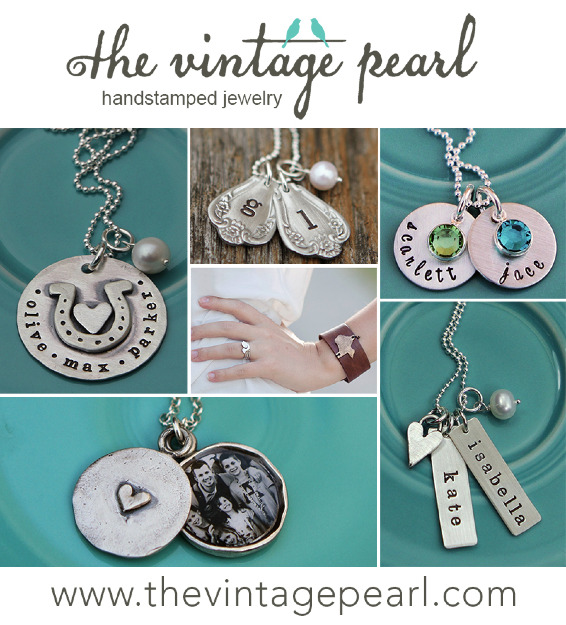 The Vintage Pearl
creates unique and meaningful handstamped jewelry, customized with names, dates, inspiring words - whatever you want. Each one is handmade in their studio in Tulsa, Oklahoma mostly by moms (love)! The Vintage Pearl began in 2007 by Erin Edwards, a stay at home Mom of 4 in need of a creative outlet (can I get a witness?). She began stamping on her kitchen counters and assembling/shipping from the dining room table. When things became overwhelming faithful friends jumped in to help. In 2009 they moved into their own studio and in 2010 they opened up their first retail store in Tulsa. They now have 2 more retail stores: in Edmond, OK and Sugar Land, TX!!
I love dreams like this coming true.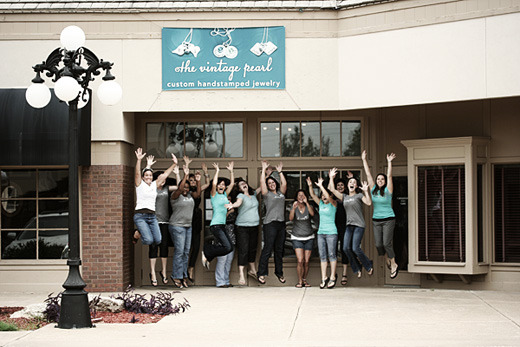 But THIS is the part I really love:
The Vintage Pearl and I worked together to design a new necklace and THEY ARE DONATING 50% OF EVERY NECKLACE SOLD (that's huge) through August 31st to my favorite non-profit: Help One Now!!!
What that means is that children will be fed and education, mamas and daddies will be empowered, small businesses will be started, children will be rescued from human trafficking, local leaders will be resourced to develop their communities, hope will rise. (You might recall I am headed to Ethiopia with HON in 17 days for the
Love Hope Trip
...find out more about there
here
.)
We designed this necklace in the spirit of
Interrupted
, emulating its call, its message, its core truth. May it be our anthem and our reminder, because as complicated as we've made the Christian life, truly,
He has shown you, O man, what is good. And what does the LORD require of you? To act justly and to love mercy and to walk humbly with your God. (Micah 6:8)
When we have no idea what to do...
Act justly. Love mercy. Walk humbly.
When crisis threatens to take us down...
Act justly. Love mercy. Walk humbly.
When relationship are in peril and hope seems lost...
Act justly. Love mercy. Walk humbly.
When the world's suffering can no longer be ignored...
Act justly. Love mercy. Walk humbly.
He has already shown us what is good: justice, mercy, humility. It is our charge and our strength.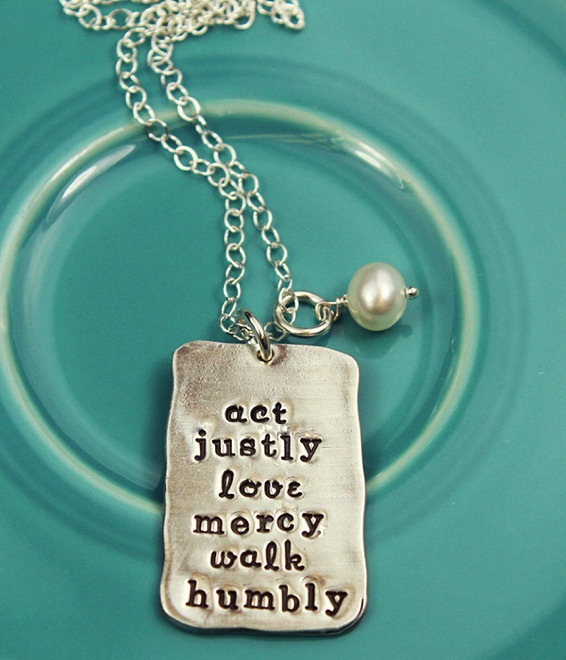 Isn't it gorgeous?? You guys, 50% of each one sold goes straight to
Help One Now
- this purchase indeed loves your neighbor as much as yourself. Get this baby
right here
and I certainly want to see a pic of you wearing it, so put your pretty self on my FB page or tag me on Twitter! (If you want to know why I chose this design,
Interrupted
should clear that right up for you, sister. I explained more
here
and
here
.) Also, husbands and boyfriends? This could single-handedly make you a hero. I've practically given you a gift here. This is too easy. Don't ever say I haven't helped you be awesome.
Today I'm giving away three of these beautiful necklaces along with three $50 gift certificates to The Vintage Pearl! Leave a comment to enter...
And just for my awesome readers, use coupon code
jenh20
to save 20% off your next order, also good through August 31st!
Posted in not categorized
Tagged with no tags