Activate Education!!
It's time!!! It's time to DO THAT THING WE DO. We do it like a bunch of bosses every year, and together we have impacted thousands of kids and families and teachers and communities for the last three years.


Remember Help One Now's first Legacy Project in 2012? When we went to Haiti and got the hair-brained idea to
build a whole school
? And you all bought in and we just went ahead and
built it
? It was birthed out of a desire to do something audacious, to build something lasting, to tangibly make a tremendous impact in our communities.
In short, we wanted to leave a legacy.
Now, every holiday season, we come together to build something HUGE. Something amazing. From a preschool to an actual school--every year, we aspire to do something that sounds so far out of reach that we shouldn't make it, and yet,
every year, our amazing tribe delivers
.
This year, we're again leaving a legacy of education.

"EDUCATION IS THE MOST POWERFUL WEAPON WHICH YOU CAN USE
TO CHANGE THE WORLD."
~Nelson Mandela


This year, we're changing five communities in four countries—truly a global impact.
Together, we will bring education to hundreds of children in 19 classrooms in Haiti, Peru, Uganda, and South Africa through two paths of impact:
Building A Legacy and Sustaining A Legacy.
Building a Legacy
This path will:
Fund the construction of 7 classrooms in Haiti, Peru, and South Africa, and it is resourced through generous, tax-deductible giving. They include:
3 classrooms at Williamson Adrien Academy in Petionville, Haiti (our original Legacy Project) - these classrooms will add secondary grade levels to WAA!
2 classrooms at Colégio Kairos in Iquitos, Peru - increases access to life-changing education to impoverished children from the slums of Belen and Iquitos.
2 classrooms at Reagoboka Early Childhood Development Centre in Hamanskraal, South Africa - over 150 children receive meals, pre-school and after-school care, and even tutoring at our leader Elizabeth's small home.
All these classrooms will increase their capacity to help neighborhood children and families! (BONUS! BONUS!)
Sustaining a Legacy
This path will:
Support 12 classrooms — 6 each at Aclaprotech in Port-au-Prince, Haiti and His Mercy School in Uganda.
Fund 12 annual salaries for local teachers
Provide classroom resources such as textbooks, school supplies, and other necessities
Fund minor repairs to facilities
Provide training seminars for local teachers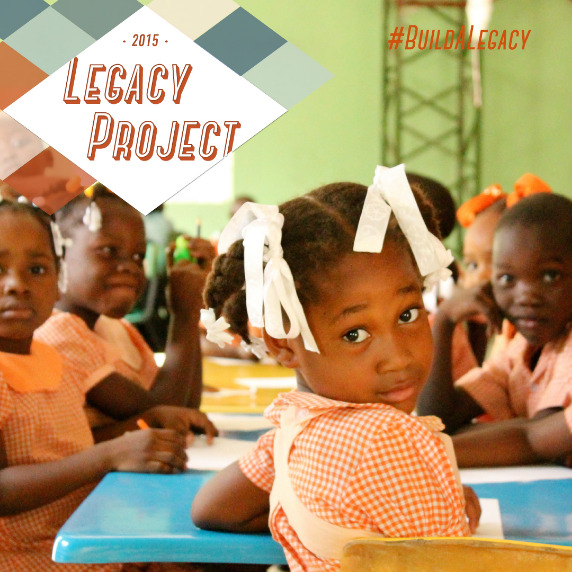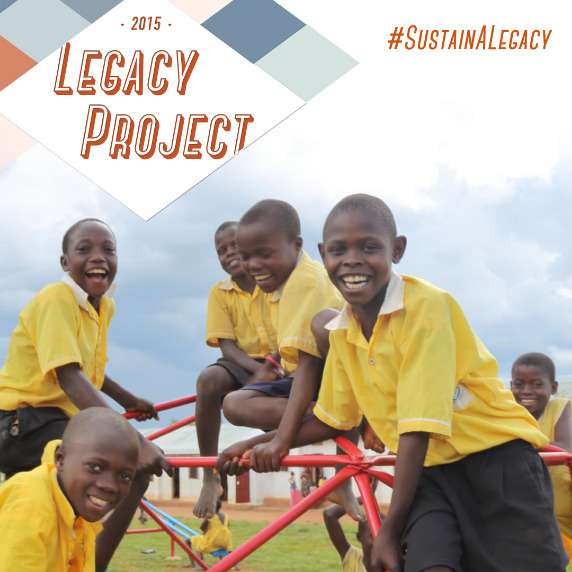 The thing is, if we want it for our own children - good schools, great teachers, the ability to read and write, a hope and a future - we just have to want it for everyone's children.
And if the roles were reversed, wouldn't we hope a group of folks across the world would decide that
good for all
is the way to go? These
are
our children and their parents are our brothers and sisters and their communities matter as much as ours, and we are either building a healthier, safer, happier world with the crazy advantages we were born into or we aren't.
This is so easy and you can do it one of two ways:
You can Build a Community with a simple donation. The goal is 64K and we can do it in our sleep. 7 classrooms, fully funded, hundreds and hundreds of kids impacted, local jobs created, hope seeded in all these beautiful little hearts.
You can Sustain a Community by purchasing this GORGEOUS 2015 Legacy necklace made in Haiti: hand-punched leather sequins and brass accent beads. Guaranteed to be shipped before Christmas, so BAM. Presents solved. 12 classrooms, new teachers, supplies, everything. The goal is 36K. Cake walk.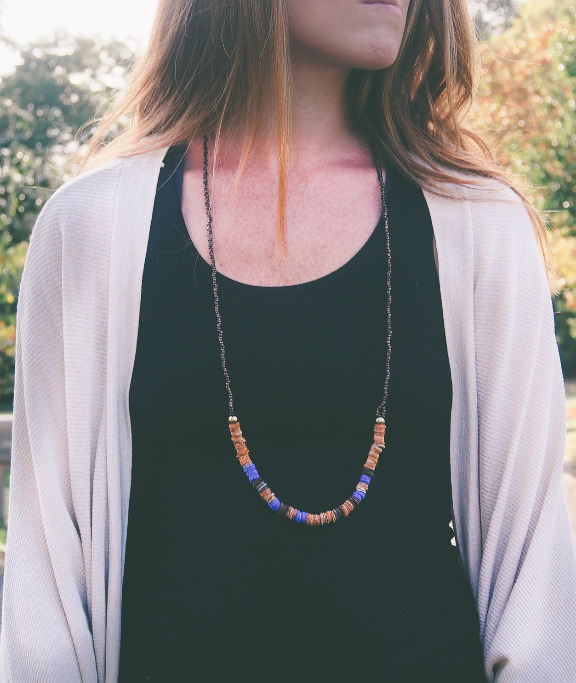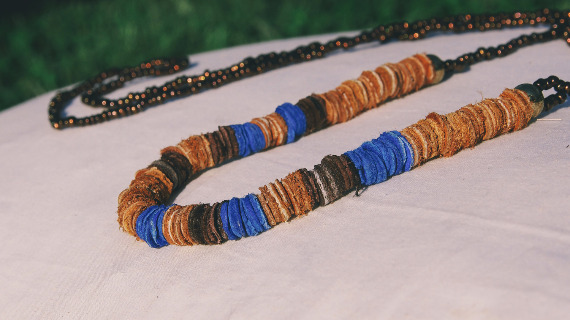 This necklace is so striking and original, every time I wear it, I get stopped a dozen times.
Plus, it is made by a Haitian artisan group, so MORE JOBS.
As a board member of Help One Now, I can just tell you that
we are so in here
. We are for the kids, for the schools, for the local leaders, for the communities, for the best practices, for helping and not hurting, for education, for the future, for this beautiful world and all its beautiful citizens. It is such a joy to share and empower.
And YOU matter so much.
You have mattered to HON and the communities they serve over and over. You've funded jobs and construction projects and leaders and schools and wells, and it has all gone into the hands of the smartest, highest capacity local leaders in each community.
What I am saying to you is this: you can trust your dollars to count here.
Legacy Project 2015...commence!!! You can
donate to build
or
purchase to sustain
, and you can discover more about HON and the communities we serve and the leaders we love and the amazing work you've supported
here
.
Let's do this, you guys! Gather your children around your computer, show them the kids, look at the schools and teachers and pictures, talk about Haiti and Peru and Uganda and South Africa, and
build your own family legacy of generosity, courage, and love.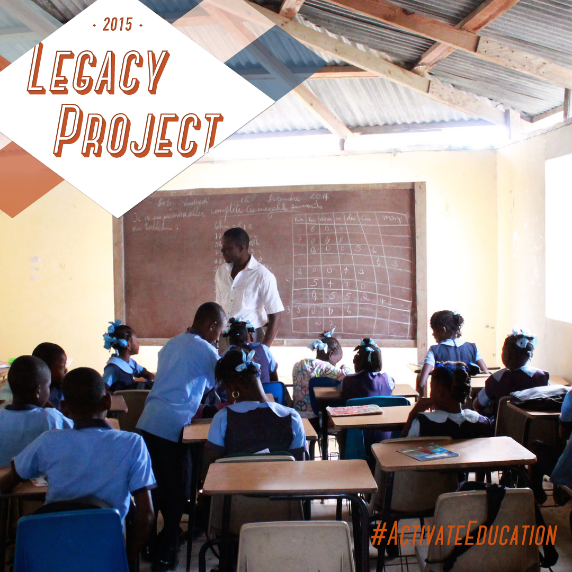 Posted in not categorized
Tagged with no tags