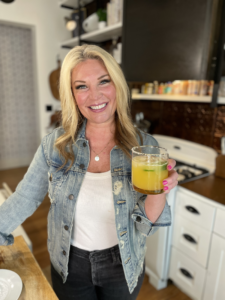 I did dry-ish January and I felt so good doing it. But you know I love a good cocktail, so I put some mocktails in high rotation and I didn't miss a thing.
But, I have been packing my mocktails with a punch — a teeny secret ingredient that is literally good for your body. FOCL CBD drops.
They are a zen-creating calming thing that's good for anything: stress, anxiety, insomnia, inflammation, the list goes on.
CBD calms the nervous system, so it's a healthy way to take the edge off without turning to alcohol. So all four of these drinks feature the highest quality MCT oil, mixed with premium hemp CBD, which may help you to:
Relax and recover
Calm your mind
Ease everyday stressors
Fall asleep quicker
FEEL AMAZING
Cheers to that! Load up on FOCL products and save 20% using code: CHEERS
Citrus Mule

Spicy Jalapeño Margarita
CBD Sangria
Cucumber Cooler