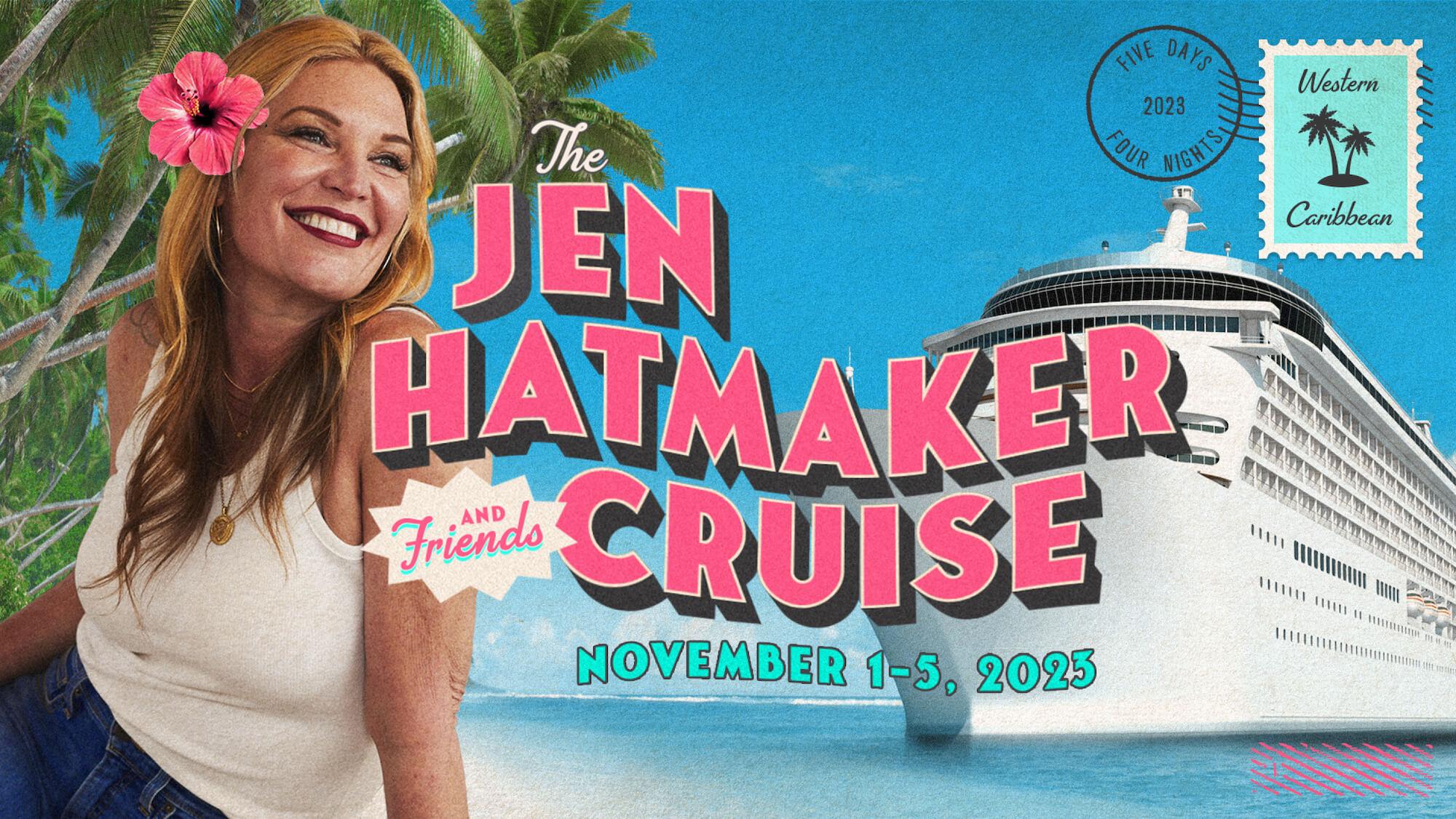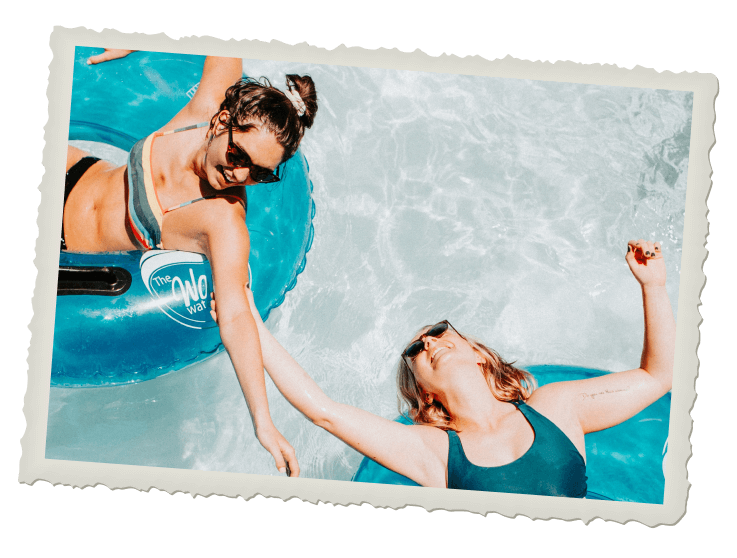 Welcome!
Jen Hatmaker and friends are setting sail in the sunny Caribbean and want YOU to come aboard. There's no better way to be at sea than with this crew — it's the ultimate #SquadGoals. You can expect all the hilarious shenanigans along with heartfelt moments and super-intentional times of connection during special programming with Jen and her special guests — and it's ONLY available to our cruisers. Whether you bring a pal or family member — or come solo (we can even set you up with a roomie!) — you'll find incredible new friendships and form precious memories. Ready?! Time to get set for so much fun in the sun!
The Jen Hatmaker and Friends Cruise is an exclusive cruise (within a cruise). We will all set sail together on the Royal Caribbean Harmony of the Seas ship. By registering with our exclusive travel partner, you get access to Jen Hatmaker & Friends exclusive experiences! We will be planning super fun and meaningful experiences that we get to have just with us AND you still get to explore all of the incredible activities onboard the Harmony of the Seas ship!
Book Now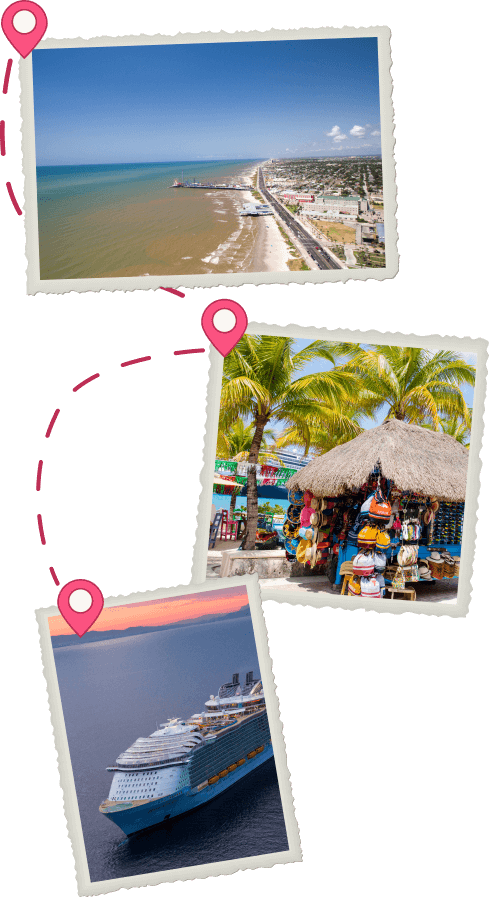 Itinerary
November 1, 2023
Depart From Galveston, TX — 4PM
Explore the luxurious ship you'll call home for the next few days and enjoy your first of many exquisite dinners while meeting the other travelers on your cruise. Together we'll kick off our Cruise with a jam-packed night with Jen Hatmaker & Friends!
November 2, 2023
Day At Sea
After a morning reflection from the balcony, treat yourself in the ship's spa. During today's lunch, sit with someone new—conversations with friends will become a highlight of your cruise. Enjoy an incredible event with Jen & Friends while having the time of your life.
November 3, 2023
Cozumel, Mexico — 7AM – 6PM

Popularized by Jacques Cousteau in the mid-20th century, Cozumel has welcomed scores of scuba enthusiasts and sun-seekers. Complete with a dense interior jungle and Mayan ruins, share the journey with friends you have made on your cruise as you discover more of this incredible world.
November 4, 2023
Day At Sea
Bask in the joys of a Caribbean cruise aboard this magnificent vessel as you bond with fellow travelers. During breaks from the exclusive program that's been designed for you, take to the ship's deck for some cool ocean breeze. Snap some keepsake photos as you create unforgettable memories.
November 5, 2023
Conclude In Galveston, TX — 7AM
All dates & locations subject to change.
Book Now

Sailing on Royal Caribbean's
Harmony of the Seas©
It's one of the world's largest cruise ships, and it's filled with exciting and relaxing adventures to match. What do you get when you combine one of the biggest ships in the world with some of the boldest thrills at sea? A gravity defying, status-quo denying, electrifying expedition onboard Harmony of the Seas® that will set a new standard for family vacations. From first-at-sea feats to the favorites you know and love, you'll find so many ways to make memories onboard — like the tallest slide at sea, Ultimate Abyss?, deck-defying stunts at the AquaTheater, and the robot-helmed Bionic Bar. Not to mention dazzling Broadway performances and globetrotting gastronomic experiences that go from Asia to the Mediterranean, and beyond.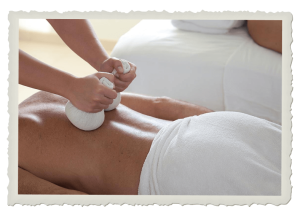 Relax Your Sea Legs
Full-service VitalitySM at Sea Spa — A luxurious lineup of signature treatments, massages, Medi-Spa services and salon to make you glow.
Central Park® — Stroll through the first "living park" at sea with tranquil gardens, trees, reading corners, dining and shopping options.
4 pools, 10 whirlpools — Including the tranquil Solarium pool for adults and playful H2O Zone water park for kids, plus two cantilevered whirlpools that extend over the ship.
World-class shopping — From your favorite designer brands to art, jewelry and electronics, never be without what you need or simply what you want.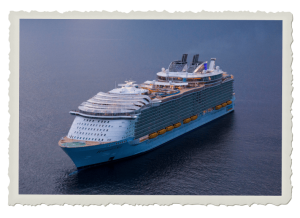 Onboard Experience Action-Packed On Deck
2 Rock Climbing Walls — Reach the top and enjoy an unparalleled view 40 feet above deck.
Zip Line — Brace yourself for a spine-tingling rush as you race across the Boardwalk®, suspended nine decks in the air.
Ice-skating rink — Put your vacation on ice with a spin on the rink. We provide the skates, you show off the moves.
VitalitySM at Sea Fitness Center — State-of-the-art, fully loaded with the latest weight systems and cardio equipment.
PLUS — 2 FlowRider® surf simulators • Hand-carved carousel • Basketball court 9-hole mini-golf course • AND MORE!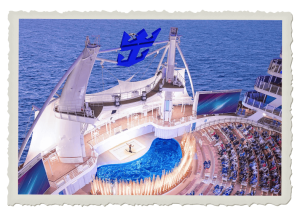 Much To Do After Dark
An evening onboard Harmony of the Seas® is a night full of non-stop entertainment.
Grease — the Broadway musical coming to the high seas for the first time ever
World-class ice skaters whose stunts will leave you breathless in Studio B.
Spectacular high-diving AquaTheater shows.
Vibrant parades and full-scale dance parties in the multi-level Royal Promenade.
Bars, lounges, and nightclubs that never have a cover, including live jazz club, karaoke bar, and comedy club.
Casino RoyaleSM where Lady Luck awaits at slots, tables and tournaments.
Save $50 Per Person!
Book now online through our dedicated reservation portal to get $50 OFF per person!
Room Share Program
Do you need a roommate? Checkout our room share program. Call our reservation coordinators at 844-715-2425 and they can give you information on how to add your reservation to the room share program.
What's Included In Your Jen Hatmaker & Friends Cruise Registration?
Cabin Cost (based on double occupancy)
Access to exclusive Jen Hatmaker & Friends experiences on board
Meals on board the Harmony of the Seas (with the exception of optional speciality restaurants requiring an additional charge for reservations)
Complimentary shipboard activities and amenities
Are You a Jen Hatmaker Book Club Member?
There will also be some additional experiences onboard exclusive for the JHBC! Not a member? Become one today at JenHatmakerBookClub.com
Book Now
Ready For the Trip of a Lifetime?
Call 844-715-2425 to speak to our dedicated reservation coordinators. They are available to answer your questions and help make travel plans. (Hours are Monday-Friday from 8:30am-5:00pm, Pacific Time.)
Click here to read our terms & conditions.
Still Have Questions?
Click the link below to be alerted about our upcoming cruise webinar informational session.
Explore More
September 24, 2023
Minneapolis, MN
Hennepin Avenue United Methodist Church
September 24, 2023
Minneapolis, MN
Hennepin Avenue United Methodist Church
November 11, 2023
Kansas City, KS
Resurrection United Methodist Church
Take a peek around
If you're not sure where to begin, I got you, friend. I'm always bringing you something new to enjoy.
Read More About Jen