If you're like me, you scroll through your news feed and within a few minutes you have the urge to crawl back under the covers. There's so much content fighting for our attention that it's easy to get overwhelmed — and equally difficult to feel hopeful.
That's why I leapt at the chance to host the Make Me Care About… podcast in partnership with the Bill & Melinda Gates Foundation. In 30 minutes or less, listeners hear an expert talk about a specific global challenge and present solutions. That's where the hope comes in.
This podcast reinforces a core belief of mine: What happens to you matters to me.
In the last episode of our inaugural season, I spoke with Melinda French Gates to get her thoughts on why people should care about the issues discussed on the podcast. She reflected on some of the episodes she connected with most, including the ones about maternal mortality and digital money, and how they underscore the work that the foundation and its partners are doing in these areas.
On that note, I want to share with you some of the episodes that made me care about topics that weren't even on my radar, as well as others that are deeply connected to my work. So consider this my highlight reel, complete with yearbook superlatives. You may find a few episodes you want to listen to again.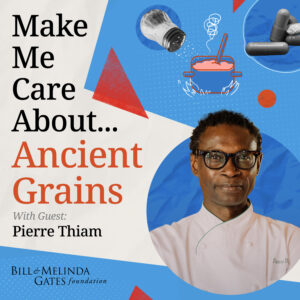 1. Most delicious: Ancient Grains
I love to cook, and I love to learn where the food I prepare comes from. In this episode, I speak with chef, author, and social activist Pierre Thiam about the benefits of ancient grains. Pierre will expand your knowledge and motivate you to diversify your pantry. He helped me understand food holistically—from the supply chain to climate change to its impact on farmers and their sustainability.
2. Most eye-opening: Maternal Mortality
I'm sure you'll agree that no one needs to make us care about maternal mortality. But do you know how big a problem this continues to be in 2023 in the United States and in low- and middle- income countries? My guests, Dr. Eva Lathrop, global medical director at PSI, and Elaine Welteroth, an award-winning journalist, TV host, and author, explain that not only are these deaths preventable but that Black and Indigenous women in the U.S. are much more likely to die from pregnancy complications than white women. In this episode, you'll learn why—and how we can do something about it, with the right investments and policies.
3. Best to spark a dinner party conversation: Poop
It's true: I've found a way to weave human waste into casual conversations. My first thought was, "I have a working toilet in my house, so what's the problem?" It turns out there are many. In this episode, Dr. Shannon Yee, an associate professor at the Georgia Institute of Technology, breaks down the imminent consequences of our aging sanitation infrastructure and the assumptions we all make about what really happens to our waste when we flush. It will blow your mind, and you'll want to tell everyone about it—somewhere between the cocktails and appetizers!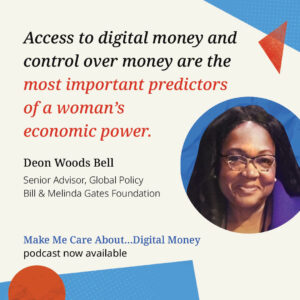 4. Most personal: Digital Money
Not only did this episode touch on my professional work, which centers women and women's empowerment, but it spoke to me personally. After leaving a 26-year marriage, I had to do a ton of work to reclaim my financial power. In my conversation with Deon Woods Bell, a senior program officer on the Financial Services for the Poor team at the Gates Foundation, she connects the dots between women's economic power and their access to digital money and explains why women must be at the center of this discussion.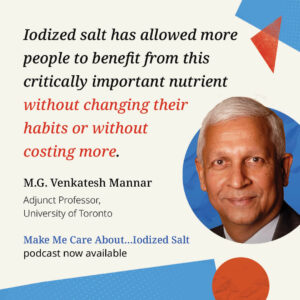 5. Most fascinating: Iodized Salt
I love salt, and I'm very heavy handed with it. But our guest, M.G. Venkatesh Mannar, a professor of chemical engineering at the University of Toronto, took my fascination with salt to a new level. I was amazed at how deep people's expertise runs. Venkatesh is a 6th generation salt producer—a trade I didn't even know existed! It wowed me to know how passionate one person could be about fortifying salt with iodine and other micronutrients. Not to mention the impact that iodized salt has on children's physical health and brain development.
Listeners will walk away from these episodes with the information to engage in thoughtful and intelligent conversations with others.
But above all, the podcast reinforces a core belief of mine: What happens to you matters to me. That is what it means to be a good neighbor and global citizen. My hope is that Make Me Care About… will help you think deeply how we are all connected and how we all belong to one another, as brothers and sisters.