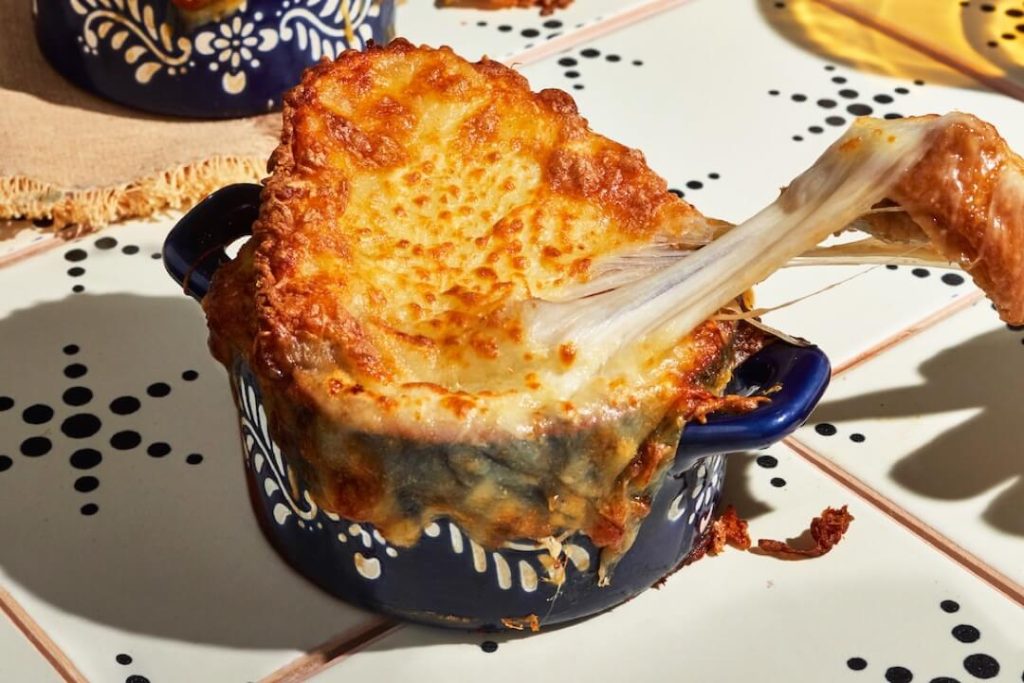 There is not a single reason you should not make French onion soup tonight. It is the most delicious, delightful soup of all the soups. This is not a matter of opinion but fact. Come at me.
Also, it's the easiest thing.
Heat a big soup pot over medium heat. Slice up 4 to 5 large yellow onions and drop them into the pot in 3 to 4 T of butter.
A word: This will seem like you are cooking a preposterous amount of onions. No one wants this many onions in anything, you will say. That is a lie. Please be patient with the volume of onions. If you skimp on the onions, you will regret it the rest of your life.
Cook these down until they are brown, caramelized beautiful things. Like 45 minutes.
Stir in 2 to 3 cloves of chopped garlic for a minute. Sprinkle in 2 to 3 T of flour for a minute. Deglaze your pot with 1 cup of dry sherry or red wine. Scrape, scrape, scrape. YOU DON'T WORK FOR YOUR ONIONS, THEY WORK FOR YOU.
Pour in 5 to 6 cups of beef stock.
Ina Garten INSISTS that we make our own stock or how are we any different than the animals.
I am here to tell you that I make almost everything from scratch, and *I use grocery store stock* because my freezer is too full of garbage Pepperoni Rolls and frozen waffles, and I am now rethinking my previous "everything from scratch" declaration.
Also in the freezer: frozen breaded fish because I've told you before that is my favorite shortcut for fish tacos, and I'm not sorry.
I'm digressing.
Bring to a boil, lower heat, and simmer for 15 minutes. Add 2 T chopped fresh thyme and S&P. (I told my sister that thyme was my favorite fresh herb, and she was like "That's no one's favorite herb" and I was like "Hello. I just said it was my favorite so now your 'no one' theory is blown to crap.")
This is when it gets exciting.
Cover a sheet tray with foil, and ladle the soup into individual ramekins. French onion soup is literally why ramekins were invented. (Fun fact: ramekins are also the home to my favorite dessert in the entire universe — creme brûlée. Get in my mouth.)
Place thick slices of French bread on top of each ramekin of soup until it covers the whole top.
NOW LOAD AN IRRATIONAL AMOUNT OF SHREDDED GRUYERE CHEESE ON TOP OF EACH SLICE OF BREAD. I'm sorry for the all-caps, but my gosh. This is more exciting than new Royal babies.
Some people put the bread in the ramekin first, pour the soup over, then top with the cheese. My response to this dilemma is this: What a wonderful time to be alive when this is the biggest problem of your day. Delicious surprise bread at the bottom or toasty cheesy bread on top?? This is not a legitimate bone of contention.
Carefully put the sheet tray under the broiler on the bottom rack of your oven. Watch it carefully. When the cheese is a melty, gooey avalanche, it is dinner time. Everyone gets their own ramekin, which makes them feel special and fancy.
Pair it with a bright, crunchy salad and you are now such a culinary hero that even Ina will forgive you for the boxed stock.
Speaking of food, you can find more recipe goodness in my debut cookbook, FEED THESE PEOPLE.