People ask me all the time: "How do maintain such order and balanced systems in your life and home?" No, wait. That's not right. It's this: "Please tell me your secrets for being an amazing, creative Classroom Mom." Darn it. I keep getting confused. Oh yeah! This is what they actually ask:
"What are you reading that is moving you right now?"
Okay, this. If you've been around me for half a second, you probably know that I gravitate to books that shake crap up. Christian platitudes, thematic clichés, soft fluffy gospel writing…I'd rather stick freshly sharpened pencils into my calf meat. Give me something strong, something difficult and true, something to raise a little hell. I don't like books that go down like butter; I like them full of shards and rough edges. I like them to push like a bully and make me wince with the truth of it all. I appreciate courageous writing so much.
I like to be stretched.
So this week, I'm going to share with you three books I've recently read that unlocked something deep within and left me alternatively cheering out loud and trying to creatively distance myself from their messages and shirk obedience. These are complete with giveaways and everything. It's almost like I'm a real blogger.
First up:
Sacrilege: Finding Life in the Unorthodox Ways of Jesus
Hugh Halter
If you read Interrupted, you might remember that I quoted Hugh's book 
The Tangible Kingdom
 approximately 359 times. At the time, we didn't know Hugh, only the unconventional, razor-sharp, devil-be-damned way he talked about Jesus, community, and living on mission in such a way that people might actually be attracted to Jesus rather than repelled by the ungracious, unappealing, unChristlike way we represent Him. It literally turned our world upside-down and is still the material we use to disciple our people through missional community at ANC.
So we did what we do best: tracked him down in real life and made him be ours. The Hatmakers and Halters are all tangled up now in ministry and friendship; we just sat on their back patio in Denver two weeks ago and ate grilled bison and quinoa, and I daresay we solved nearly 68% of all the earth's problems.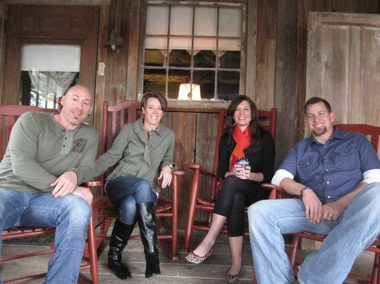 Our books are next to each in Barnes and Noble. Halter/Hatmaker. DESTINY.
But I digress. After reading The Tangible Kingdom, we received the language we needed for creating strong missional community. But after reading Sacrilege, I realized this was an instrument for bringing the disenfranchised, the church wounded, the cynical and angry, and the repelled back to Jesus. This wasn't just a book to put in the hands of a church leader; this was a healing tool for everyone who cannot for the life of them figure out what is "good" about our Good News.
I'd love for you to peek at how Hugh talks about faith and Jesus, because it is utterly liberating and refreshing, so I asked him a few questions and used our friendship as leverage to make him answer:
I like how you try to get in trouble right away. Why did you title the book  'Sacrilege'?
Simply put, it just means to remove religion from something or to tear away what some people might think is religious. Sacrilege isn't about defiling, defaming, or profaning anything good. But it is about stripping away anything that hides the real deal, the real Jesus, and the real story of the Gospel and kingdom living.  I personally think the main reason people aren't coming toward Jesus is because they can't find him through all the mess of tradition, poor examples, judgment, rhetoric or religious activity…and that includes evangelical Christianity.
You've carved out a strong niche writing for church leaders. Why did you decide to write a book for "non-leaders"?
To be a bit crass, I think non-leaders are the new leaders.  And unpaid saints are much better positioned to affect the lives of real people than the pros.  As I have assessed the landscape of the lives of pastors, incarnational living seems to be quite elusive from those whose calling is to lead the church.  The peasants, the plumbers, and baristas and bar managers can easily take the sacrilegious way of Jesus and make it their own … starting tomorrow!
I love the way you talk about Jesus. If you had to pick one, what lesson do you think most American believers need to rediscover about the unorthodox ways of Jesus?
I'm not sure if this is the main one, but the characteristic that I love the most is "meekness."  Jesus teaches that this one, crazy little "istic" about our lives is actually what wins the hearts of our friends, our kids, and those we care about. Anything north of meekness is just religion and people can't stand it or stand for it.
The beatitudes are my absolute favorite. Why did you use them as the scaffolding for the book?
That's where Jesus started when he began to try to re-orient religious people toward an entirely new faith system he called the Kingdom of God.   As each chapter takes a beatitude, and then shows the sacrilegious alternative to religiosity, I hope to also give people an angle that will challenge and release them into true incarnational living.  I also wanted people to know that the Bible gives them permission to be with, love, accept, and befriend sinners; that the Bible gives them freedom to enjoy life and embrace the grey areas of life without fear, fundamentalism, or frigid faith.
So freeing, Hugh. People expect that you'd probably tip a few sacred cows over.  Which ones do you think you'll take the most heat for?
For sure it would be the chapter where I address the Sunday practice of communion, or the Lord's Supper.  I suggest that Jesus never intended for the Eucharist to become an institution of the church available only for insiders. The symbolic act of "remembering him" is actually MORE IMPORTANT to Jesus than it naturally becomes when you administer it with the common practices of exclusion, judgment on the heart of someone in the crowd, or professional clergy controlling who gets to receive it.
The Table of the Lord has become another 'false" line in the sand instead of what was truly intended to be…that of an invitation to eat with Jesus and experience his mercy.  Three publishers said no to this book though they agreed with my biblical and historical sketch. They simply didn't want to take the heat from retailers.  I do want to add my view to the overall discussion of how Jesus would treat those not in the club because I think it's central to His larger call.  I'm proud of Baker Publishing for letting the honest discussion come out.
Who should read this book?
I'm not sure I would just hand it out to everyone.  It's sort of like a brand new pair of scissors.  It's not safe for elementary users but could be highly practical for those in our congregations that are ready to engage the world like Jesus did.  I'd give it to small groups who are trying to become missional communities, I would give it to all church planters, I would give it to all pastors, elders or anyone setting vision for a church.  AND I would give it away like candy in at Halloween to jaded Christians who have tapped out of church, or friends who are not yet followers of Christ. It will help them see a completely different side of Christianity that they will like.
What do you think our communities would look like if we took the message of Sacrilege seriously?
Oh, that's easy. Church people would be afraid or annoyed by us, and the unchurched normal folks would love us, just as they did Jesus. If Christians were the most sacriligious people in the neighborhood, our cities would be transformed.
BOOM.
What do I have to do to get you and Cheryl back to Austin? Bribery? Extortion?
We love Austin except for May through October.  Anything above 140 degrees is not good for my complexion. Cheryl however will come for good Mexican food and a nice glass of Tempernillo!
~
Readers, let me tell you something: this book is a safe tool with zero freak factor to use in creating natural dialogue with folks who've tapped out of organized religion and their Catholic/Protestant upbringing. Sacrilege is a conversation starter you need not fear. I know one girl who gave away 30 copies to unchurched/dechurched women in her life, and they held weekly discussions on each chapter. The women were so moved and won over, they invited Hugh to their gathering and bombarded him with stories of their own changed minds.
If you're just up to here with Christian rhetoric and the blah blah blah white noise of religion, please do yourself a favor and grab a copy of Sacrilege. Hugh says everything we're thinking but are sometimes afraid to murmur out loud. He asks the hard questions and runs headfirst into the messy gray of life. Not to mention the rock solid biblical case he makes for living like Jesus really lived, which if you've paid attention to your Bible, can get you into trouble with religious folks but might get you a whole lot closer to Jesus.
Who's in??
I have two copies to give away! Leave a comment about anything that resonated with you from this Q&A with Hugh, and I'll draw two names at random and send you a copy!