A couple of years ago, I got an email from another pastor's wife in Austin: "Can we meet?"
Transparent moment: I don't always like meeting pastor's wives (said the pastor's wife). Sometimes, pastor's wives are just so pastor's wifeish. You know what I mean? Many of them leave my company desperate to get me on their prayer chains and utterly confused how I landed this role. I just don't speak the language of my station. My gifts don't fit into the packaged job description, and plus, organized religion and the people who organize the religion is all sometimes for the birds (said the girl who organizes some religion).
So I agreed to meet this girl, because we were going to Magnolia Café, which, if you know Austin food, is reason enough, amen and selah.
Imagine my thrill to meet this sharp, courageous, bold girl who I immediately upgraded to Major Friend before we even got our entrees. Jennie Allen and I dropped straight into the deep end together, which I appreciate more than I can tell you. This is my friend, my sister, y'all. I value her so highly. I love her. She is exactly the kind of Bible teacher you crave; the one who brings the rain and pulls no punches. She is obedient and intelligent and humble and loves Jesus and you can trust her. She is a faithful guide and friend leading us toward courage and abandon and lives set ablaze.
Please, please let me tell you about her book because it will jack with you and your family and your safe, comfortable life in the best possible way:
Anything: The Prayer that Unlocked My God and My Soul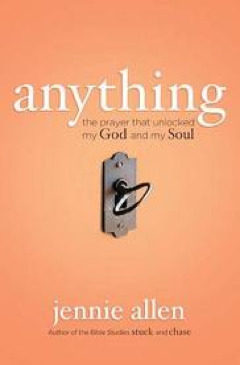 Perhaps this is the best soundbyte for the content of Anything:
And this is the best soundbyte for what kind of special person Jennie is – the text she sent me this week immediately after hearing my daughter was in the ER: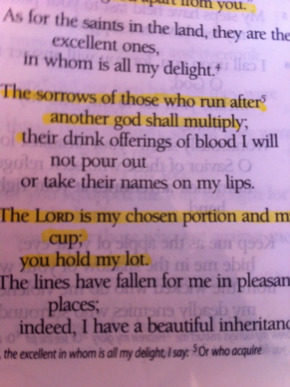 Less about the blood offerings and more the "you hold my lot" part. She's not a weirdo, people.
I'm going to let Jennie share a bit about it with you in a second, but I want to tell you that if you want to be brave but you're scared, or you want to say yes to the kingdom except when you'd rather say no, or you want your life to matter so much for Jesus but you prefer comfort and safety and want to break free from those chains so badly, this is the book for you. This is how I put it in my endorsement of Anything: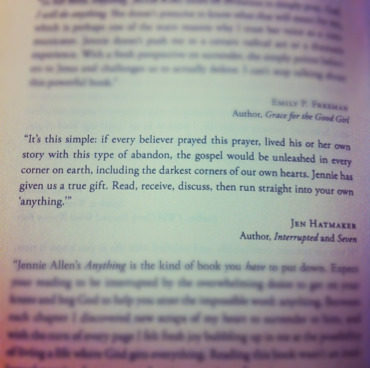 I recently learned to use Instagram and I fear I'm obsessed with the fancy photo tricks.
Oh, you're going to love the way Jennie writes and talks. I asked her to tell you about the engine behind Anything, and this is what she said:
I knew that what was happening was common.
As real life and responsibilities pressed in, I felt God being pressed out. Religion, church, and Bible study were all in place—but truly surrendered lives, the kind God could use anywhere and in any way He chose, had quickly turned into planned and calculated lives that focused on things like saving for a Suburban or minivan.
There had to be more.
Three years ago in the middle of the night I sat on my bathroom floor reading the blog of a girl who had surrendered everything. Something started that night in me.
The following is an excerpt from Anything: The Prayer that Unlocked My God and My Soul
So here's what's been taking place, a revival of sorts:
1. It is as if everything I have said I believe is all of a sudden and miraculously real to me . . . heaven, God in me, freedom from bondage, my purpose here.
2. And because it is real, I am living as if it is real.
3.  And living that way costs me something—costs me everything.
4. So we start to consider our priorities and realize we value things like comfort and people's opinions and happiness.
5. Then God says to die and sell everything we own and hate this life.
6. And we say okay.
7. We start thinking things like,  Should we sell our new house? Or we have an empty bed—let's fill it with a child who needs a home and  let's invite our neighbors to Easter dinner.
8. And then the people around us start saying things like, "Don't do it for the wrong reasons"—like the love of adventure or for our own glory. And we say, "Ok, thanks for the heads-up."
9. Then we have people who are praying the same prayers and thinking the same thoughts, and something is happening—not a feeling or love of adventure or desire for glory but something within us that is from God, a call to more: to die—to live.
10. My heart is bleeding and I can't make it stop. So we are praying and willing and dreaming of living for heaven instead of the American  dream, and it is changing everything. And I am strangely okay with that.
We were ready and willing, and so were a lot of people around us. We knew that this was not about accomplishing some visually stunning display of martyrdom or philanthropy. This surrender was simply an agreement with the living, active God of the universe saying he could have us for anything.
We were His, and only through His Spirit would we know what to do—and only through His Spirit could we do it. The only thing we knew to do was pray.
So we prayed . . .
God- we will do anything.
It didn't feel fancy. It wasn't even a big deal. But the prayer held in it a thousand little deaths. In saying anything, it meant we were handing him everything.
What are you most afraid of giving God?
~
GIVEAWAY!! I have copies for two lucky winners! Leave a comment answering the above question to enter for a chance to win a copy. What is your anything, readers? What are you most afraid of giving to God?