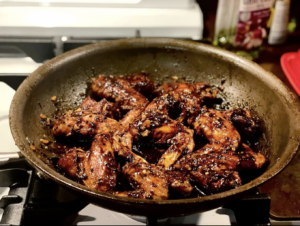 No matter what team you cheer for, these killer hot garlic wings are a touchdown. Trust me on this — and make them stat.
3 lbs chicken wings
4 T melted butter
Salt, pepper, garlic powder, cayenne, paprika (however much idk)
2 T high temp oil (canola, grapeseed, whatev)
2-3 T chopped garlic
1 T crushed red pepper flakes
1 tsp black sesame seeds
2 T barbecue sauce (whatever kind you like, man)
2 T hot sauce (I like Frank's for this)
Blue cheese dressing for dipping — unless you are not spiritually mature in this area and need Ranch.
[I don't even know about these measurements. Do what you want. You're grown.]
Heat your oven to 400 degrees Fahrenheit. Add the seasonings to the melted butter in a large bowl and toss all the wings until they are coated. YUM.
Throw a wire rack into your baking sheet (might need two pans). Be your own hero and line the baking sheet with foil first and now you don't have to clean them. We are out here living in the future.
Bake for 40 minutes or so until they are brown and sizzling and crispy.
Meanwhile in a large hot skillet, throw in the oil, garlic, red pepper flakes, sesame seeds, barbecue sauce, and hot sauce. Stir until bubbly and glazy, around 2 minutes. Add the crispy wings and toss until totally coated.
These wings are proof that God loves us and is on his throne.
And also the reason Jesus invented blue cheese.
If you get your ass to the store, you can have these tonight in time for a 5:30 p.m. kickoff.
Speaking of food, you can find more recipe goodness in my debut cookbook, Feed These People.