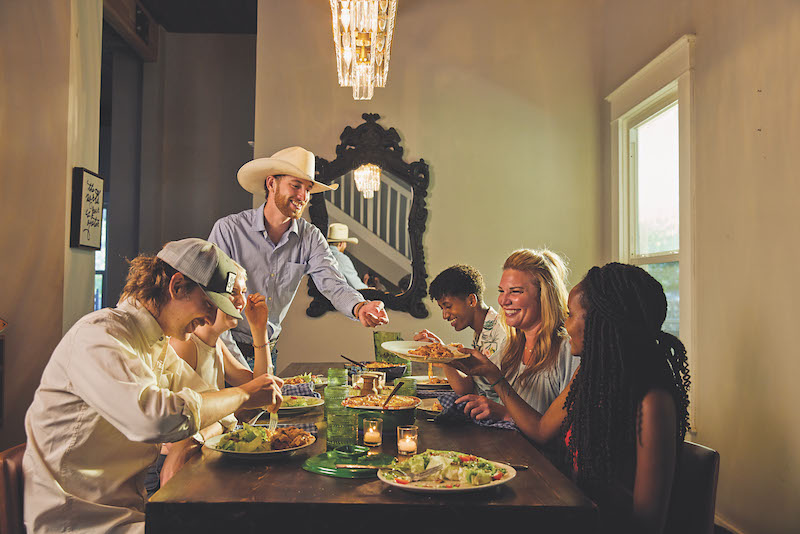 I accidentally wrote a cookbook that doesn't follow any rules and has some swears in it.
It is for normal people who like/need to cook but also have a medium amount of damns to give. It will especially work for people who want to read a recipe, definitely laugh, maybe cook.
It contains the following sentences, among many others:
Taste each stage. Adjust accordingly. No one needs to know you double dip the whole time. They're eating this food for free.
The perfect hash browns are shredded and come straight off the greasiest fifty-year-old griddle at the sketchiest diner you can find, and if you don't agree, come fight me.

If you know for a fact that your family will not eat green chilis, then do the obvious thing: trade them in for a new family."
I reach for savory breakfast most times, but sometimes a pancake just HITS. I can get swept up in breakfast dessert mania too, because I am an American with rights.
On "Dip Dinner": I pulled this term out of my ass one year when the kids were little and I wasn't in the mood to beg them to eat like some pathetic lady shilling to kindergarteners.
On cold soups: Yuck. Why. If I'm eating something cold out of a bowl, it better damn well be ice cream, or you're going to stick that gazpacho in the microwave.
Number one rule of Dressing Club: There is a Dressing Club and you are now a member and all members taste and adjust. Your dressing, your house, your choice. No one tells you how to live.
Our moms didn't make three separate meals for their snowflakes' personal preferences. Moms were like, "Eat that broccoli now or you will damn well eat it cold for breakfast tomorrow, and my morning playlist will be the sound of your tears."
This recipe is for spicy ranch, which is a bit kickier, but just leave out the cayenne and boom: regular ranch, just like the pilgrims ate.
You bet your ass I use store-bought rotisserie for this. Chicken salad is the reason God invented rotisserie chicken.
I grew up eating vegetables during the 80's, and it was a real culinary tragedy. If you haven't ever eaten Brussels sprouts boiled to death in plain water, then I guess your mom didn't hate you.
Thanks for not driving us to your sex dungeon, Marty. ???
Anyway, the whole thing is like this. Plus the food is delicious.
Plus my photographer Mackenzie and her team made it gorgeous so there's that too. It is called Feed These People and I think you're going to love it.
It's not very precious, so jot that down, but it is fun and real and yummy and for all us normal home cooks out here feeding our people. Come and get it, y'all.
If you want to know how this actually happened that I have a book in the wild now, here's the story…
Easily a decade ago, I threw together my first recipe on Facebook…
This was, way back in the olden days. It was a helter-skelter, long, rambling thing that I wrote because it was fun and actually what I'd cooked for dinner. It followed zero rules for recipe writing and no protocols, but I wasn't trying to do either of those. I was just cooking and writing nonsense about it with imprecise measurements and sketchy instructions.
"This is funny. I'd read a cookbook if it was written like this."
Hmmm. Weird. Okay. Anyway, I kept cooking and writing and posting, and I noticed how much I loved food writing. Because I genuinely love to cook, writing recipes with stories and preferences was low-stakes and such a fun diversion. Who cares? No one seemed to mind my melodramatic approach to Duke's Mayo, so on I went.
"Jen, I swear. You should write a cookbook just like this."
Come on, guys. Get serious. Anywaaaaaaaay, food writing was so enjoyable, I slipped a few recipes into my books. That I wrote! That went to a book store! Did they have anything to do with anything? They did not, but those were my books and if I wanted to write about beef bourguignon, then I would dammit.
"Jen, we've started an online petition to make you write a cookbook."
This is a true fact and a real thing that happened. Thousands of women signed their names to force me to write a cookbook, which is maybe the most extra thing my community has ever done. About this time, my agents started circling the wagons:
And just like that, I said yes. A few publishers said yes. My family said yes.
And just as I was preparing to write the very first word, I lost my marriage. I completely zeroed out for months.
Then I asked my publishing team what they wanted me to do with the failed project called Feed These People. They asked if I was still feeding people. I was. They asked if I still had kids. Parents. Sibs. Friends. I did. They told me to get busy writing then.
In that worst year of my life, I couldn't have possibly written about women's empowerment, or emotional health, or justice issues. I had no gas in the tank for spiritual leadership, or mental wellness, or personal development. I couldn't access any of my usual passions. But I could write about tacos. I could cook six versions of pulled pork sandwiches for my kids. I could manage onion rings.
Guess what? Writing Feed These People saved me. It pulled me out of my head and put me in the kitchen, and it gave me something fun and delightful to write about. It let me be silly. It let me be creative. It didn't require strong leadership or pointed advocacy or wife status, none of which I had. It put laughter back in my life, my best people around my table, coconut shrimp with hot honey in my belly.
I think you're going to love it. Pretty sure it will make you laugh out loud and try new recipes. It will probably feed you but will certainly entertain you. But even if no one ever reads it, every second was still worth it to me. Because I loved it. And it loved me. It was my companion on the road back to myself, and I will always think of it like a best friend.
This is your cookbook. I loved, loved, loved writing Feed These People and I hope it helps you feed yours