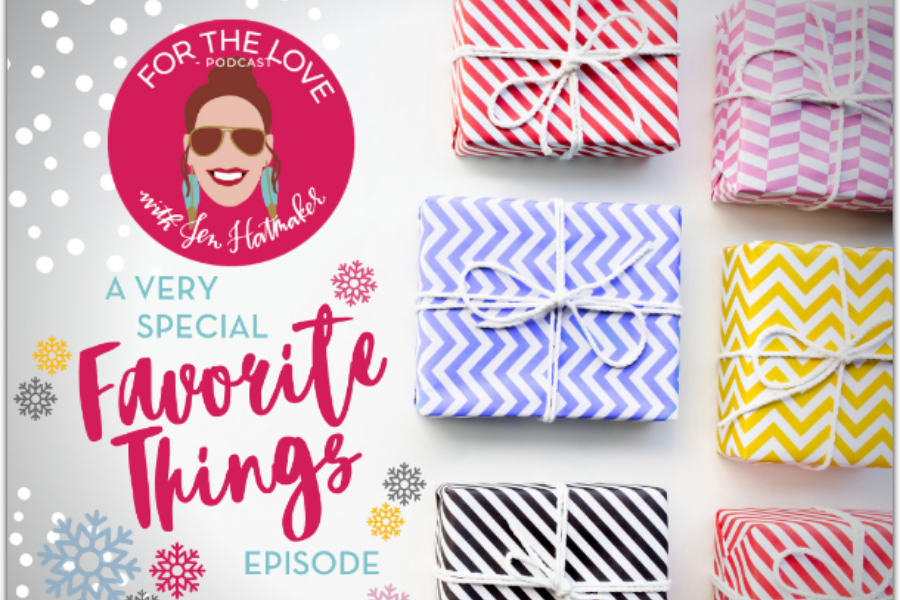 The Hatmakers' Favorite Things – The Third Annual Holiday Gift Guide
Episode 02
Podcast Land's giving-est couple Jen & Brandon are back with a slew of great gift ideas for the holidays on our 3rd Annual Hatmaker's Favorite Things Holiday Gift Guide! Brennifer's (we're gonna get that "Super Couple" name to stick) giving us all the warm fuzzies by featuring 16 companies that not only make great products, but give back in significant ways to our communities, to people in need, and to the world. Our team has done the homework so you can feel good about all your gifts this year—PLUS the Hatmakers pulled a few strings so that For the Love Podcast listeners get amazing exclusive discounts from each company featured in the episode! From leather bags to soft blankets, from Jen-approved signature jewelry to wake-you-up-with-a-kick coffee, Jen & Brandon usher us into the holidays with their inimitable style and festive spirits. And don't worry if you can't write down these ideas as fast as Brandon and Jen are laying them down. The entire list of products—along with pictures, links and details about the exclusive discounts—are over on jenhatmaker.com just waiting for you. Happy Holidays from Jen, Brandon and the entire For the Love Podcast team!
Narrator:  Hi everybody, my name is Remy. Welcome to the For the Love Podcast, with your host Jen Hatmaker, my mom. She writes books and speaks to crowds. But she mostly loves talking to amazing people every week on this podcast. Thanks for listening! We hope you enjoy the show.
Jen: Welcome to the For the Love Podcast. We have a good one for you today. This is–can you believe this is our third annual episode of the Gift Guide?
Brandon: Holy cow.
Jen: Yeah. And the first time you just did it cause you're married to me and you couldn't say no. But now this is what we do, this you and I record the gift guide episode together. So everybody please welcome my partner in life and in the gift guide episode of the For the Love Podcast. Brandon Hatmaker.
Brandon:  Hey, hey everybody. How are ya?
Jen: You are going to be glad that you're here today. This is a one stop shop for you and we have included a wide variety of products that you are going to love. And so, let us tell you just a little bit about sort of our framework for what goes into this particular episode. The Christmas gift guide.
Brandon: So this is our favorite things guide. It kind of puts the spotlights on companies that make giving back central to their mission. And so we are all about helping you stretch your holiday dollars further and to do the most good with your purchases. So we're highlighting companies that commit to ethical and fair trade practices and contribute a portion of their profits, uh, to important causes; projects with a lasting impact.
Jen: So that's what you can count on. Every single thing you're going to hear today. It has a really cool component of giving back. It's all fair trade. This is–you can feel very good about every single product we're going to tell you about today. Every single company featured in our list, additionally, have made really special offers just for the, For The Love listeners, okay. Every single one of them. So this is why you want to tune in today. So with the exception of one, all of the companies we talk about today are making these deals available to you from today through the end of the year–some even a little bit longer. So remember to come back here throughout the entire month of December to do your holiday shopping if today is not your day.
Now, I cannot stress this enough, be sure to visit the transcript page over jenhatmaker.com underneath the podcast tab because you just cannot understand how much we're coming in hot with so much information in the next hour. So many links, so many products. So Amanda has basically, she has built out this entire page for you. So everything we mentioned is featured over there. All the links, all the deals, all the information, cause you'll never be able to remember what we're about to tell you in your ears, so go over to jenhatmaker.com and this is like a, it's like your one stop shop for Christmas shopping.
And then, of course, share this episode with your friends or, and not that you would do this, but somebody would; use this episode to drop hints with your spouse, or your family, and say, "I would love to receive this as my Christmas gift and here's a helpful link." But most of all, we would love for you to help us spread the word about all of these amazing companies that are doing such good, such ethical, such noble work in the world. Okay. Brandon, are you ready?
Brandon: Yeah. And you know what? This is the great, it's great timing for this too. You have time to order everything. And it's not just gifts for those that are going to be in your house, but think about those people out there that you would love to just get online, order them something to be delivered to their house. What a great surprise. What a great gift. So a phenomenal way to do Christmas. So…
Jen:  Let's start with our very first vendor.
View More
---
#1: IMPACT PAPER
Brandon: Our first partner is ImPaper, better known as Impact Paper. It's a stationary company. It incorporates the sustainable responsible practice in their daily business that we talk about; it's so important to us. And it not only makes real life social contributions, but they also make sure that their products have minimal impact on their carbon footprint, which is huge for a paper company.
Plus every product purchased, the company makes contribution towards a specific cause to somehow help improve the lives of others. So they've given a variety of established nonprofits, humanitarian orgs, that address issues like clean water, treating disease, planning trees, providing healthy meals, healthcare and scholarship.
So here's a couple of things we liked from them. Of course we start with Christmas cards. It seems like a logical place, right?
So who doesn't send Christmas cards?
Impact Paper has a cool collection of single holiday greeting cards, all festive designs with all the staples, including the Santa's, the snowmen,  penguins and Ho-Ho-Ho's, Deck the Halls. They've got them for Christmas and New Year's–lots of different designs. Like I said, these are single greeting cards. So this is like what you might go and pick up from Target or Hallmark. It's not a box of a dozen of the same thing. Personally, I love that because it means you're personalizing all of your cards.
Jen: Okay. And so this is like one I've got right here. And so I'll show the, I'll show this to you over on the transcript page so you can see it with your eyeballs, 'cause it's very on brand for us Texans.
So it has a bunch of like happy, festive cactuses all decked out in holiday lights and Santa hats. And the card says, "hope your Christmas is on point." Okay. Do you see what I'm saying? All of it is actually really funny and clever and ironic, which, you know, that's my first language.
Brandon: Again, lots of designs to choose from here. Retails for $5.50 per card.
Jen: Impact also has this fun collection of gold foil art prints. Some of them are city related with like the name of the city and its coordinates. That's cute.
Some of them are quotes or phrases, but the one that I love the most that they sent me, because I think they know me, we have displayed in our kitchen already because it has the quote on the front that says "I followed my heart and it led me to the fridge." So that's obviously the cutest little gift for a foodie.
You will find something that you love or that suits the person that you're buying for.
Prices kind of vary on the art prints, but the gold foil ones, all retail for $12. So this is like a low price point, funny, clever, thoughtful gift.
There's other stuff that you're going to love or that would make great gifts from this company. Stocking stuff for book lovers. They have dozens of magnetic bookmarks, sort of a huge variety them, and you can use them however you want to use them. And those are just $5.50  each. So awesome.
Brandon: All right, so here's the promo details. Impact paper is giving For the Love listeners, 15% off their entire purchase. Go to their website, www.ImPaper.co and use the code FORTHELOVE. Capital F-O-R capital T-H-E capital L-O-V-E. Expires December 31st.
Jen: All right. We are moving on to our second vendor.
---
2: SSEKO DESIGNS
Brandon: Our second vendor is Sseko Design. Sseko was started to enable high-potential, talented young women in Uganda to continue on to university. And so these women work for Sseko in the nine month gap between secondary school and university, saving part of their income for school. They receive life skills, are paired with professional mentors, and get valuable, formal work experience. So get this at the end of their term. Sseko matches their savings by 300%. That is huge.
Jen: That is huge, that is amazing. I don't know anybody else who does that.
Brandon: So this year, they're putting their 131st woman through the program and every woman who has graduated from their program has gone on to pursue higher education. So you just can't argue with those results.
Jen:  I've been a fan of Sseko for a really, really long time. They have a ton of stuff you'll want to see their website for sure. But I want to point out a couple of things that I know you're going to like.
There's something that I have learned in my book club. By the way, if you're not a part of the Jen Hatmaker Book Club yet, I don't know why you aren't. But here's something I learned in the book club: Women go bananas over tote bags. No joke. We love tote bags. And so we included a tote bag in one of our monthly boxes back in September for the book club and the women went wild.
So I don't actually think you can have too many of them because they're so easy to use. You can just take them to the library or to the farmer's market, to the grocery store.
And so you're going to love this one that I found for you today from Sseko because what it has printed on the front is: "'Like a girl' is a compliment". Right? So, you know, I like my share of sass and so this one is just perfect for your little rabble rousers and your big dreamers. It's screen printed on this really great high-quality cotton canvas and it retails for $19.99.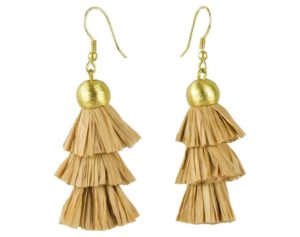 Also when you're on the site, the Sseko site, take a look at their Layered Raffia Earrings. So, these would look great with a little black dress; any holiday parties you have this month.
Then, speaking of dresses, check out theirs, cause they've got some really, really lovely ones, including caftans. Am I saying that right? It's caftans–caftans. I think it's caftans. I've never actually said that word out loud. I just know what it looks like on my brain. But they're my favorite from like vacations all the way to like dressing up for anything on the town, 'cause you can accessorize them however you want. They have a
beautiful one in a chianti red that I love. And so you'll want to look over and kind of peruse their website and see what else they have.
Brandon: Maybe it's "caif-tains."
Jen: It's not "caif-tains."
Brandon: " I think it should be "caif-tains."
Jen: That's for sure not what it is.
Brandon: Alright. Here's the deal. A lot of these gifts that we like this year are not exactly targeting men, but they're all doing great, great work around the world. But here's one thing you need to check out, go to their website and you need to look at some of their nice leather products.
For the guys in your life. I'm telling you, I've seen some of their stuff, high quality, really, really cool stuff. They've got wallets and briefcases and weekender bags. They're all really sharp, really smart. They come in that nice oiled chocolate color that makes it looks rich, classy. I love that leather. And so any of those could be given individually or as a set to make a really nice gift.
Jen: We are giving you just a couple of recommendations from these companies that we like, but they have a ton of other stuff and the deals that we are talking about apply to anything you want to buy from them. So be sure to go to their website cause you may find something completely different that we didn't mention that works for you.
Here's the details for Sseko. The tote bag; Sseko is going to give you 30% off that bag. So it only retails for $20. So with the discount, it's $14–awesome price point yet again. Okay. So here's y here's your code. It's at Ssekodesigns.com the way you spell Sseko is S-S-E-K-O. Ssekodesigns.com. The code: FORTHELOVE. And that one expires December 31st. All right, moving on.
---
#3: CAMANO ISLAND COFFEE
Our third vendor, which you're going to know why we love this one right away, is called Camano Island Coffee.

Brandon: Gotta have coffee.
Jen:  I mean, I actually would scrap this whole episode if we didn't have a coffee vendor on it. It just would not be a "Hatmaker Favorite Things" without it. So, like we've mentioned and mentioned we are only featuring companies that are making giving back central to their mission, which is why we picked this company for our list.
So Camano Island Coffee is focusing on all the right things. Coffee that's certified organic. It's shade-grown, fairly traded–which is a very big deal in the coffee industry—'cause what that means is the farmers are receiving a fair wage for their work. And you would not believe how often that is not the case in the coffee industry. Plus for every single Coffee Lover's Box that they send, 2% of that purchase is given back through their nonprofit partners called Agros and Food 4 Farmers.  And their deal is breaking the cycle of rural poverty through land access, and market led agriculture, and financial empowerment for families in Central America, which is obviously a huge geographical location for the coffee industry.
So this company has virtually everything you could ever want when it comes to coffee selection. You can get it in bags–ground or whole—or in the pods for your Keurig. What happened to our Keurig? Did we break it?
Brandon: I don't know.
Jen: Sometimes I want to have that when I just want a coffee in the middle of the day.
Brandon: Maybe it made its way to college.
Jen: Oh my gosh. So much of our stuff our kids stole.
And also, hey, Christmas time they've got gift boxes for a dozen different occasions and subscription boxes through their Coffee Lovers Club.
Brandon: Yeah. And guys, I just love this. I love how we get to, as we look into these items and see what all of these people are doing around the world–all the good–we're continuing to increase our understanding of what's going on in the world and what needs to be done.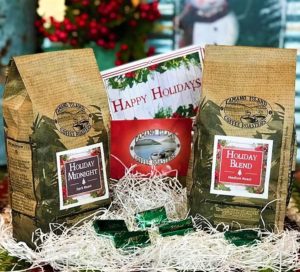 And so it's also such a great gift because they have a gift box—a Christmas gift box that they give–it's called the Double Delicious Gift Box that, I mean, it's perfect for giving to a teacher or a coworker or something like that. And you're also helping them understand; increasing their kind of awareness of what's going on around the world.
And so think about this, the Double Delicious Gift Box, it's their most popular holiday gift box option. It comes in this festive holiday packaging, includes two pounds of organic holiday coffee, and you get to make all the choices. It also comes in with individually wrapped holiday mints. And so this works for about anybody on your list. If they have a pulse, they probably like coffee. That's our theory anyway. So think about teachers' gifts, hostess gifts, neighbor gifts–all those people who are impossible to shop for. Retails for $34.94.
Jen: $34 94. Okay. Also, just real quick while you're there, I mentioned it a second ago, but do check out the Coffee Lovers Club, because this is something I would buy for myself, frankly. The Coffee Lovers Club has three different plans you can choose from if you are a chronic
coffee drinker, which I just assume you that you are. So it's two pounds of coffee for $34.99 a month, three pounds for $49.99 a month, or four pounds for $59.99 a month.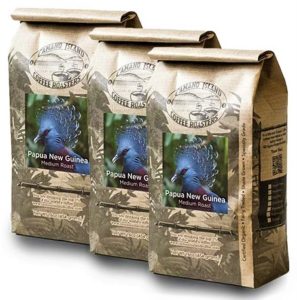 Like one thing that we've recently discovered now that almost all of our–no, no, no–they are, all of our kids are teenagers or older and they fancy themselves coffee drinkers. So we are now going through more coffee than we've ever gone through in our life. And so you can tailor this for like big families like ours
Oh by the way, all free shipping, everything includes free shipping. So again, you pick the flavor and the grind. Oh, also you can decide if you want it to come every four, six, eight or 10 weeks. So this is very customizable, which makes it an awesome, not only just gift, but maybe something you just want for yourself.
Brandon: All right, so right now you can get $5 off your order plus free shipping from Camano Island Coffee using this special code for our For The Love listeners, just use FORTHELOVE in all caps, I believe, FORTHELOVE at CamanoIslandCoffee.com and again, expires December 31st.
---
#4: ABLE
Jen: Okay. Moving on to one of my favorite companies that has been, I've admired from afar for years and we have come into partnership in several different ways over the last year or two. And I'm so proud to work with them and it's ABLE.
Brandon:  ABLE is an ethical fashion brand. They employ and empower women as a solution to end poverty. Women make up 95% of their staff, which is incredible. And I will tell you, Jen loves their stuff. How's it feel like? We're always getting boxes with Able.
Jen: Well, I just keep liking their things, so I'm sorry about that.
Brandon: They invest in train and educate women so they can earn a living, break the cycle of poverty and thrive. We already know that women invest twice as much of their income into their families compared to men, which is just a sad reality. When a woman is economically empowered, her children and community thrive as well. ABLE's work began in Ethiopia, a place which you know is near and dear to Jen and me. And they started meeting women who were coming out of the commercial sex industry looking for any help they could get to find some work. So ABLE trained these women to make scarves. And after selling over 4,000 of them in just a couple of months, they knew they were onto something. And so their company has grown from hand-woven scarves to a full-fledged lifestyle brand and includes leather bags, clothes, shoes, jewelry, you name it.
Jen: So yeah, you've heard me talk about ABLE quite a bit recently of course. In fact, you may remember–I don't know if you saw this–but the ABLE team helped outfit me for all the life podcast events. I did this fall and I have loved working with their team. Like we just hop on FaceTime and I'm like, "how do I style this?" And they're like, "here, let me show you." And just a dream to work with. And I believe so much in their mission.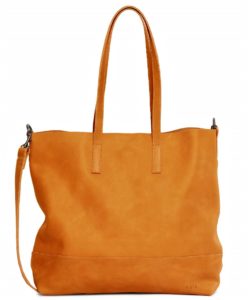 So we have a couple of products from ABLE that we want to put on your radar, although again, like everything else, you are going to want to go over to the website because they have so much to choose from.
But the first one that I want you to notice is the, I think I'm going to say this right: The Abera Crossbody Tote.
I am big fan of crossbodies. I discovered those about four years ago for travel cause it was so like easy to wear. And then I'm like, why would I ever not have this? You know what a crossbody is, right? It can be worn over the shoulder or like across your body so that it's like hands-free.
So this one, the Abera, can be your work bag, or it's so gorgeous, it could be just an everyday purse and you would love to carry this thing. It's 100% genuine distressed leather and it's handcrafted–everything is–in both Ethiopia (yay) and Mexico (yay). So the one I have here comes in that gorgeous cognac color, which is super trendy right now, but they also have a darker chestnut option or if you want a little pop, there is a black option with cognac straps, which I have and I love and everybody loves it everywhere I carry it.
Hey, especially for my Southern girls, there's an option to personalize these for just $8 more. So you can include your person's monogram. I don't have a friend in the South who would not put a monogram on something. So, this bag is beautifully handcrafted, 100% leather. And so this is well done. So you're gonna spend a little bit more on it. It's retails for one $188, which is what you spend on a person that lasts forever. And this one will.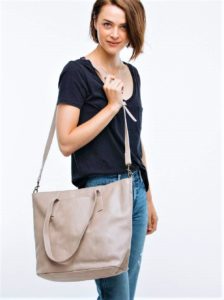 The other one that I wanted to mention to you is the Alem Utility Bag. This one can also be worn over the shoulder or across your body.
It's just got a little bit more going on and it keeps you really organized in whatever stage of life you're in. So you can think about a college student lugging around books and laptops or moms hauling around diapers, and wipes, and Cheerios–or your work bag with a bunch of folders and files and whatever.
Again, a hundred percent genuine distress leather, the interior; fully lined, zipper closure, exterior slip pocket–which I love cause I always have extra things I want to just have easy access to–and then three interior pockets. That's why I was saying it's like really easy to keep stuff orderly in this one. This one's also handcrafted in Ethiopia and Mexico. Beautiful, gorgeous colors–cognac, whiskey or fog. You just need to go over the website and look at how gorgeous fog is. There's also a really pretty brick red one that's almost like a suede and it's waterproof. That one is little more substantial, a little bit bigger, a little bit more going on, and it retails for $238. Again, these are like kind of iconic pieces. These are big-time, awesome, long lasting, durable gifts.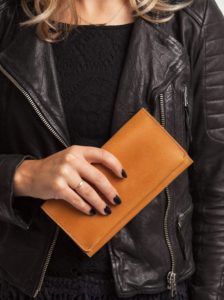 Real quickly—two other things that I just want to mention–two wallets. So we're going to bring the price point down a little bit.
One of these–the Debre Wallet–this is for the minimalists out there who don't want to lug everything around, and you want to kind of have this sleek, beautiful, trendy little wallet. So it's got spots for your cards, your cash receipts, everything. Checkbook, passport if you want it. It's big enough that it can even store like a small size journal and a pen if that's what you want. And that's all you gotta carry. This one's entirely made in Ethiopia. 100% Ethiopian leather, comes in all the colors I mentioned, plus black, teal bone white. Gorgeous. Retails for $58.
The only other one I want to mention is the Mare Phone Wallet, 'cause this is how people–this is how we live now.\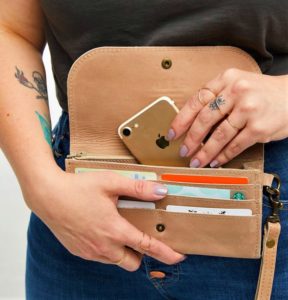 So this one has compartments for your credit cards and your, and your change and it has like a removable wristlet, if you just want to tie it on. One hundred percent leather, Ethiopian, comes in all the colors I mentioned before, including lilac, suede, woo-woo-woo. Monogramming option also for this one, $8 more and that retails for $88.
A couple of things that I have worn lately that you've seen if  you follow me on social media that I just want to point out–I'm sure I'm saying all these words wrong–but you'll see, you'll see it when you go over there. The Charvee jumpsuit in olive. I also have it in black because I love it so much. I got another color. It's a one piece jumpsuit. It feels like pajamas.
And The Sara Relaxed T-Shirt Dress.  So I wore both of those on the podcast tour and absolutely love them. The relaxed tee shirt dress. I can't explain to you the fabric on it, like I just want to say that you'll never want to take it off.
And then maybe one of my favorite pieces, The Elephant Necklace–you know how much elephants mean to me. A lot of you have heard me talk about that and tell the story of sort of the protective elephants, and they have an elephant necklace in their line. And when I saw it, I almost fell out of my chair, so I've worn it almost every day since I got it. So for any of you who for whom that elephant story meant something special, even like among you and your friend group or you and your family, definitely go check that out.
Brandon: All right, so ABLE is offering For The Love listeners  25% off their entire site plus free shipping and free leather conditioner on any order that is more than $50.
Jen: That's a good deal.
Brandon: Huge. 25% is a lot. So you could use that leather conditioner on any of the products we just mentioned. Get extra-long life out of them. But listen to this, you have to add a leather conditioner to your cart in order to get it. So once you enter the promo code, it will knock out that price, but you have to add it to your cart to make it work. Okay? The code is FORTHELOVE, the website is livefashionable.com and this one expires December 15th.
Jen: Get a move on.
Brandon: So yeah, you want to get on top of that one pretty soon.
Jen: Anybody that opens up one of those presents under the Christmas tree is going to be absolutely delighted.
---
#5: SAGE HARVEST JERKY
Okay. Next company. This one's making me laugh because this was a big hit in the Hatmaker house. It is the company Sage Harvest Jerky.
Okay. Let me tell you a little bit about Sage Harvest first. This started as the dream of one of the military families, who after four adoptions of their own wanted to support other adoptive families and then provide resources for the 132 million orphans still out there. And so Sage Harvest takes something super basic like jerky. And then they use it to literally change the story here. So today you guys, they've given more than $140,000 to provide life-saving surgeries for kids who are sort of in the orphan pipeline right now and then they also grant adopting families, hugely needed scholarships and offer resources to those families looking to grow their family through adoption. So a minimum of 10% of all Sage Harvest proceeds go to adoptive families and care for kids in the system right now. And, their product is far superior to the stuff you might pick up like, at a gas station that's mass produced with tons of additives, tons of preservatives. They package their stuff fresh and they ship it immediately. So you're getting their very best. Our kids already ate most of this.
Brandon: Yeah, it's really well packaged and it's really, really good stuff. I literally, we fought our kids over, they had to take it and we were like, "we need to talk about this stuff and I want to taste this stuff." And I went and I, I got very little of it, so let me give you my favorite. My first one is the Chipotle Bourbon Jerky.
Jen: That's a mouthful.
Brandon: It is. And it's super, super good. So it's these tender fresh slices of a high quality beef paired with bourbon marinade and a crushed chipotle seasoning. Not only is it one of their top sellers, but it's just, it's super amazing.
And then another sweet and spicy. The Sweet & Spicy Turkey Jerky. It's, you know, a really cool option from typical beef jerky, this turkey jerky–give it a shot. Really super good. And really huge on this;  no preservatives, MSGs or nitrates.
Both flavors come in four, eight, and 16 ounce options. Retails anywhere from $12.99 to $39.99 depending on how much you order.
Jen: So we're on there looking at those on their website, they've got other really cool flavors like Teriyaki Beef. Yummy. Habenero. Yes. Honey Turkey. Please. All of it is delicious. They also have some pretty cool merchandise for adults and kids. They have a hat that I love.
Then they have tee shirts and hoodies and tanks in that kind of fabric that you love. Super, super, super soft. So give those a look too. So here are the details on that.
Brandon: So 10% off all products. That's jerky, all merchandise. Their website is SageHarvestJerky.com, FORTHELOVE is the code. And you've got through the end of the year, December 31st.
Jen: Yup. I love that one.
---
#6: THE RENEW PROJECT
Let's talk about our next vendor.: the Renew Project.
Brandon: Yeah. This company is doing some incredible work to empower refugee women who have resettled in the Chicago Metro area. And their mission is to provide these women with a safe space where they can thrive, as they rebuild their hopes and dreams in their new homeland. So Renew provides them with free training and flexible employment. They also provide English sewing classes and they hire graduates of the program who then make all of these beautiful handmade, high quality products. And since they've opened up about 10 years ago, Renew has served over 140 refugee women from all over the world.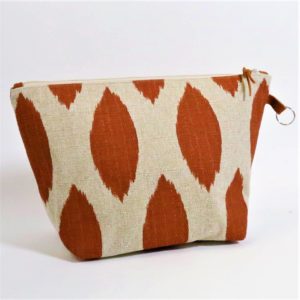 Jen: So here's a couple of products that we like from Renew Project.
The first one is the Large Carry-All. When you see this over on the website, you're going to see why I like it. My eye obviously went straight to the one that is in what I would call UT burnt orange. So that's a game day bag for me, but the Carry-All Bag, it's made from all upcycled textiles. So super, super sustainable–like low carbon footprint, which I adore.
The one that I have is large, it's tapered, it's probably 13 inches long at the top and then about eight inches long at the base, so it's got a really pretty shape to it–nine inches tall–so you can pack some serious stuff in there. But it also comes like in a small and a medium size. If you want something a little bit more compact, it's got a top zip closure. It's got an attached key ring.
And then of course, like interior pockets on the large and the medium sizes, which I like. So it helps keep your stuff from just like rattling all around in there.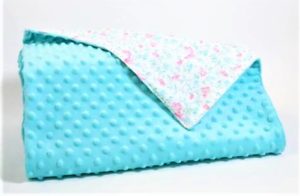 Obviously, I think we mentioned this, but they're all handmade by Renew's refugee artisans and the large one retails for just $27.95. So that is another awesome price point for our Christmas gift.
And then this one, um, I think a lot of my, a lot of my listeners are gonna love. They have these baby blankies and I love this. You know how I feel about my nephews, Calvin and Owen. so I've always got my eyes peeled for baby things. So Renew Project has a pretty good selection of baby gear–blankets and bibs and burp cloths–like all the essentials.
But the baby blankets, the best thing about these is they have this very ultra-soft plush fabric on one side and then a really cute cotton fabric print on the other side. Super snugly. Like I would like an adult version of it. It's all handmade cotton and fleece by one of their refugee artisans, just like all their products. And so the large blankets, like the one I'm talking about right now, they retail for $35.95 and then the small ones go for $25.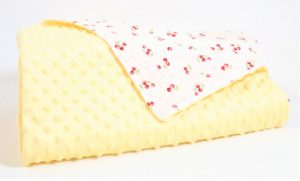 Brandon: So let me say this about these baby blankets as well. I'm not a huge connoisseur of baby blankets. And yet when I saw it, I instantly knew, oh that texture on that side. Kids will love this instantly. So, this is no joke y'all.
Jen: Yeah, so think of this for sure like this Christmas presents, but really, baby shower presents. And this is one that you're going to want to go back to.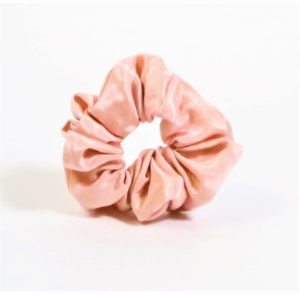 And so just a couple of quick other things that would make great gifts from this particular company. They have scrunchies and Sydney Hatmaker tells me that scrunchies are back.
Brandon: She knows, she knows.
Jen: No, she knows that the college kids are wearing them and they're in, and so they've got a bunch of really cute scrunchies which is kind of a fun stocking stuffer.
Brandon: Oh yeah. And also for the fellows, you can check out their selection of dopp kits. Those are such a great gift for guys. You could pack them full of all your favorite toiletries and products. I was looking for this before our trip the other day and I didn't have one. And so yeah, go back there and check those out.
And here's the deal. Renew is offering listeners 15% off everything–and that's good both online and in store. They've got a brick and mortar store so you could shop in Glen Ellyn, Illinois. So if you're tuning in from the Chicago area, pop in and say hi. Tell them you heard about the software on the For the Love Podcast. It's good online too. So go check them out. RenewProject.org. Code: FORTHELOVE. And this goes through January 15th. So you've got a few extra days there, but don't miss the Christmas rush.
---
#7: CONSCIOUS STEP
Jen: Okay. Onto our vendor, which is Conscious Step. Now we've told you about this company before on our first ever Holiday Guide two years ago, because we love what this company is doing. They're one of our favorite partners and so I'm happy to talk about them again. So when it comes to giving back, this is a company that you'll really like because you can tailor your gift around whatever cause that either you or the person that you're buying for is passionate about. They support all kinds of causes like including like animal rescue, if that's your thing or your person that you love's thing, breast cancer prevention, rainforest conservation, disaster relief, poverty, hunger, malaria, trees, HIV. Like it just goes on and on. So you can sort of really tailor this to somebody who would not only love a beautiful pair of socks, but be really happy about what it's giving back toward.
Brandon: All of their products are made in ethical workplace place, meaning no child labor plus minimum wage compliance, overtime compensation, freedom of association for workers and all of their products are fair trade certified.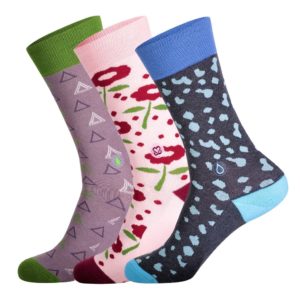 So here are two great options.
We love–first the women's collection Socks That Fight For Her and this box supports women around the world by planting 10 trees through Trees For The Future. It also promotes early detection of breast cancer through the org Keep A Breast and it empowers women to access safe, clean drinking water through Water.org.
And their packaging is really cool because each one of the socks has a specific design and then it says what that sock is raising money towards, it has an arrow pointed up to that sock. So it's pretty clever as well. They're super stylish, they have their own theme. This is a gift you can feel really good about giving—it retails for $44.95–that's the women's collection socks, I Fight For Her.
And then there's a Men's Humanitarian Collection. These are probably my favorite men's gift box option in terms of the styles included. They're really sharp, trendy designs and any guy's gonna love to get a box of these. Plus, here's what this one does.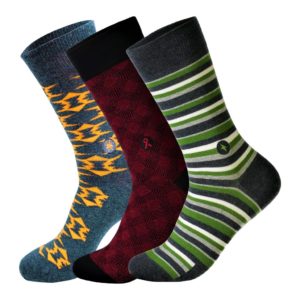 It provides life-saving tools to end malaria through a program called Malaria No More. It provides seven days of HIV therapy to pregnant women in Africa via, the UNAIDS organization, and it contributes to lifesaving disaster relief kits, worldwide through Oxfam. So this one little box has some pretty far reaching impact–also retailing for $44.95.
Jen: Uh, it really is cool too, like the packaging is, they did a really great job on this. So just while you're over their website, you want to also check out The Fight For Equality gift box. This one gives to charities that are committed to ending poverty and stopping violence against women and saving LGBTQ lives. So, you know, we love that one. So that's a great gift for the activists in your life.
Or, if like if you're just interested in a fun holiday pair, like a cute stocking stuffer. Take a look at these Socks That Give Water. So it's a gray sock with blue snowflakes. It's adorable and each pair provides access to safe water through Water.org, which is a fantastic product.
Just FYI, since I discovered this company two years ago, it's the only, it's the only like trouser sock I wear–I got rid of all the rest of them. I don't even have any others. So if you ever see me in a pair of boots, you know, positively, I have a pair of these socks underneath it. So here's the details on this promo. You can get 15% of the entire site and that excludes any already discounted items and that also excludes monthly subscriptions, but everything else. So it's consciousstep.com The code is: FORTHELOVE and that would expire December 31st.
Okay, onward.
---
#8: TEN THOUSAND VILLAGES
I love this company and I have loved this company for so long, so I'm really excited to feature them on the gift guide episode. It is Ten Thousand Villages.
Brandon: Yeah. Ten Thousand Villages has been around a very long time. They've been pioneering the fair trade movement since 1946. Just crazy. They've been around 70 years of experience working with more than 20,000 artisans in 30 developing countries around the world. So they've been able to see impact, just steady, fair and safe employment has our families and communities, especially women. This company has a wide variety of products to choose from. From jewelry to home decor to ornaments and ethical nursery items. There's something for everyone you love.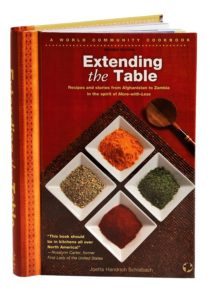 Jen: Let me tell you about a couple things from Ten Thousand Villages, just that you'd probably like.
So this is a real obvious choice for me to feature. The first one is the Extending The Table Cookbook You know, we're adventurous eaters and I like ethnic food, like food from around the world. I love to cook it. I like to eat it. I like talk about it.
So the Extending the Table Cookbook. It's a collection of recipes organized by region of origin. So you learn like traditional breads, and beverages, and dishes, and desserts, like literally from Afghanistan to Zambia. Then it's really beautifully photographed too. So you get to see faces and stories of the people that have basically carry these recipes through the generations. So this one little book, okay, well it's not little, it's 344 pages, but it contains recipes and Proverbs and stories from over 90 countries.
So it's just packed, absolutely packed. And so by the way, it's got a selection of gluten free. It's got vegetarian options, regional menus, so you can tailor this however you want to use it. This cookbook specifically is part of the World Community Cookbook Series so all royalties go to fund global relief and peace and community efforts. I mean, you cannot feel bad about this. This is a quintessential gift for your entertainers and hostesses this month. Fabulous house warming gift, or obviously for any foodie in your life. And the cookbook retails for $24.99 which is awesome. I mean, it is a good bargain for what you get and how beautiful this cookbook is.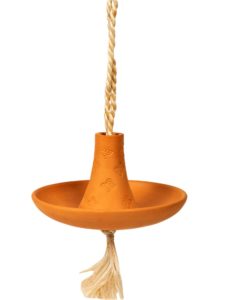 One of the things I want to talk about, they have a Hanging Bird Feeder. This is funny because I have some people in my life who absolutely love bird feeders. So this is for your nature lover, your outdoorsy type.
It's handcrafted by artisans that work with one of their partners that offer safe employment for women in rural Bangladesh. So that's specifically where it comes from.
This is an amazing group; job training, leadership skills, gender equality, education, and it promotes a lot of like self-help and democratic practice among their groups. It's really fabulous. The members share ownership, like a co-op, it's fabulous.
So this hanging bird feeder is made from terra cotta. It's beautiful. It's like heavy duty and it has a really simple floral floral pattern that stamped in, gives it like a really nice touch. People, it's beautiful to look at. So it hangs from a jute rope that's about 40 inches long, so you could place it on a branch or your porch or your balcony, whatever you have. The person who loves bird watching and bird feeding, this is their gift. It retails for $34.99.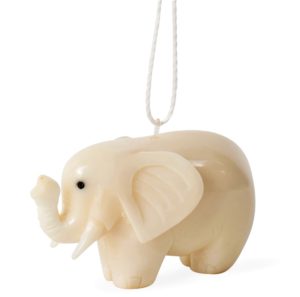 Brandon: So while you're perusing, you might just take a look at a few other things –they do have a large selection of ornaments. So that's a fun thing for Christmas, including, as Jen talked about many times as well as today, they have elephant ornaments, which is pretty unique and special to our heart.
And then also mentioned they have a nice selection of wood and stone game sets, like chess, backgammon, puzzles, dominoes. Yeah, you just have to see them. They're really classy. Those would make great things to have around while you're entertaining out of town guests.
Jen: So here's the deets, on that one. Ten Thousand Villages is offering listeners 15% of your entire purchase. So yay! Now that excludes gift cards, but you can use it on anything else you find on their site, which is tenthousandvillages.com, code FORTHELOVE and that one expires December 31st.
---
#9: JOYN BAGS
Brandon: Alright—going on.
JOYN Bags, J-O-Y-N Bags. It's a company that aims to provide high quality and you know, these products this year they are–they're all high quality. They're really well done. This is great stuff. High quality handbags, wallets and totes. Everybody knows handbags, wallets and totes. It's me–wouldn't you agree, Jen?
Jen: That's what I get you for almost every present.
Brandon: But also luggage, other fashion accessories, while principally sustaining and lifting the artisans it works with out of poverty.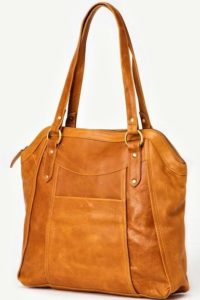 Jen: Let me tell you a little bit about JOYN. So they started like in a really small town at the base of the Himalayas and they've sent expanded their operation to like mountainous regions all kind of around it. Probably on this gift guide episode, you're starting to see a pattern that we love gorgeous leather bags. It's just such a good gift and they're so pretty to look at. And I think also because they last so long. So these are not just like an easy come, easy go gift. These are like, this is, you'll have them for years and years and years.
So one of them is called the Keya Camel Leather.
This one is made of a hundred percent genuine leather with this gorgeous cotton hand blocked interior, like Japanese garden print, the sleek top brass zip or three interior pockets. That's always my favorite. And then an exterior magnetic snap closure pocket. I like to always put my phone out there. An d then it has four little brass feet on the bottom so it can stand upright if you want to set it on a table or whatever which is just a cool detail. You don't see that often in bags.
And when I tell you it is gorgeous, I mean it is gorgeous. Like when I pulled it out of the box, I was like, "Whoa." So the one I have is that rich camel color that I'm super into right now, but it also comes in black. It comes in brown and steel blue. So again, the price point's higher on these because these are, this is like a legacy gift.
So that bag retails for $240. And the other one I want to tell you about is the Malti-Vegan Weekender Bag. It's kind of like–if you don't know what a weekender bag is—it's kind of like the bag that Mary Poppins would carry and that's sort of the shape of it. And so this baby is perfect for any weekend getaway. It's made with vegan leather and hand blocked cotton. It's stunning to look at. I had a hard time choosing a favorite fabric that I loved, but I, I eventually landed on the verdant peacock fabric.
So it's gorgeous detail. It's exactly what you think it is. They make a pretty big statement. Like, when you see this bag, you, your eye goes straight to it.
The handles are made of vegan leather. This one also has three interior pockets, one that has a zipper. This is a beautiful bag. So I'll be toting this around with me and you will see it on my feed. I like the price point too. It retails for $109.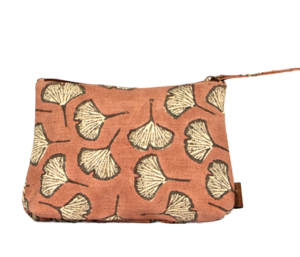 For your college kid–this is just a great gift. If you like the Weekender and those stunning fabric choices, also take a look at their backpacks and totes and handbags and pouches and wallets and pencil cases. So you can kind of pick and choose whatever you like and pick and choose whatever price point you like.
So JOYN is given listeners 15% off their online purchase. And now here's the catch. You can only use the discount code once per customer. So make sure you've got everything you want in your cart before you check out. It's a one and done offer.
Go to a www.JOYNbags.com, J-O-Y-N bags.com; FORTHELOVE code. And you've got to the end of the year, December 31st.
---
#10: WEATHER & STORY
Jen: This is a new partner, that onto our next one, but I'm excited to tell you about. It's called Weather & Story.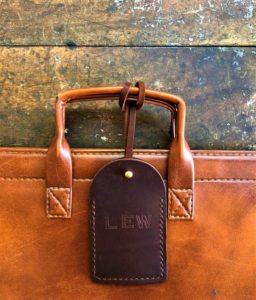 So Weather & Story is another leather goods manufacturer for all kinds of men and women. Their idea is that they want their pieces to be your loyal companion through like tons of seasons of life. Taking on all the stories that you've lived and telling them for years to come, that you took it with you everywhere you went. These pieces. in other words, that's why it's called this. These pieces are meant to weather along with you and then
build story along with you where you're venturing. It's cute idea. I love that branding. Now this is another reason why I like it. When you shop with Weather & Story, a portion of the money that you spend partners with local orgs to meet really specific needs right here in Austin, Texas where we live.
The organizations that they choose to partner with changes from one quarter to the next. So right now if you make a purchase from Weather & Story, part of that is going toward an organization called Kids In A New Groove which provides Texas youth in foster care with one-to-one mentoring relationships.
Brandon: Here's something I really liked from Weather & Story. They do these really nice leather luggage tags. You can get them in natural or Brown leather. They come with a waterproof info card where you can list all your details, whatever you want, but you could also have these monographs for just a couple bucks more to make these really special and personalized and they retail for $35.
The other thing that we want you to pay attention to, I should say from Whether & Story, is what they call the Bucket Bag. Okay. I realize I'm chiming in here with another leather bag. I realized this is a problem. But, I cleared this one because it's a completely different size and shape from the other bags that I've told you about.
This one's smaller so if you're a bit more of a minimalist, a little bit more low profile kind of no fuss, no muss, this is the bag you're going to want to have a have a peek at. It is like an everyday use really cool square size. It has two slit pockets, one in the front and one on the inside and it comes in natural, our black or brown leather and it's got a really cool leather strap and brass hardware.
I really love this one and it retails for $175.
And so they have a lot of other cool travel accessories you may just want to go have a peek at when you're over there.
Like camera straps and key chains and wallets. This is a company to outfit your very favorite traveler. So anybody in your life that is kind of a person on the go, every wander-luster that you love, they've got passport wallets–like this is a great company to spend time on.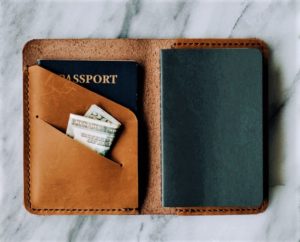 Here's your deal. Weather & Story is offering 20% off all their products. That's an awesome deal for the For The Love listeners. I love it. Thank you guys. It's weatherandstory.com. The code's FORTHELOVE and that one expires December 31st.
Brandon: Also, you know what, we really love the gifts. We really love the items. We love what these organizations are giving to, what they stand for, and what they do. So maybe even start sometimes with some of the things you want to give towards and there's a product for you out there. I promise you that.
---
#11: TRADES OF HOPE
One of the things, one of the orgs we really love, it's called Trades of Hope. They do so much work all around the world.  So many different countries that they work in and they give a minimum of 10% of their, even their net profits to support all the things around the world that they're working through and working with, like in trauma counseling, providing, sewing machines and lessons, sustainable gardens, all of the things that that can go into help empower women and moms to support their own families and help lift them up.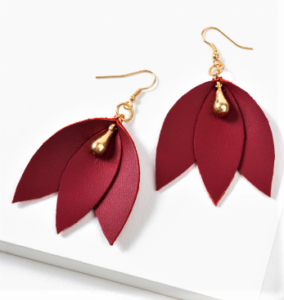 Jen: I've loved Trades of Hope for years. This is another company that I have been watching and proud to partner with. Here's a few pieces from them I know you're going to love.
The first one I want to mention is their Lotus Earrings.
They're maroon suede, so what else do I need to tell you? They're like statement earrings, beautiful, gorgeous. They're accented with like the single golden raindrop made out of plated brass. They're really, really pretty. I think the special thing about these earrings besides just being gorgeous, is that every, every pair is assembled by hand.
It feels so good to support them in their work. This is just a purchase you can feel great about making and wearing. That pair retails for $28.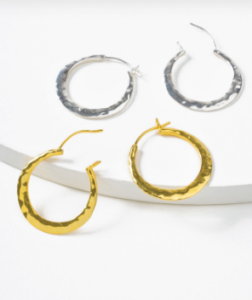 And then I wanted to point out the Classic Hoop Set. You can't go wrong with a pair of beautiful hoop earrings. Like this works for anybody, any girl in your life. So they've got hand hammered. silver tone earrings, gold tone. These are any day, every day. All the time. They're plated brass. And they are nickel free posts. The Lotus earrings are too, I don't know if I mentioned that.
So these will go with everything that you have in your wardrobe. It's just that simple. Like you could wear these with your bathing suit and you can wear them on date night and you can wear them to a wedding.
Brandon: And then I'd just say that this week too, I asked you, I said, "hey, are hoops coming back in style? I'm seeing them everywhere." You said "they never went out."
Jen: They never went out and I wore them all week long. So that pair retails for $34.
And then the other thing that I wanted to mention was the Patrika Scarf. So this very lightweight, like scarf from India. Classic shades like; maroon, tan, black gold.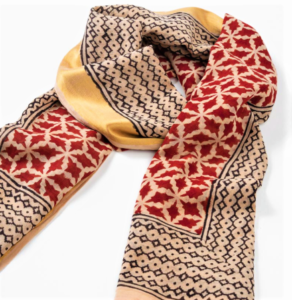 Beautiful to see how these are made. The artisans actually carve each pattern into wooden blocks to create stamps and they print every single scarf by hand.Absolutely love this one, the scarf retails for $28.
Brandon: Such good stuff. They also have home decor items, baskets, blankets, coasters–all of those things are great gifts.
Jen: Oh yeah, yeah. Go to their website for sure 'cause there's a lot of options for you.
There happens to be a lovely burnt orange henna picture frame that's going on my wishlist. Okay, beautiful jewelry, like bracelets, necklaces, like you're going to spend some time on that website.
So here's the deal. Trades of Hope is giving all For The Love listeners, 15% off your entire purchase, everything on their site. So the website is MyTradesOfHope.com and the code is for ForTheLove, capital FTL–and that one also expires December 31st.
---
#12: KROCHET KIDS
Brandon: All right. One of my favorites Krochet Kids is our next featured company harnesses the power of their products for their nonprofit partners in their community to work in unison to help people break cycles of poverty. They provide life changing jobs, opportunities to women in need. And with each purchase you make, they'll introduce you to the woman who made your product. So it's really personal and I think that's super special. They invite you to visit her online profile and learn more about her. And that creates that really that one on one connection and helps you to really appreciate the work and the care that goes into each of their items. So each piece is hand signed by the woman who made it so you can know your purchase is going directly toward a specific individual and it's helping to improve not only her livelihood, but also the livelihood of her family.
Jen: Couple of things we want you to pay attention to over on their website. The first one is one of my favorite things.
It's called the Hazel Gloves. These are like cozy. This is so on trend right now. Cable knit, they're fingerless gloves, which I love in a way that I can't explain. Like, I don't know why I love fingerless gloves so much, but I do. And so these are a little bit longer than traditional gloves. They go about halfway up your arm. They are so—
Brandon: They are pretty stylish. They really are cool.
Jen: They're so stylish. This is a fabulous gift for like a friend or a coworker who is always cold in the office who needs her fingers to be free to type, but she wants to look really cute on the rest of her arms. These are made in Peru. It's a blend of like alpaca and Merino wool and Mulberry silk. That's why they feel delicious. The Hazel's just one style by the way. They come in other colors and other patterns and the gloves retail for $36. Like I don't even know what to say–these are really, really pretty. I'm just telling you that people would love them.
The other one, why don't you talk about the beanie?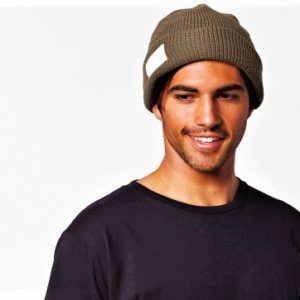 Brandon:  Yeah. It's my favorite. It's the Drifter Beanie. And one thing I love more than a hoodie is a beanie.
And so the Drifter is a hundred percent acrylic waffle-mitt beanie with a textured cuff. It has really, really cool texture. It's made it Peru. It's got an embroidered patch on it that says in a really cool design, "hand signed products made by people around the globe; this is empowerment. So you can carry the message of knowing who made it, wherever you find yourself.
All kinds of colors, olive, black, mahogany, navy–unique colors. So they really look nice. Again, inside the cap you'll find the name of the individual who made the product. And I just, I can't get over that. I think that's the coolest.
Jen: So this company's called Krochet Kids. So, let us tell you about a couple of other really great things you can snag for the kids too, if you've got kids on your list. They have this wonderful collection called Animals Collection.  It's stuffed animals like alpacas, foxes and penguins–on and on.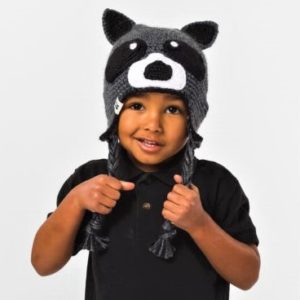 They also have a selection of knit character hats for kids like owls, wolves–the cutest one I think is the raccoon.
Then ladies, Krochet Kids also has some really nice options for beanies and other cute, cozy headwear for you too. I love their stuff. We've also partnered with Krochet Kids for years and years and years. And so one of our favorites vendors.
Brandon: For sure. So our friends at Krochet Kids are giving all our listeners 25% off their purchases. That's one of our biggest discounts, from KrochetKids.org including sale items–including sale items. So that's good. It's a double-double benefit. So some exclusions do apply. So watch for those when you're checking out and the promo is not valid with any other offers. So KrochetKids.org. ForTheLove and it is capital F, capital T, capital L. ForTheLove is the discount code and expires December 31st.
Jen: And just FYI as you're noting it, Krochet kids is with a K.
---
#13: TRUTH BECOMES HER
Here's the next one. We're getting close to the end here. So hang in with us cause we've got some really good ones left. You're going to know about, our next vendor—it's called Truth Becomes Her. I am excited to tell you about this company because I love what they're about. In fact, I just recently met the founders of this company, and they are as good behind the scenes as they are in front. So Truth Becomes Her is this movement really that transcends what this emphasis is on everywhere we look on this very narrowly defined feminine beauty and instead it's focusing on teaching young girls about their true worth
So the founders of the company, Aaron and Brent Weidemann, they originally launched a project called Bible Belles, which was a company dedicated to providing young girls with really positive role models, which blossomed into another movement to teach the next generation of young women to embrace their worth and their calling.
Brandon: Yeah, I just love this and want to share a few things from Truth Becomes Her. With the bestselling Bible Belle children's book series, you can teach your daughters, granddaughters, nieces–all the ladies in your life–to embrace their true worth. And I just think, man, there's so many stories in scripture that are not intended to be gender specific, but we make them so much.
And to see this series, when I first saw the books sitting here, they were sent to us, it gave me chills to just think about the work they've done and the empowering they're doing to our daughters, into the girls in our lives.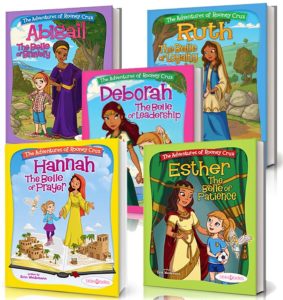 This book set is designed for pre readers to early independence from ages four to 10. That's the Bible Belle series books. It's five books and the set comes with five books from Esther, Abigail, Ruth, Deborah, Hannah, and it retails for $59.00.
Jen: And they're beautifully done. Beautifully illustrated.
And so one of the things to check out on their site, um, in addition to their other merchandise, you can find podcasts and eBooks and videos, online courses. This is packed with valuable resources for raising young girls. So some of their products are like direct to the young girls and some of them are to their parents. Like these are resources as you are raising your daughters.
Um, so the details on that when is you will get 15% of your entire order. It's Bible Belles, B-E-L L-E-S BibleBelles.com. The code is FORTHELOVE and that one expires December 31st.
---
#14: SIPS BY
Okay, we only have a couple left, so this is going to really perk up for some of you like right away when you hear it. It's a new company I'm excited to know now. it's called SipsBy. So this is another Austin based company, yay. And it's called SipsBy, which is a female founded and led startup. And here's what they do. They make tea fun, personalized, affordable.
With their personalized tea discovery service, which they call SipsBy Box. Every month they match tea drinkers of all experience levels with delicious teas from over 150 premium tea brands around the world. And so if you don't want to commit to a monthly delivery service, that is okay. SipsBy also has a yummy selection of individual teas for you to choose from. Like all kinds of flavors. raspberry rose oolong, pina colada karma, almond cookie. Yes please. Their brand partners range from really large international brands to little tiny local tea shops and farms. Great. Because they believe there is a tea for every mug. And because of that you can choose from loose leaf or bagged tea, caffeinated, herbal or a mix based on your preferences. And so it's like the cutest, coziest little company. I can't even handle how cute it is. So I want to tell you about a couple of their products that we really liked by SipsBy.
Like the first one is the Holiday Tea Box.  Obviously this makes sense for right now. And this was funny. You can choose from two options. NaughTea uh, like "naughty." Get it? Or Nice.
The NaughTea Holiday Tea Box comes with some of my favorite holiday tea like spiced winter red, Christmas Eve, herbal peppermint bark–like all those flavors you want right now. And that particular box comes with enough tea to make 15 cups and a printed insert with tips on how to make and drink each brand.
And then the Nice Holiday Tea Box is like–think about like waking up on a chilly winter morning. So the flavors in that one are like Candy Cane Crush, White Christmas Sugar Cookie. Also enough in each box to make 15 cups plus the disposable filters are re-usable muslin cloth filters–everything you need for it. So this is a really cute gift idea. I mean, either one of those gift sets would just absolutely delight somebody.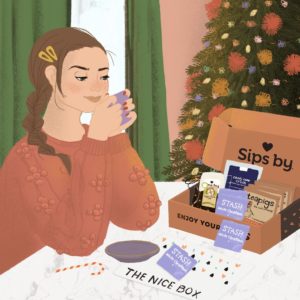 Each one retails for just $15. So again, yay on a really cute idea at a really great price point.
Okay. The other thing that I wanted to mention–Brandon, I'll let you talk about this one. It's the service, the SipsBy Box.
Brandon: Yeah. So this is their personalized tea discovery service called SipsBy Box. And they come in one, three, six and 12 month options. All subscriptions–let me tell you about this subscription. They come with four premium teas chosen uniquely for you. They have over 150 different tea brands around the world.
It comes with four different premium teas that you choose. personalized tea curation service, it comes with the biodegradable filters, tasting notes, exclusive offers with their brand partners. So you can purchase this service for yourself and you can give it as a gift. If you're gifting it, I recommend purchasing one of their gift cards and it's available in amounts that cover a three, six, or 12 months subscription.
Now, here's the deal. If, if you, if you do go that route, if you go for the digital gift card option, you'll need to provide an email address. When you purchase the gift card and after transaction processes, SipsBy will immediately send an email to the address you specified with the code that you entered to apply to a subscription service order. So if you're sending it straight to your recipient's email, just know that the email will go through as soon as you finish your purchase. So you don't want to do it too soon. Make sure you time that right.
They also have a physical gift card. That's pretty much your traditional gift card. Three months subscription is $45. Six month is $90, 12 month is $180. So it's a super good idea for the tea drinker in your world.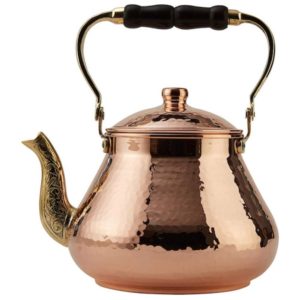 Jen: That's cute. So while you're on the SipsBy site, go ahead and check out their kettles.  I've talked about kettles before cause I'm, for some reason I'm super into them. They have a couple of really pretty copper ones that I love, and they have some really cute mugs. So you've got all those options over there too.
So here's the deal. If you purchase the personalized SipsBy gift card, they will sweeten the deal by throwing in a free randomly selected Holiday Tea Box. Remember I said those earlier, either NaughTea or Nice when you use your code. So that is a really cool offer. The website is SipsBy.com. S-I-P-S-B-Y. SipsBy.com. The code is FORTHELOVE and that one expires December 31st.
---
#15: THISTLE FARMS
Okay. Let's see guys. We've got two left. The second to last one is one of my favorite companies by some of my favorite people and it is Thistle Farms.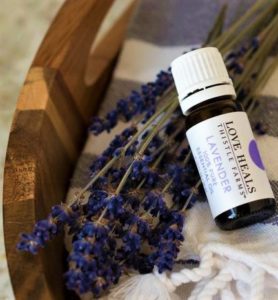 We're in love with Thistle Farms and the work that they're doing in Nashville. Thistle Farms was founded by Episcopal priest, 'Becca Stevens. She has been on podcast before and her whole company is dedicated to helping women survivors recover and heal from trafficking, prostitution, addiction. They do this in a hundred ways. She was actually, by the way, if you want to go back and hear more, she was on the series For the Love of Women Who Built It. Love 'Becca. Love her heart, love her work.
Brandon: Jen already said so much about the org. Talk a little bit about the impact of the power of your purchase here. Last year alone, just last year, Thistle Farms was able to provide more than 10,000 nights of safe supportive housing for women recovering from life on the streets, more than 1600 medical and mental health appointments and a hundred thousand hours of employment through their social enterprises resulting in over 1.8 million in income for women survivors.
Jen: We have a lot of things that we love from Thistle Farms. Here's a few favorites.
Their Healing Oils. Probably the best out there. I'm glad we have this one on our list. Their healing oils are handcrafted and they're very specially blended to promote all kinds of wellness. The individual bottles retail, $14 for the roll-ons and $20 for the concentrates. And then the kit retails for $50.
The other thing I want you to look at when you're over on their website, is the Self-Care Spa Set. This is obviously a great gift. It's  lavender, it's serenity, it's peace. Very, spa-like which is why they called that. The set includes the bath soak, the body lotion, the linen spray, and the essential oil soy candle. And it's a really pretty gift box. It's like absolutely ready to go. Ready to gift. looks beautiful and retails for $62.50.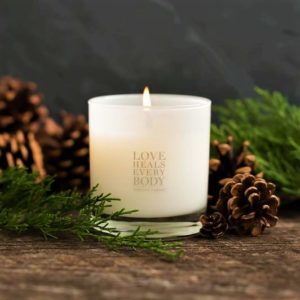 Brandon: And I love me some candles. So we'll take a gander at theirs. And actually there's a really cool history and story behind the candles for thistle farms.
Each morning for more than 20 years, they've lit a candle at their national headquarters as a symbol of welcome and sanctuary and hope for the next women survivor coming off the street. So super special. Check them out. A ton of different scents. They're made from soy and naturally scented with pure essential oils, a hundred percent vegan.
So here's the deal. Thistle Farms is blessing our For The Love listeners with 15% off their entire site. Real simple, 15% off everything. ThistleFarms.org, FORTHELOVE is the code. And you've got through the end of the year, December 31st.
---
#16: THE GIVING KEYS
Jen: Last vendor is one of my faves. I wish I had a nickel for every time I've talked about this vendor online. And it's The Giving Keys. You know, it.
Brandon: I wish I had a nickel for every Giving Key you've bought.
Jen: That's also true. We would have a pile of nickels.
Giving Keys whole model revolves around the idea of paying it forward. The idea is that you're meant to gift their products; like, could be now, could be later. You get these keys and they have a beautiful word stamped on it that you get to choose. And their idea is that there's gonna come a moment, and you don't really know when or where, but you're going to encounter a person who, you know, needs that key. They need that key. They need that word. They need that blessing and you just pass it on. You guys might remember that I did this in an airport not too long ago. Somebody gave me a giving key with a beautiful word on it. It was my first time to wear it. I was at the security line in the airport.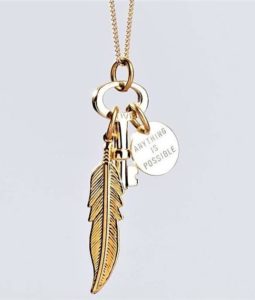 I did not even get through security. I had a conversation with a man behind me. I took it right off my neck for him to give to somebody else. So that's how it is supposed to work. It's this pay it forward beautiful blessing. Like, and you pick, I mean the words are things like "believe," "create," "enough," "hope," "love," whatever it is.  Some of their products you can even use a custom word.
So one thing that I want you to pay attention to is their Anything Is Possible Key Pendant Necklace. This is a limited edition necklace and it really just celebrates the notion that anything is possible. You just take a look at it and you'll see. It comes with a 16 inch brass base, either gold or silver tone chain, and about a half inch long matching feather charms. So duh. Now you know why I love that one.
And it's stamped with either "love" or "purpose." And then a half inch diameter matching disc stamped with "anything as possible." It's beautiful, it's beautiful and it's meaningful and it retails for $52.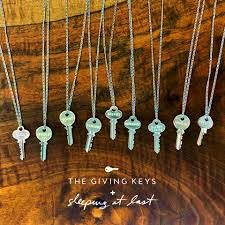 Brandon: Awesome. And so they also have the Enneagram Classic Key Necklace. I don't know. How long have they done that?
Jen: It's newer.
Brandon: Yeah. I thought it was. Enneagram lovers, this one's for you. For anyone who's been living under a rock and doesn't know, this is something Jen talks about a lot and we talk a lot about it together. Enneagram is a model for understanding the human psyche categorized into nine different types. You take an online test, discover your type. For example, I am a two–The Helper, which tells you why I make such a great co-host and Jen is a hardcore three, The Achiever, which explains why she's giving me so many hand signals throughout this podcast.
Jen: Yes, that's true.
Brandon: And in celebration of music artists' Sleeping at Last collection of songs, each named after an Enneagram type–they are making these Enneagram keys. So you just select your type for the type of person you're buying for, to celebrate who they are.
Jen: If you haven't listened to Sleeping at Last's collection of Enneagram songs, just set aside an afternoon to get your Kleenex. Um, so just so you know, these are the words they stamped on each key that's in the Enneagram collection.
So for the ones; grace, for the twos; myself too. Three: worthy. Four: glorious. Fives: anomaly. Six: sanctuary.  Seven: silver lining.  Eight: invincible. And nine: wake up. All that makes sense too. If you listen to some of those beautiful songs.
These are absolutely gorgeous and they retail for $42.
Brandon: All right, so giving keys is giving 15% off everything on their site at thegivingkeys.com, FORTHELOVE is the code. And December 31st is the final day of that sale.
---
Jen: Oh my gosh, you guys made it through 16 of our absolute favorite vendors this year. We like vet and we vet and we vet and we trim and we trim until we get the 16 vendors that we are the most proud to partner with the most. Excited to introduce you to products that we love the most and we think your people are going to love the most.
And so this entire episode is a real joy for us to put together. I've said it and I've said it, but let me say it one more time. Everything on this episode is over at jenhatmaker.com under the podcast tab, Amanda built out the whole thing. It took around 7 million hours. So every link is over there. Every website, pictures of every product, all the codes, all the deals, all the expiration dates. You have to remember nothing. Just go straight over there. And you can get any information for any vendor that piqued your interest, any product you thought, Oh, I've got just the right person to give that to. And we've compiled that information for you. So thank you for making it this whole episode with me and Brandon.
Brandon: Yes. Thank you guys. We look forward to this every year and, uh, sharing about these amazing organizations. We're so proud of them and thankful to be able to partner with them.
Jen: We sure are. We can feel so great about directing our Christmas dollars, but even beyond that, toward any one of these companies that have conscious and give back, they're fabulous.
Also, just to let you know, next week starts our new series. It is a mini-series called For The Love of Finishing Strong, as we don't just wrap up this calendar year, but an entire decade. Wait until you see the power-packed short guest list. We have to finish up 2019 strong and this whole entire decade strong. It is fabulous.
So come back next week and thank you as always, for subscribing, for listening, for sharing, for rating, for reviewing. This is the best listening community on earth and we love you. Merry Christmas, everybody from the Hatmakers.
Brandon: Bye bye.
Narrator: That's it for today's show. Hope you enjoyed this chat. Be sure to subscribe to my mom's podcast and give it a "thumbs up" rating if you like it. From the whole Hatmaker family, hope you have a great week and see you next time!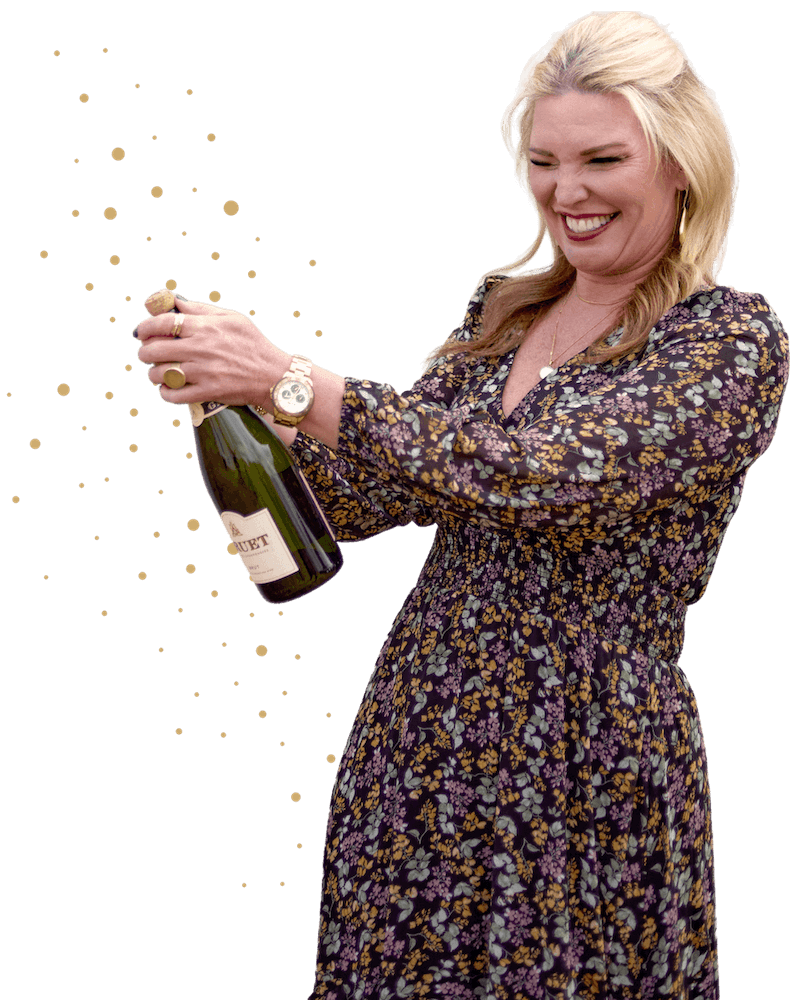 Shop Jen's Faves
From exclusive, limited-edition items to my must-haves, check out all my latest faves.
CHECK OUT MY GIFT GUIDE
Take a peek around
If you're not sure where to begin, I got you, friend. I'm always bringing you something new to enjoy.
Read More About Jen