The calendar has clicked over to fall, which means football, sweaters, and all the cozy things — including warm fall bevvies.
I have two incredible ones for you that you can easily make right at home — and they both come with a bonus secret ingredient that makes them that much better.
It's Pumpkin Spice Latte season. Every coffee shop has them now, but y
ou can make one that's just as good, ACTUALLY BETTER and healthier, at home. Save a bunch of money. And feel better, too.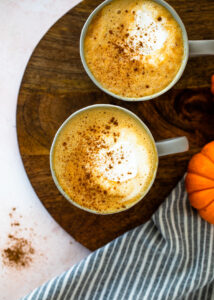 Pumpkin Spice Latte
Around a cup of your favorite brewed coffee

1 teaspoon pumpkin puree

2 droppers of FOCL Pumpkin Spice Drops

Milk (of your choice)

Maple Syrup (desired amount of sweetness)

Cinnamon (desired amount of spice)
Mix all ingredients

except

coffee into your favorite large coffee mug.

Whisk with a hand blender.

Add the desired amount of your favorite coffee or espresso.

Sprinkle a dash more cinnamon on top and e

njoy! 
Word to the wise: Also try it iced by using a shaker with ice, poured over ice, and topped with your favorite whipped cream topping! 
The FOCL Pumpkin Spice Drops not only make this coffee DELICIOUS, they are just the thing you need to feel centered, calm, and focused for the day — without the artificial sugar-high from those "other" coffee-shop drinks.
---
We need a good seasonal mocktail, right? This one is literally everything you could ever want in one autumnal drink.

Pumpkin Spice Espresso Martini Mocktail
2 shots of espresso (or coffee of your choice — or use caffeine-free, if you're sensitive to caffeine]

1 teaspoon pumpkin puree

2 droppers of FOCL Pumpkin Spice Drops

1/2 oz simple syrup

1 oz whole milk (or any milk/cream of your preference)
Mix ingredients in a shaker with desired amount of ice. Shake thoroughly. 

Pour into a glass of your choice. Martini glasses are a plus. 

Top with 3 coffee beans and cinnamon, if you really want to get fancy.
The FOCL Pumpkin Spice Drops spice up this drink in all the right ways and they are an all-natural, healthy way to help you relax, calm your mind, ease everyday stress — without any of the alcohol side effects.
Save 20% on any FOCL product with my code JENFALL.