Where are my mocktail people?!
I have an arsenal of summer mocktails I absolutely love to make with elixirs, sparkling waters, lime, a tajin or salted rim. You know how I roll.
In addition to just "winging" it with my mocktails and flinging a few things into a glass, I've been inspired by creating some intentional flavors — heavy on the fruity, citrus, and unbelievably refreshing notes.
And, make no mistake: I DO have a magic ingredient that really takes mocktails to the next mega level: FOCL flavored CBD drops.
Put a dropper-full in your mocktail — and you get a double-down on flavor and chill factor. Not only do you have a dreamy, delicious cocktail, the CBD drops promote calm centeredness and relaxation.
And FOCL just released a brand-new flavor in time for summer: WATERMELON BASIL. I dare you to tell me two things more summer than that. Even better? You can buy one get one 75% off with code: JENBOGO
You can always use my code JEN20 if you're not taking advantage of the BOGO!
Cheers to all this goodness!
Watermelon Basil Summer Cooler
Ingredients
2 cups fresh watermelon cubes (seedless)
6-8 fresh basil leaves
1 tablespoon freshly squeezed lime juice
1 tablespoon honey or simple syrup (adjust to taste)
1 dropper FOCL Watermelon Basil CBD Drops
Ice cubes
Sparkling water or soda water
Watermelon wedges and basil leaves for garnish
Instructions
In a mixing glass or cocktail shaker, muddle the watermelon cubes and basil leaves until well mashed.
Add the lime juice, CBD and honey (or simple syrup) to the shaker.
Fill the shaker with ice cubes, close tightly, and shake vigorously for about 15-20 seconds to combine the flavors and chill the ingredients.
Strain the mixture into a serving glass filled with fresh ice cubes.
Top off the glass with sparkling water or soda water.
Stir gently to combine the liquids.
Garnish with a small watermelon wedge and a fresh basil leaf.
Serve chilled and enjoy!
Sparkling Limoncello Mocktail
Ingredients
1 tablespoon Simple Syrup
2 shots Fresh Lemon Juice
3 fl oz Sparkling Water
1 dropper FOCL CItrus CBD Drops
Ice
1 sprig of mint for garnish (optional)
1-2 slices lemon for garnish (optional)
Instructions
Add Simple Syrup and Lemon Juice to a serving glass. Top with sparkling water and CBD Drops.
Add the ice cubes. Stir.
Add garnish, serve.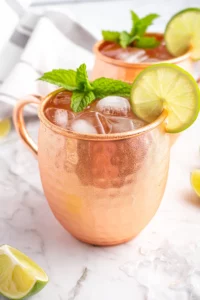 Mocktail Mule
Ingredients
4 Fresh mint sprigs (muddled)
1/2 oz Lime juice
1/2 oz Simple syrup (optional)
1 dropper FOCL Mint CBD Drops
4 oz Ginger beer
Copper mug (optional)
Instructions
Gently muddle (mash) the mint sprigs in the bottom of the mug using a cocktail muddler or wooden spoon.
Add the lime juice, simple syrup and CBD. Stir to combine.
Add ice and the ginger beer and stir gently. Garnish with lime and mint.
Orange Green Tea Sparkler
Ingredients
1 green tea bag, or the equivalent in loose tea
2 teaspoons honey
1/4 cup freshly squeezed orange juice
1 dropper FOCL Orange Cream CBD Drops
1 orange wedge for serving
Sparkling water
Instructions
Boil a kettle of water and put the tea bag in a mug. Pour 8 ounces of boiling water over the tea and stir in the honey.
Taste and add more honey if you like, but remember you'll be adding orange juice later.
Allow the tea to steep at room temperature until cool.
Fill an 8-ounce glass with ice and add 1/2 cup of the tea, the orange juice and an orange wedge. Add CBD Drops.
Top up with sparkling water, stir gently, and serve.
******
Remember: FOCL's premium hemp is grown in the U.S., using organic farming practices. This means all products are made with organic ingredients, have no GMO, pesticides or herbicides, and all products are third-party tested.
Shop the FOCL goods and use code JEN20 to save 20%!