The Tribe at the Table: Large Batch Recipes
Chicken (or Turkey) Pot Pie
Notes: More than one person has said "I don't like pot pie but I really liked this." It is an easy, all in one, delicious comfort food dish- homemade with butter so it is REALLY good. ​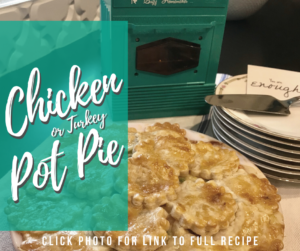 Ingredients:
Enough Meat to make a layer on the bottom of your dishes. For 3 standard pie pans this will be about 9 cups chopped cooked chicken or turkey or 6-8 boneless skinless chicken breasts, cooked and chopped into bite sized pieces.
9 cups frozen veggies of your choice. This is your pie and you get to make the rules. Carrots, peas, corn, sweet potatoes, hash brown potato cubes, corn, green beans. Anything you may have had in a Pot Pie before will work in this one. If you want to use fresh veggies, just throw them in a pot and boil them until they are a little bit soft, then drain and set aside.
1 1/2 cups real butter
1 Onion. Onions always require a discussion so here goes. If you and your people love onion, dice it to use in the pie. If onion is a deal breaker, cut it into quarters. We will use it for flavor, then remove it. Our group cooks the onion in the butter, blends the hot mixture in the blender until onion is no longer detectable, then returns the hot buttery onion soup to the pot. People have strong feelings about onions so this might be your cooking group's first need for conflict resolution. We feel these 3 options are a good jumping off point.
1 1/2 cups all purpose flour
3 teaspoons salt
3 teaspoons black pepper
3 teaspoons celery seed-If you don't have it, you can still make the pie but this stuff is the secret ingredient. Shhhhhhhhh.
6 cups chicken broth
2 cups milk (We use whole milk since we are already using butter. I mean…)
6 pre made pie crusts.
Directions:
Your pre made pie crusts will come in a set of 2. Take 3 and lay one on the bottom of each your 3 pie pans or baking dishes. Set aside.
In a large sauce or sauté pan, heat the onion and butter on medium heat until the butter is melted and the onion is translucent. For the onion lovers, this step is finished. For the haters, fish the quartered onion out of the butter and save it for someone who can appreciate the deliciousness of a buttery caramelized onion. Your butter will have a nice onion flavor without the actual onion pieces.
Slowly add to your melted butter the flour, salt, pepper, and celery seed and mix until smooth.
Then slowly whisk in chicken broth and milk and simmer until thick, then set aside. Taste to make sure it's salty enough. Remember-the rest of the pie is plain meat, veggies and pie crust. THIS is your "moist maker." If you don't want to eat this gravy with a spoon while crying tears of joy, add a little salt/adjust accordingly. This is the part of the pot pie that will make you threaten your coworker for stealing leftovers from the lunch fridge. It is the essence. This can't be overstated.
Take your pan with the bottom layer of pie crust. Evenly distribute along the bottom pie crust, a thick layer of turkey or chicken
Next add a layer of frozen of or boiled fresh veggies until the pie is nearly full.
Slowly begin to pour the delicious gravy mixture over your meat and veggies. You may need to poke and gently stir just a bit to allow the gravy mixture to sink in and around all the meat and veggies.
Spread the top pre made pie crust over the pot pie and cut a couple slits, pinch along the edges. OR- If you are making this pie for a special occasion or you just like pretty food, this quick step will take your pie up a notch. Spread the crust out on a clean surface that has been sprinkled with flour. Use a knife or cookie cutters to cut shapes in the pie crust. Lay the shapes on top of the pie until covered to your satisfaction. This is not a science-it's an art. If you like the way it looks, it is finished!
Cover and seal well, label and freeze. This will freeze well for at least 6 months.
To cook, remove from freezer and remove all wrapping. Place on cookie sheet to prevent bubbling over. Cook in preheated oven at 350 degrees until the pie is warmed through and golden brown on top. Depending on the oven (from frozen) usually about an hour.
---
Southern Sausage Drops
Notes: These gluten free sausage drops are amazeballs (sorry, but they really are) and are the perfect pairing with Shauna Niequist's Blueberry Crisp. Both are freezer friendly and easy to pull out when you want to impress your weekend guests with some healthy cooked goodness.
Roll and freeze these sausage balls on a cookie sheet first so they don't clump together, then bag them up to keep on hand. You can cook a whole batch and serve with mustard or raspberry jam for party appetizers or cook just a few at a time for a high protein breakfast on the run.
​2 1/4 cups almond flour
3/4 cups coconut flour
4 Tbsp Baking Powder
3 Cups Parmesan cheese, shredded
9 Cups sharp cheddar cheese, shredded
6 eggs
6 tbsp butter, melted
3/4 yellow onion, minced. We have a summit meeting every time onion is involved. We voted to leave it out this time
5 lbs breakfast sausage (recipe calls for all spicy. We mix spicy and regular-you do you)
Directions:
​
When making this large batch, we changed up the instructions just a tad to make sure everything gets incorporated.
In one bowl, mix up almond flour, coconut flour and baking powder
In another bowl mix together eggs and butter
In a very large bowl or pan, spread out your breakfast sausage, then sprinkle the dry ingredients on top. Mix with your hands until incorporated. Then fold in eggs and butter and mix until incorporated. Lastly, sprinkle in cheese and mix until everything looks consistent. To select the person to do this job, either play rock/paper/scissors OR choose the person who will most enjoy reenacting the Saturday Night Live "Delicious Dish" skit (you know who you are).
Once thoroughly mixed, roll into balls and freeze on a pan before you separate into bags. We ended up with about 30 golf ball sized sausage drops each.
When ready to cook, heat oven to 350  while you place as many sausage drops as you'd like on a baking sheet. They do not need to be spaced apart much. Bake at 350 for about 25 minutes or until hot throughout and no pink can be seen in the middle.
Let cool for a couple minutes and enjoy!
---
Slow-Cooker Salsa Verde Chicken
Notes: Depending on how many chicken breasts you use, you may want to add a cup of chicken broth to ensure your meat and veggies don't dry out. Use your best judgement when dumping ingredients or check halfway through and add if needed.
Serve this tasty and healthy dish in a bowl, garnished with avocado, cilantro and a squeeze of lime. Also delicious on salads, tacos, tortillas, inside enchiladas with sour cream drizzled on top. Toss some cream cheese in the slow cooker to melt and it makes a creamy salsa verde. There are endless possibilities. This is a freezer staple, ready to go and sure to please even the pickiest eaters!!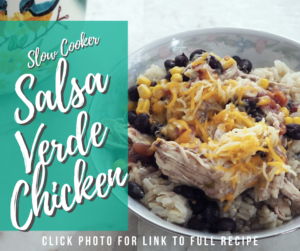 Ingredients:
Gallon size freezer bags
12-15 boneless skinless chicken breasts
45 oz canned Whole kernel corn, drained
80 oz canned black beans, drained
48 oz salsa verde
Directions:
Label 3 bags with dates (this meal freezes well up to 6 months).
Each bag gets 1/3 of the ingredients (4-5 chicken breasts, 15 oz. corn, 27 oz. black beans, 16 oz. salsa verde). Let our air and seal bag tight. Double bag it if you thaw in water before cooking.
Place bags in freezer. Lie them flat on top of one another and once they are frozen, you can stand up all of your freezer meals like library books. For people like us, this brings a deep, unexplainable sense of satisfaction.
When you are ready to cook, place your freezer meal in the fridge the night before to thaw. I like to place the bag seam-up in a large mixing bowl in case the bag leaks or sweats.
The following day, dump the bag into a slow cooker and cook on low for about 6 hours or until chicken is cooked through.
Shred chicken, add a dash of salt.