Trisha Yearwood on the Back of a Harley
Some people struggle privately, in the safety of their family and close friends, tucked away from public scrutiny. They reach out to a small handful of trusted people and gallop towards stability in the comfortable cushion of dependable community.
Others, like for instance, me, post their mental breakdowns on the global internet and hope for the best.
Fortunately for me, my actual people read my digital meltdowns and intervene.
Thus, my husband whisked me away last week for a motorcycle ride through the Hill Country with friends, staying overnight in the most charming log cabin on the Frio River. It was for my mental health recovery, and let me tell you: I should fall apart more often.
On the back of the Harley (a gift from one of our favorite people on earth…true story…please don't hate on this outrageous kindness), riding through the most beautiful hills and rivers and wildflowers and scenery in our state, I plugged in my earbuds and tapped into The Gift From The Heavens: Pandora. I pulled up one of our current favorite stations: Carrie Underwood. Oh, Carrie. Let's just make this easy: Be mine. Thank you.
After jamming to Before He Cheats and Undo It for a spell, my memory tapped me on the shoulder, reminding me of the former female country voices who clogged every corner of my mind with lyrics and longings for so many years.
Trisha…Faith…Alison…Shania…Martina…Jo Dee…Martie/Natalie/Emily…Reba; these girls, with their high-waisted jeans and belly shirts, sang the anthem over my college years and 20's. They spied on me and stole my thoughts and experiences, then wrote songs about them.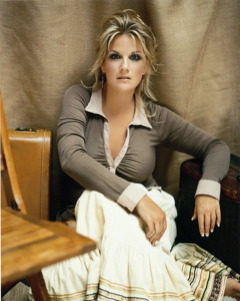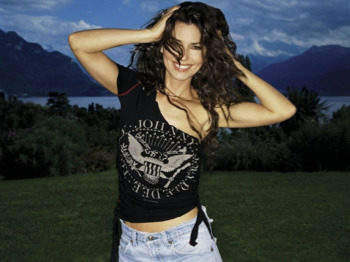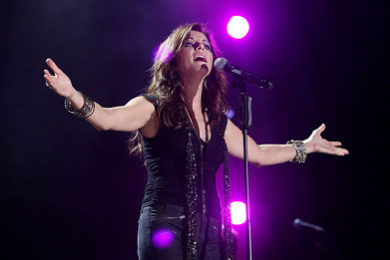 They sang me through new independence and the sharp thrill of young adulthood. My college girlfriends rolled our windows down and turned the music up, belting out our freedom, and man…I DID feel like a woman. We'd bring our stereos down to the lake and lay out, slathered with baby oil, hastening our impending skin cancer, a testament to the folly of youth, singing Martina songs and dreaming of the day we'd have marriages like Tim and Faith.
Cinching our jeans approximately three inches below our boobs seemed like a good idea.
This was my attempt at "The Rachel" hair like everyone else in 1994. Bless it.
These singers watched me fall in love with Brandon, and they wrote songs declaring our glorious love to the world. After all, our very first date was on a country dance floor, twirling and spinning to Some Kind of Trouble by Tanya Tucker, feeling mildly positive we were headed into the hurricane of young love. These women made sure to capture every emotion of that raw, reckless season, so fragile and dramatic and visceral. Each song proclaimed my angst and happiness and hopes and self-indulgence. Trisha was right: She's in love with the boy, and even if they have to run away, she's gonna marry that boy someday.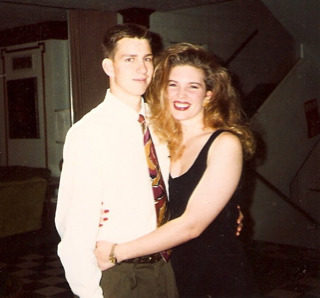 "Anything I do or say better be okay when I have a bad hair day…"
With surgical precision, they then documented my life with that first baby, so overwhelmed and tender, my love bleeding out sideways. They wrote words to help the rest of humanity understand how my heart was now living outside my body, making me ache with helpless, hapless, hopeless love for this tiny boy. The songs gave it all flight; From This Moment On by Shania, This Kiss by Faith, You'll Never Know by Mindy, played softly during middle of the night feedings when moonlight flooded my son's face and I thought, well, this is it, this is how it ends for me; I'm just going to die of love, right here, right in this glider rocker. I was so grateful these women declared 1998 'The Year of New Motherhood Music' for me.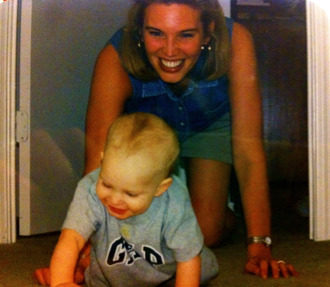 This is how 
Ann Voskamp
 posts pics on her blog, too…
by taking pictures of old pictures with her iPhone.
For my generation, these women sang us through all those formative years, when we were only ankle deep into our own stories, humming the opening notes to a song that wasn't yet written in us. They gave us confident words when we needed them and lyrics of grief and disappointment when life refused to cooperate like the books said it should. Their words resonated deeply, which of course I now know why; these women were mothers and wives and daughters singing their own stories, letting us borrow them for our weddings and relationships and dreams. These were heart lyrics, life narratives. Some things are just universal.
As I thought of this baton that has now been passed to Carrie and Taylor and Miranda and Kellie, I'll admit, a few tears slid backwards on my cheeks, and my memories caught in my throat. So much is behind me. It happened so fast. One minute I was singing Born to Fly by Sara Evans with my toddler in the backyard, and the next minute I'm seeing him through his final six weeks of middle school.
I meant to savor every single moment, but life was harder than I envisioned and time went faster than I planned; my kids' early years were like five minutes…underwater. These beautiful chaotic years of raising children are infinitely slow, but viciously fleeting. It's the darndest thing. How I have a high schooler in four months is simply beyond me.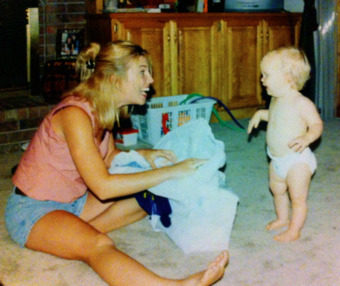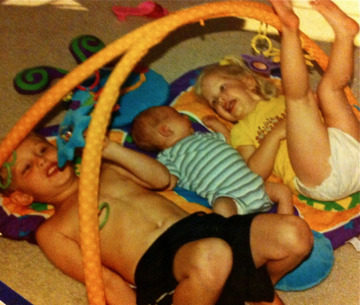 All those songs, markers through such precious, impossible years are obsolete today. They were stakes in time, but now they are just memories. They were so good, so very good, so right and true and special and timely, but now I have to dig them out like the old pictures of first birthdays and Christmas 1999 and preschool graduation programs I haven't converted to digital copies yet, relics of a bygone era in more ways than one.
So on the back of the bike, I switched my Pandora channel to "Trisha Yearwood" and sang every note to every song, as familiar as the church hymns I can still sing harmony to. I threw out gratitude to these women for singing their lives out loud, and in that, helping so many of us find ours. I thanked them for anchoring so much life change in lyrics throughout college, early 20s, young marriage, young motherhood; they sang my story.
I dried up those tears, wrapped my arms around Brandon, my love of 18 years, threw my head back and sang with Jo Dee:
Well we had a lot of dreams when we were younger
They thought we were crazy but we had the hunger
We kept a lot of friends, skipped a lot of class
Been on top of the world and knocked on our ____
We lost touch, we lost in love
We lost our minds when things got tough, but
Beatin' time is a losin' fight and I guess I'm doin' alrightI'm all, I'm all, I'm alright
It's a beautiful day not a cloud in sight so I guess I'm doin' alright
Oh, o – oh, I'm alright
Got a good old friend here with me tonight and I guess I'm doin' alright…
FOR THE LOVE, I didn't even pay homage to the Indigo Girls, the Cranberries, or Whitney Houston. Who sang the anthems over your life? Who sang your story? (Mamas and Daddies ahead of us: tell us to treasure these years. We hate when you say that, but please tell us again.)