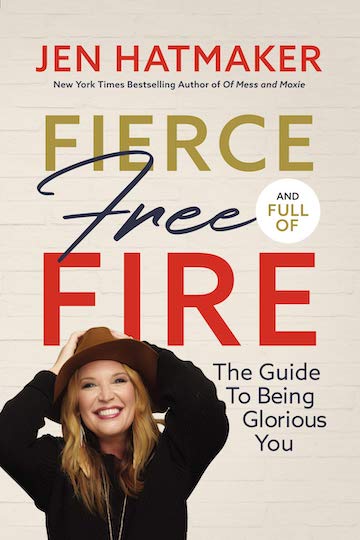 FIERCE, FREE, AND FULL OF FIRE
New York Times bestselling author Jen Hatmaker, with cheeky candor and fearlessness, guides readers to a deep dive into how they are wired and provides them with the tools to walk in that identity with freedom and guts.
Stuck in people-pleasing or fear, many women hide and pretend, then end up sidelined in their own lives. But what they want is to be brave, to claim every gift, dream, quirk, and emotion inside, to stop performing and start living.
Beloved New York Times bestselling author Jen Hatmaker understands the struggle to find firm footing in a culture that operates from stereotypes and often unreachable expectations. In this new book, she offers women encouragement, challenge, and humor as she helps them identify everything that makes them tick and gain the confidence to live it all out. She leads them through five self-reflective categories—who I am, what I need, what I want, what I believe, and how I connect—and helps them:
identify the exact ways they pretend, and learn instead how to be genuine at all times, in all ways, in all contexts
be empowered to say yes and no without guilt
learn to voice both their spiritual questions and convictions
opt out of drama and into healthy adult relationships
With wry humor, earnest passion, and been-there insight, Jen calls women to the life-giving freedom of leaning into the identity, convictions, and community they've been given.
BUY YOUR COPY FROM THESE RETAILERS:
IN THE MEDIA
The New York Times Best Sellers | The New York Times, April 2020
Brené with Sue Monk Kidd and Jen Hatmaker on Longing, Belonging, and Faith | Unlocking Us Podcast with Brené Brown, April 2020
How to Work on Yourself While Stuck in Quarantine | The TODAY Show, May 2020
Fierce, Free, and Full of Fire with Jen Hatmaker | The Holderness Family Podcast, June 2020
You Deserve Goodness and So Does Everyone Else | TODAY Parents on TODAY.com, May 2020
New Jen Hatmaker Book Tops 17K Sales in First Week | Publishers Weekly, May 2020
JOIN THE BOOK CLUB COMMUNITY
Discover a delightful new book with me each month while connecting with other book-loving friends.
"Just want to share the absolute blessing this community is… My local book club chapter was there for me every step of the way. Cheering me on and praying before, building me up, and holding space for the hard after… I am just so grateful. It's so much more than the books."
– Krystynn S.
Take a peek around
If you're not sure where to begin, I got you, friend. I'm always bringing you something new to enjoy.
Read More About Jen