Books are my love letters to you.
Writing was my first creative outlet and I will never get tired of putting words on pages for you, community.
FEED THESE PEOPLE
Slam Dunk Recipes for Your Crew
The debut cookbook from inspiring and hilarious New York Times bestselling author and beloved podcaster Jen Hatmaker; is jam-packed with easy recipes, big flavors, and Southern wit.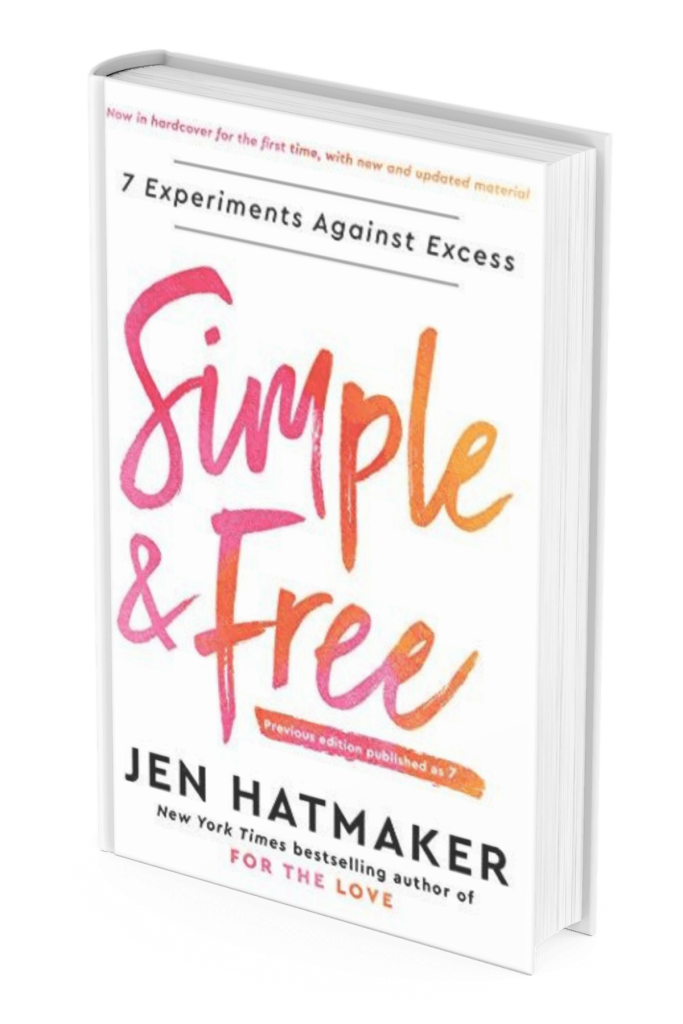 SIMPLE & FREE
Why do we pursue more when we'd be happier with less? In this updated edition of 7, Jen tells the story of how she and her family tried to combat overindulgence — and what they learned along the way about living a truly meaningful life.
"Usually the things we think we need become the very things we need a break from."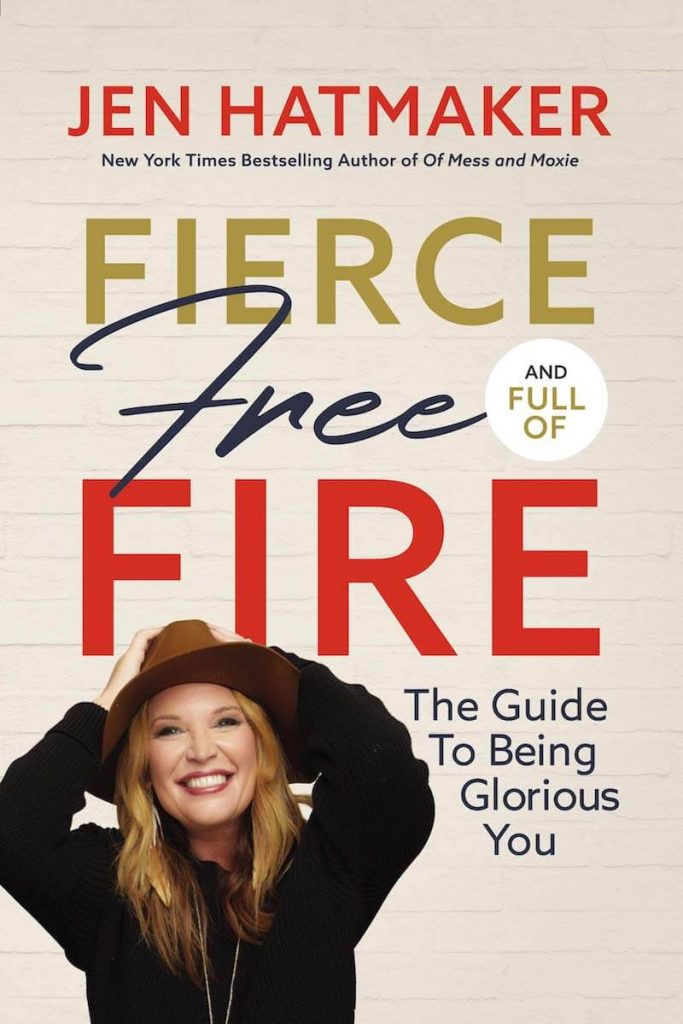 FIERCE, FREE & FULL OF FIRE
The Guide To Being Glorious You
Stuck in people-pleasing or fear, many women hide and pretend, then end up sidelined in their own lives. But what they want is to be brave, to claim every gift, dream, quirk, and emotion inside, to stop performing and start living. So, with cheeky candor and fearlessness, Jen guides readers to a deep dive into how they are wired across five categories — who I am, what I need, what I want, what I believe, and how I connect — and provides them with the tools to walk in that identity with freedom and guts.
Offering encouragement, challenge, and humor, Fierce, Free, and Full of Fire will help you identify everything that makes you tick and gain the confidence to live it all out.
"I decided that people-pleasing, fear, and politeness weren't the hallmarks of a well-lived life, nor were their ugly companions: passive aggression, resentment, and dishonesty. I discovered the world is hungry for women who show up and tell the truth, unafraid and free, expanding to the very edges of who they were always meant to be."
OF MESS AND MOXIE
Wrangling Delight Out of This Wild and Glorious Life
Jen parlays her own triumphs and tragedies into a sigh of relief for all women everywhere. Whether it's the time she drove to the wrong city for a fourth-grade field trip ("Why are we in San Antonio?") or the way she learned to forgive (God was super clear: Pray for this person every day, which was the meanest thing He ever said to me. I was furious.), she offers a reminder to those of us who sometimes hide in the car eating crackers that we do have the moxie to get back up and get back out. There is enough abundance to go around. Each of us can choose to live undaunted "in the moment" no matter what the moments hold, and we really can lead vibrant, courageous, grace-filled life.
"You are far more than your worst day, your worst experience, your worst season, dear one. You are more than the sorriest decision you ever made. You are more than the darkest sorrow you've endured."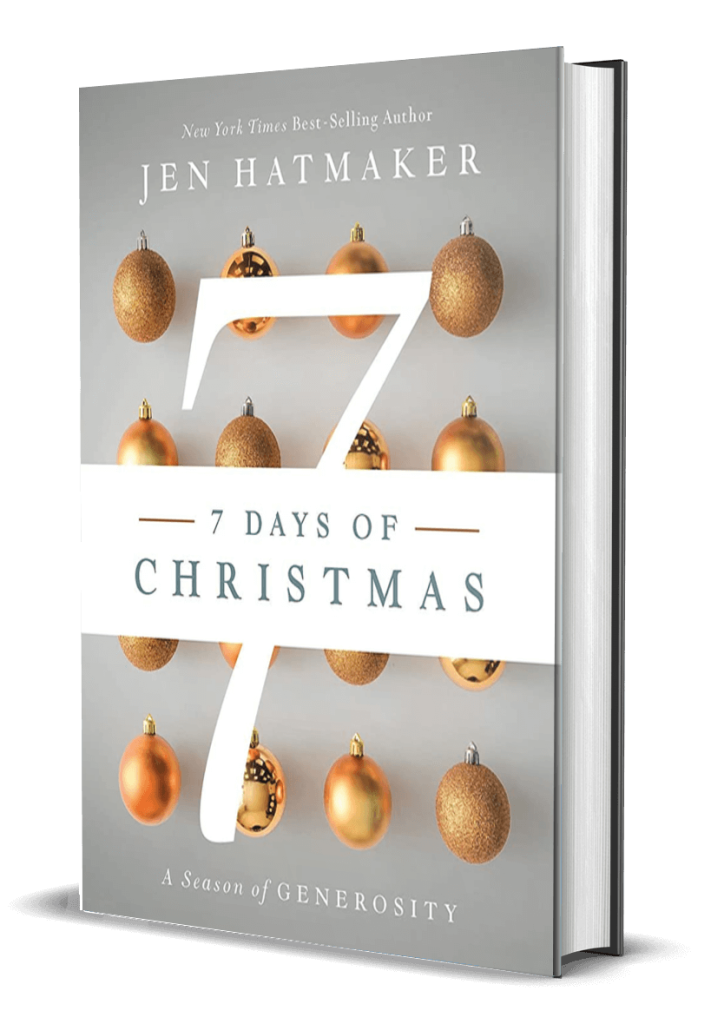 7 DAYS OF CHRISTMAS
A Season of Generosity
Covering seven days during the Christmas season, Jen invites readers to practice both generosity and restraint with insight, humor, ideas, facts, and encouragement. Explore how specific areas of excess impact the family unit, the community, and the world at large and learn ideas for reducing thoughtless consumption while considering practices that lead to less stuff but more joy.
"We actually have great control over how we celebrate Christmas and thus how it affects our families, communities, and hearts. We don't have to hand over our Christmas joy to culture. We can reclaim its beauty, reinvent its rhythms, restore its delight. It is more than possible to experience a Christmas season focused on connectivity and love and generosity and Jesus, the greatest joy to the world."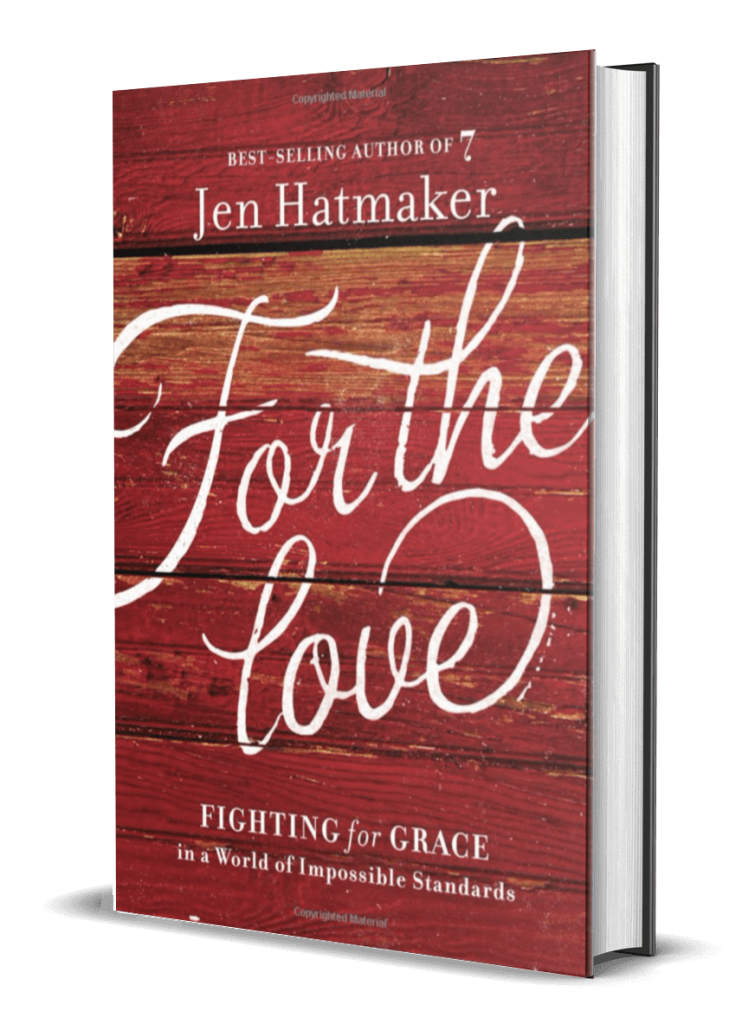 FOR THE LOVE
Fighting For Grace In a World of Impossible Standards
Jen knows how the squeeze of this life can make us competitive and judgmental; how we can lose love for others and then for ourselves; how the majority of our joys, struggles, thrills, and heartbreaks relate to people. But she also believes life can be lovely and fun and courageous and kind — and she reveals with humor and inspiration how Jesus' embarrassing grace is the key to dealing with life's biggest challenge: the people. In this raucous ride to freedom for modern women, Jen bares refreshing wisdom, wry humor, no-nonsense faith, liberating insight, and fearless honesty.
"You'd be surprised how powerful kindness actually is. I am not being dramatic: you can save hearts and lives with grace."
Jen Hatmaker has an undeniable gift for reaching the hearts and minds of her community — from the power of her written word across 14 books including four New York Times best sellers, to speaking on stages, leading her own courses and book club communities, and interviewing countless visionaries on her award-winning For The Love podcast.
JOIN THE BOOK CLUB COMMUNITY
Discover a delightful new book with me each month while connecting with other book-loving friends.
"Just want to share the absolute blessing this community is… My local book club chapter was there for me every step of the way. Cheering me on and praying before, building me up, and holding space for the hard after… I am just so grateful. It's so much more than the books."
– Krystynn S.
Take a peek around
If you're not sure where to begin, I got you, friend. I'm always bringing you something new to enjoy.
Read More About Jen