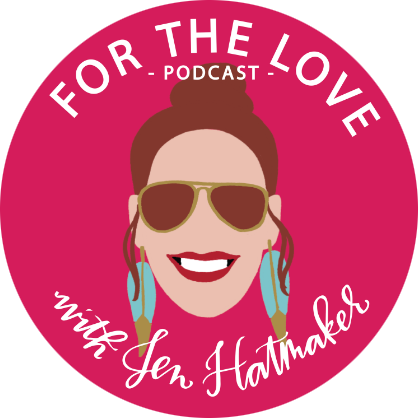 FOR THE LOVE WITH JEN HATMAKER
For the love of ... People. Home. Stories. Shoes. Family. Jesus. Community. TV. Accessories. Food. Culture. The New York Times best-selling author and star of HGTV's "My Big Family Renovation," invites you to drop by and catch up with her friends as they laugh and share about all the things we love.
The
For the Love Podcast
is a regular fixture in Apple Podcast's Top 10 list of its category, and has had more than 16 million downloads to date. The show is also a
2018 People's Choice Podcast Award winner
in the Religion & Spirituality category and a
2019 Webby Awards Honoree
in the Lifestyle category!
NEVER MISS ANOTHER EPISODE!
SUBSCRIBE NOW
FOR THE LOVE! SERIES GUIDE
Are there days you wish you could take a peek inside your spouse's brain? Maybe you want to understand your kids a little more, or your mom, or your boss. Heck, maybe you want to just understand your own brain and why you feel the way you do, and you've run out of Buzzfeed quizzes to help you interpret the world via your favorite sandwich toppings.
You guys, there is a better way—it's called The Enneagram. Whether you're an Enneagram expert or wondering what the heck it is, you'll want to come with us on this 10-episode series to dive deep into all nine personality types and the motivations behind the decisions they make. For literal centuries, the Enneagram has helped countless people revolutionize their relationships and unlock a new level of knowing themselves a bit deeper, and we hope it helps you too.
The For the Love Podcast is bringing you a series of special episodes as we all face the Coronavirus Pandemic and all the ways it's impacting our lives. We'll bring you inspiration, education, practical tips, humor & hope as we all face potential weeks of isolating due to the pandemic. Look for these episodes on Mondays and Fridays while we're all hunkered down together.
It's time to claim every gift, dream, curiosity, quirk, conviction and imperfection that makes you you—because showing up as you're truly meant to be makes the world a better place. And to help you walk this journey, we're talking to folks who embody what it means to be fierce, free, and full of fire. They share how they let go of the shackles that held them back, and how they embraced the truth of being the glorious humans they were meant to be all along.
For the Love hit the road in late 2019 to talk to smart, fabulous people with our very first For the Love Live Podcast Tour! Some of you came out for it, and we loved having you. But if you weren't able to drop All The Things to hang out with Jen on a school night, we totally get it. That's why we're bringing these great live moments straight to your ears so you can relive the fun and come away with some of the same insights from these enlightening conversations just as you would if you were sitting in the audience yourself.
New Year. New Decade. New Series!  As we move into a new season, we thought we'd bring a few folks to our podcast table who have epitomized what it means to "keep on walking" in their faith. The "For the Love of Faith Icons" series has us seeking wisdom from some of our most beloved faith leaders as we ask our deepest questions and hear where they've found peace and strength to endure.  Just like many of us, these leaders have walked through their own personal crises of faith, doubts, and fears—and they honestly and vulnerably reveal those moments, making us all feel less alone. As leaders, they also examine who we are as a body of believers and bring important insight on to how we can embrace each other and be more open to those outside of our circles. They show us that our faith can expand, evolve, and be inclusive while never losing the heart of the Gospel and our belief in a God who is full of grace and mercy.
It's here, you guys: we're at the finish line of the year and of a decade. Sometimes it feels the best we can do is sort of limp across that finish line. But you know what? We don't have to limp. We can hop, skip, and jump across, if we want, because we get to decide how we want to get through this part of the year. We get to decide how we're going to take stock of the past ten years and sort of turn the dials on how to start the next ten.
So in this short series, we're talking to people who have learned a thing or two about perseverance and show us that no matter the season, no matter how busy or tired we are, we have so much choice in the way that we are reacting and more power than we know to push through and finish strong.
We've made it through another year—a year of triumphs, learning, mourning, dancing, thinking, doing, all of it. The holidays mark a time to take stock of ourselves and our families, celebrate the good and plan for the new year ahead. In this short series, we're celebrating the wonders of the season, and what makes the hustle and bustle of the year worth it all (hint: people do!). And spoiler alert: stay tuned for everyone's favorite annual episode, the all important Holiday Gift Guide!
A few years ago, could we have imagined how much podcasts would mean to us today? There's something so wonderful about listening to stories that range from everyday life to incredible accomplishments, and something so meaningful about diving into hard topics we'd rather not tackle alone. This series, we're celebrating some of our favorite shows and hosts: the ones that make us laugh, the ones that make us cry, and the ones that teach us some of life's important lessons and help us think about the world—and ourselves—in brand-new ways.
Well, folks, it's HERE. The classes, the teachers, the games, the carpool lines, the after-school activities, the can-I-have-$457-for-the-field-trip? shenanigans, the roller coaster of emotions and schedules and everything else—school is just extra, you guys. But amid the hullaballoo are tender souls trying to learn who they are and who they want to be in the world. And believe it or not, even when they don't ask, our students enjoy having a sounding board in their parents and loved ones (just like we did). In this series, Jen talks to a few of her favorite students (AKA their last names might be "Hatmaker") along with a few other special guests who inspire us with their courage, wit, and hard-earned young wisdom.
Truth—what does it mean to you? Our dear friend Rachel Held Evans had a note over her desk that simply said, "Tell the truth." Her voice is sorely missed, and her dedication to speaking the truth inspired us to think about other truth tellers we know—women and men who have dedicated their lives to speaking their personal truths and relaying facts and realities through their platforms (this is no small thing, especially when it's harder than ever to discern what truth is). These folks are digging just a little bit deeper so that instead of feeling manipulated by the morass of questionable information, we can unearth what's really happening and use knowledge to affect good change.
Power comes in many forms. It goes far beyond the beauty, wealth, and status we're told we need in order to have it. In fact, power comes when we make sure everyone, especially our fellow sisters, can have a life filled with dignity, purpose, and equality. Anyone born into a female body knows we live with a unique blend of challenges to conquer.  In this series, we'll put the spotlight on women of all stripes -- ladder-climbing mavens, firsts-in-their-field pioneers, innovators, trend-setters, and world-changers -- who are shattering glass ceilings, lifting us up, and challenging us to live our highest values in order to be dynamic people who shape the world.
Friend, no one can care for you better than you. And you deserve a few minutes to stop and think about the ways you're nourishing your mind, body, and spirit—and how you can turn the dials just a smidge to feel even better. 
In this series, we're bringing you some of the best thinkers and practitioners who have dedicated their lives to help others take stock of where they are and where they want to go. We're talking to all kinds of health and wellness experts: physical, mental, spiritual, sexual, even career.  Within these episodes, we're committed to starting conversations that steer us toward non-shaming practices around our health and well-being as a better way of life.
Exploring our faith is a lifelong experience, and it helps to find some community along the way. Picking up where our earlier series "For the Love of Exploring Our Faith" left off, we now present "For the Love of Faith Groundbreakers," where we interview writers, pastors, thought leaders—women and men taking a fresh, honest look at their faith experiences. Some of them have questioned long-held beliefs or pushed really hard on what they believe to see if it holds. They've all been on different journeys to find Jesus and have asked themselves what it means to follow Him and love others today. And when they find themselves bristling at the status quo, these brave people are blazing new trails and inviting us to come along and learn beside them.
Can you chart back over your life, and recount the songs that were the defining moments of a given year and remember those lyrics and melodies that literally lent words and feeling to what you were going through? WE LOVE MUSIC, all types of music, and the way it underscores all the seasons of our lives. This series is long overdue—and one that matters to us—and to our listeners, based on the overwhelming amount of requests we received for it. We'll talk to amazing artists and creators of music during each episode, and discuss what it's meant to them to write and perform music that resonates sooooo deeply within us. 
Hitting a new year can be refreshing, right? There's something thrilling about turning the page on a brand-new year and filling it up with new ideas and fresh beginnings.  But sometimes, the urgency in January to Change! Change! Change! can be overwhelming—not to mention shaming and unnecessary. And this year we say: let's not buy into it. We'd rather focus on how to bloom where we're already planted. So in this series, For the Love of Good Change, we're talking to people who have expertise in how to live well, who compassionately take us by the hand and help nourish our lives already in progress: with our bodies, in our neighborhoods, and in the work we're doing.
In our For the Love community, we're passionate about giving, no matter what time of year. We keep our eyes focused and hearts open to help people in need, whether they're our neighbor across the street or around the world. But sometimes we need a little help figuring out where all of our generosity should go.  In For the Love of Giving, we're going to talk about ways we can use our time and money to do something good, and bring you inspiring stories of people who are living the change we wish to see in the world. This is the stuff we love, and we can't wait for you to meet the extraordinary people and organizations in this series.
Who doesn't love a good binge-worthy show on Netflix, Hulu, or Amazon? We're all in and celebrating these simple pleasures with For the Love of TV—podcast episodes dedicated to celebrating one of our favorite pastimes! We had a blast getting to know the real-life personalities from the TV shows we love and we know you will too.  Whether you're into comedies or morning shows, Hallmark movies or dramas, you don't want to miss a single episode of For the Love of TV!
How could we NOT have a series on a passion SO many of us share? I have had a love for reading since I was a wee book nerd—scarfing down as many books from the library I could possibly get my hands on. It's no different now as I have all manner of books in my favorite reading places—everything from biographies, to fiction, to psychology, to relatable stories from fellow humans like you and I who share insight into their unique triumphs and failures. I still love losing myself in a book, the feel of an "actual" book in my hands; whether it be paperback or hardcover (no disrespect to digital books--they are a Godsend!) and being delighted, inspired, and often, finding myself in the pages. Good writers can so skillfully relate to us; they can make us howl with laughter (who hasn't been reading on a plane and snorted uncontrollably to the bemusement of our seatmate) or bring us to tears with some pain they poignantly reveal. We'll run the gamut here with our amazing line-up of guests—authors you know and love, first-time writers, fiction writers, and lovers of books who will guide us to the kinds of works that will bring us life through the remainder of the year and beyond. 
If there's one thing about parenting that I know with complete and absolute certainty, it is this:  It's all a total crap shoot and nobody knows what the heck they're doing. We're all winging it, man. Every last one of us. We're doing the best we know how with our limited training and resources, and putting faith in the notion that all of those nights of lost sleep, all of those hours spent being driven one step closer the the loony farm, all of it.....is going to pay off someday in the form of a well-adjusted kid.  Fortunately, we all have this amazing gift of community where we get to share our experiences and learn from other moms and dads who are figuring it out through tedious trial and error.  In our 10th series of the For the Love Podcast, we're talking with seasoned parents and experts who have learned a trick or two from this parenting gig and we'll discover one example after another that proves that we are not alone in this struggle.
We are coming in hot off of the Exploring Our Faith series that has all of our brains sizzling and now it's time to lighten things up and have some fun.  Grab the sunscreen, some comfy flip flops, your favorite cold drink and that stack of books you've been dying to read and join us for a new series. We're taking the plunge into "For the Love of Summer" to talk about all of the ways you can create a fabulous summer full of unforgettable memories. We'll talk travel tips with the pros, brilliant (but inexpensive) ideas for entertaining the kids, our favorite fashion trends of the season, plus we'll gush over our favorite books to reach for this summer.  Whether you plan to be a beach-bum, a road warrior, or hide out in the AC until fall, we've got you covered with everything you're going to need.
What about racism? Sexuality? The evangelical church? What about doctrine and theology? Best practices and faithfulness? What about the church in the Age of Trump? What about when we don't agree? All this and more in our new series "For the Love of Exploring our Faith." We've invited spiritual leaders from every denomination and ideology, so if you don't like one, just come back the next week and hear another perspective. We're asking hard questions and exploring difficult spaces with some of the smartest, wisest, most faithful leaders of our day. This series is thought-provoking and unfiltered, and I can't wait to share it with you.
Calling all dreamers, entrepreneurs, visionaries, champions of justice: get excited for our next series because these are your people. Thrilled to bring you "For the Love of Women Who Built It"! We are hosting women who've built racial reconciliation ministries, mentorship orgs for young women, a Fortune 500 exec who left to start her own company empowering female entrepreneurs, a body product organization staffed by women rebuilding after the sex industry. These women are running the world, and we're going to talk to every one of them. Whether you are a dreamer like them or simply want to support women-led companies, this whole series is going to rock our world.
This is the series I've been waiting for! Get ready to crack up as we kick off "For the Love of Laughter"! We have some of the smartest, wildest, most hilarious comics coming on the show, from Saturday Night Live royalty to YouTube stars to stand-up queens…we're bringing the funny. We'll get a front row seat not just to their award-winning comedy but to the winding roads that got them where they are today. This one is going to be fun, guys.
Ready or not, the new year is hot on our heels! As you start writing down your resolutions, filling out your calendar, and dreaming up big, lofty goals for what your next year is going to look like, check out our series that's all about new beginnings! Our guests in this series are experts at rewriting the narrative of their own stories into something that has more meaning, more purpose, and more connection to their own goals for where and who they want to be.  They've waded neck-deep through the muck of stress, overwhelm, loneliness, insecurity, lack of direction and self-awareness and have come out on the other side with so much wisdom and advice for anyone looking to start making big changes in their own lives.  This series if full of practical tools and tips that will help you on your journey to living more authentically in 2018!
You will not want to miss ONE SINGLE EPISODE of the next series on the For the Love Podcast: get ready to adore "For the Love of Fall and Holidays"! We got you covered in every possible way: food and hospitality, navigating tricky relationships during this season, fashion trends for fall and Christmas, how to properly be a football fanatic, Jen's Favorite Gifts, and even behind-the-scenes stories from a certain beloved Pioneer Woman… We have doctors, fashion mavens, lifestyle moguls, and even a Hatmaker husband. This series is packed with awesome, guys. You're going to love it. 
We are super excited about the next series on the podcast: For the love of food! As one of Jen's favorite subjects (and activities), we are delighted to bring you chefs, Food Network stars, cookbook authors, Paleo practitioners, hospitality experts, and people who use food in big and small ways to love people well and heal the world. Foodie or not, you won't want to miss a single episode of this series! 
Our second series is going to knock you flat out. In keeping with my latest book, Of Mess and Moxie, I am thrilled to bring you "For the Love of Moxie"! I'll be talking with women who undeniably have pluck, chutzpah, grit, moxie. They've built companies and brands, changed entire national conversations, served the world, they've overcome. They will inspire you, push you, make you think. I hope you love listening to them as much as I loved talking to them. Bring on the MOXIE.
I'm kicking off our very first series with a subject near and dear to most of our hearts: girlfriends. What we love about them, where it can get sticky, how to make and keep them, why we love them. This will be a 5-episode series with a new episode releasing every Wednesday. I learned and laughed so much, and I hope you will too. Listen and enjoy!
Surprise! Once in a blue moon, I'll pop in your podcast feed with a surprise special episode, something one-off and a little different from the For The Love series we might be in. Maybe it's tied to current events. Maybe it's an important conversation in the world right now, and we need to hash it out in a safe place, in our brilliant and kind community of podcast listeners. Maybe it's something I know you'll love and can't wait to share with you.
Like finding a $10 bill in the dryer or seeing a double rainbow, you never know when a bonus episode of For the Love will drop into your life. So keep your eyes peeled and your fingers crossed!
(all archived episodes coming soon!)