It's Funny Where Life Takes Us Sometimes: Anjelah Johnson-Reyes
I finally got a handle on my mental health, so I was having such a good time going from city to city. Before I would have been fighting anxiety, but this time I had it in check so I wasn't writing from a place of pressure. I got to ask myself, "What do I want to say? What do I want to talk about?"
Episode 06
It's so fun when we get to have guests back on the show that we love, but it's especially fun when we get to catch up after we haven't talked to them for awhile! This guest joined us in the very first year of our show in the For the Love of Laughter series, and she was fire then, and she's fire now, 5 years later. We're talking about the amazingly talented and hilarious Anjelah Johnson-Reyes, one of our favorite comedians in the whole wide world! You know her from her awesome Nail Salon comedy sketch, which launched her career, or as her character from MadTV, Bon Qui Qui, and from her amazing comedy specials. When Anjelah was with us last time, she shared that she and her husband had chosen to pursue their careers to the fullest and had made the very personal decision to not have kids. But it's funny what can change in five years, and Anjelah is now the proud mom of 3 month old Rosie Harlow Reyes. She shares what led to the decision to have a baby, what she's learned in this season – which she also candidly shares on her YouTube channel via a series of videos called Postpartum Confessions. Whether she's on stage doing comedy, acting on TV and in movies, or hosting podcasts with her husband Manny, Anjelah gives a great perspective on how life can take us where we least expect to go, and how we can laugh about it a little along the way.
Hi everybody, this is Jen Hatmaker, your host of the For The Love Podcast. Welcome to the show. You're going to get a nice surprise today. We're in a series called For the Love of Funny and today's guest is really one of my favorite people, period. Certainly one of my favorite people to follow. She joined us actually in the very first year of our show when we had a similar series called For the Love of Laughter, and she was fire then and she's fire now, and we became friends on that show and we've kept up with each other ever since.
I just am so happy that she's back on and this whole interview is so special and so different than what I expected, she really let us into her story today. I'm talking of course about the phenomenal Anjelah Johnson-Reyes, one of our favorite comedians in the whole wide world. So you probably know her initially from her awesome nail salon comedy sketch, that sent her viral and really launched her career and her character on MadTV and her amazing comedy specials. Maybe you've seen her on tour. 
So five years ago, life was a lot different for her. Well, for both of us, frankly, I was married, and nobody ever heard of Covid. Anjelah was just six years into her marriage. Her career was red hot and she and her husband Manuel had just decided; we're not going to have kids. We're career folks and we're just going to be married forever without kids. Then she wrote a bunch of bits around that, but you know what? Life comes at you fast sometimes, doesn't it? Pandemics happen and marriages end and babies get born. Anjelah had a baby this year. We're going to talk all about this. Her baby Rosie Harlow Reyes just turned three months last week. It is a whole story, which she shares with us with a lot of generosity. We're so happy for them and she's going to talk about why and how she changed her mind and what it was like to get pregnant. This is a girl who used to make jokes about this, how she would walk by a pregnant girl on the street and hold her breath so she wouldn't catch her pregnant vibe!
We talk all about that and other things have happened too. She started some podcasts. One she does with Manny, they call themselves Manjela, another called Ghost Stories. She had a biography come out last year called Who Do I Think I Am? She did a ton of touring and she's been really open about what life has been like since becoming a 41-year-old first-time mom, which we also talk about. She's sharing those thoughts on her YouTube channel with some videos she's reporting called Postpartum Confessions, which are tender, funny, and vulnerable and you will love them. So, no matter who you are, you're going to love this conversation today. She is just a gem. She is solid gold and I'm so thrilled to bring you my conversation with Anjelah Johnson-Reyes.
---
MENTIONED IN THIS EPISODE: 
Anjelah's Latest Special at the Ryman in Nashville
Who Do I Think I Am: Stories of Chola Wishes and Caviar Dreams by Anjelah Johnson
Visit honshoney.com to see how you can benefit from their fun honey-based products!
Visit betterhelp.com/forthelove to save 10% on your first month!
Visit https://www.ableclothing.com/ and use code JEN to save at checkout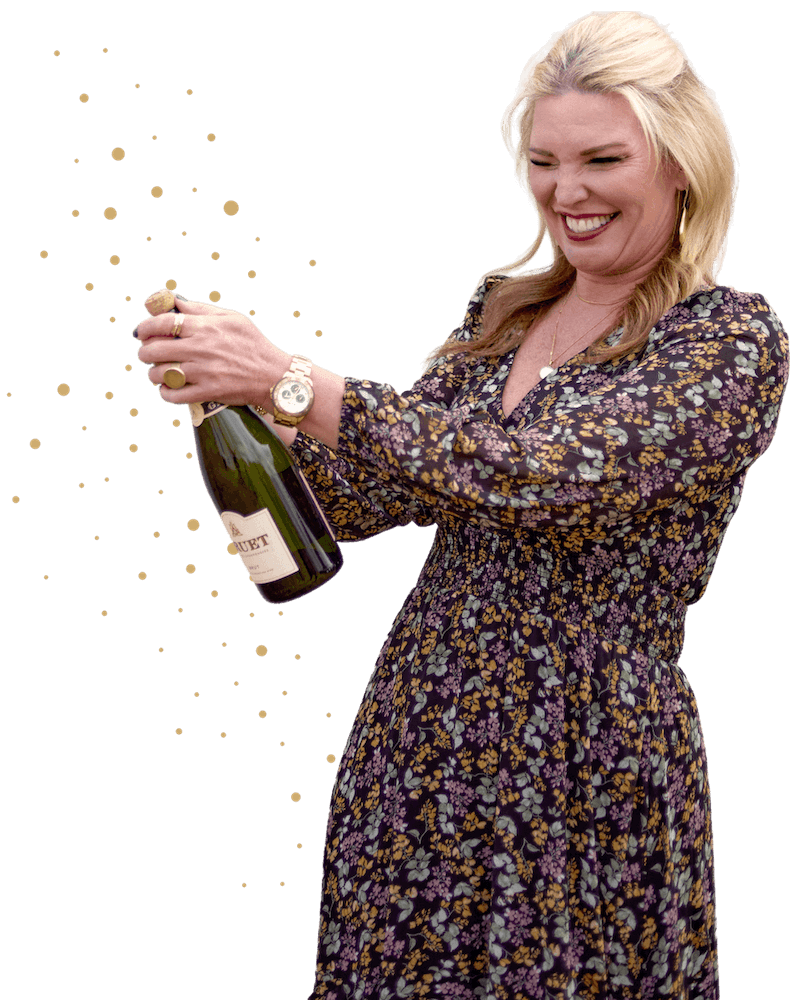 Shop Jen's Faves
From exclusive, limited-edition items to my must-haves, check out all my latest faves.
CHECK OUT MY GIFT GUIDE
Take a peek around
If you're not sure where to begin, I got you, friend. I'm always bringing you something new to enjoy.
Read More About Jen