Please meet texas migas.
In 1998, when I was twenty-four, we moved to Texas and my eating world was turned upside down.
Exhibit A: La Paletera was on every solitary corner, and its specialty was a giant cup of diced fruit doused with chile-lime Tajín seasoning. Chili powder! On fruit!
Exhibit B: Barbacoa tacos. I ate my first one exactly as the ancestors intended, with pit-roasted shredded beef cheeks, chopped onion, and cilantro, and reader, I saw stars.
Exhibit C: Tamales. I'd never even heard of them. Ate some at a Christmas party, handmade by the aunts and grandmas the entire previous day, and rededicated my life to Jesus on the spot.
Exhibit D: Migas. I remember where I was sitting the first time I ate this perfect Mexican breakfast. I had no idea you could put all that in your eggs. Happily, in Texas we'll add onions and peppers and fried tortillas to our eggs if we damn well want to. We'll put it on our menus and feed it to our babies and act like that's the proper way to eat eggs, WHICH IT IS.
If I had to pick, I'd say this is my favorite breakfast of all time.
This is also in my cookbook, Feed These People.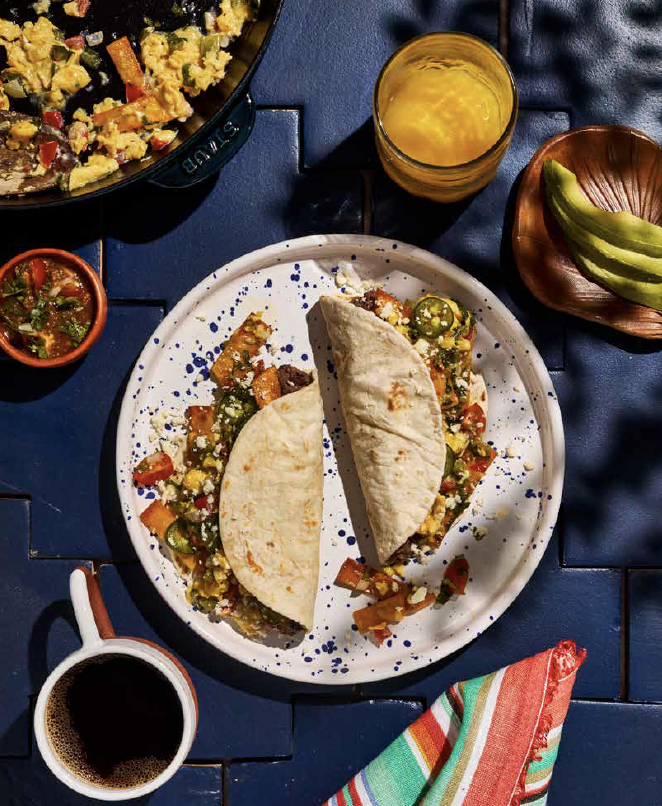 Ingredients
5 corn tortillas (gotta be corn), cut into 1/2-inch-wide strips, then into 2-inch pieces
2 tablespoons oil
1 tablespoon butter
1 small onion, diced
1 green bell pepper, diced
2 jalapeños, seeded and diced
2 Roma (plum) tomatoes, diced
2 garlic cloves, diced
8 eggs
3 tablespoons heavy cream or milk
Salt and pepper (or use THIS magic Texas Tacos Spice seasoning; save 20% with code LOVEJEN)
1 tablespoon butter
2 cups shredded Monterey Jack or pepper Jack cheese (8 ounces) (no one will be mad if you add more cheese)
1 cup chopped fresh cilantro
Sliced avocado, for serving
Tortillas, for wrapping the migas
Process
You're going to fry those tortilla strips first, but don't panic. It takes 5 minutes. In a skillet, heat the oil and butter over medium-high. Add the tortilla strips and cook, stirring, until they're crispy and brown all over, around 5 minutes.
Remove with a slotted spoon and transfer to a paper towel–lined plate to drain.
Add the onion, bell pepper, and jalapeños to the skillet and cook, stirring frequently, until they're softened, about 5 minutes.
Meanwhile, in a bowl, whisk together the eggs, cream, and salt and pepper (or that Texas Tacos Spice) until fluffy and light.
Turn the heat under the skillet down to medium-low, add the tomatoes and garlic, and cook for 1 more minute. (I don't like the tomatoes to get mushy, so just warm them through here.)
Add the butter to the skillet, then pour in the eggs and gently push them around the pan with a spatula. You want these eggs barely cooked through, still a little glossy, and definitely soft. NO BROWN. Brown eggs make me cry all the tears in Austin.
Add the fried tortilla strips, cheese, and cilantro and stir to combine, then take it off the heat. I am just saying that if you tuck a dollop of refried beans and a scoop of migas inside a warm tortilla and top it with sliced avocado and salsa, you're never going to eat anything else for the rest of your living days.
Word to the wise: You can also serve these with:
Refried beans
Salsa or pico de gallo
Cotija cheese, sprinkled on top
Sliced jalapeños (live on the edge!)
---
Grab some of that Texas Tacos Spice seasoning here. Code LOVEJEN to save 20%!
It's a home run for migas, tacos, fajitas, chili, and even burgers. Definitely throw it on top of guac.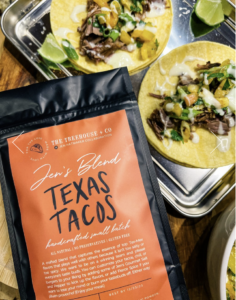 For more recipes, grab a copy of my cookbook: Feed These People.